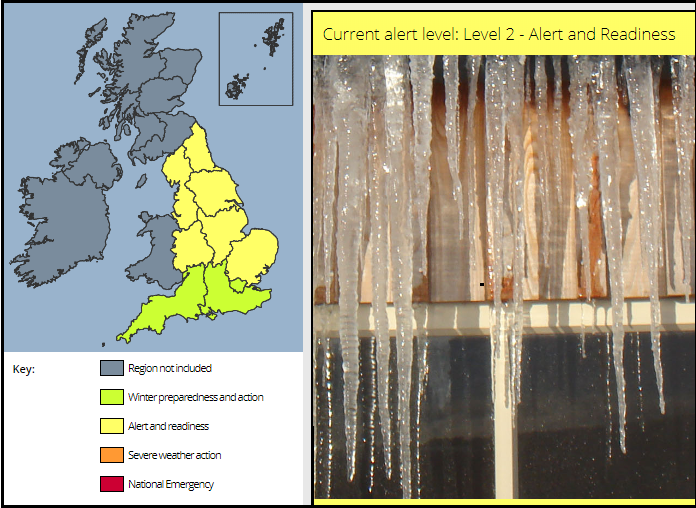 From UK Met Office and Public Health England Tues 15th Jan 2019
The government and health agencies are issuing messages about Winter Preparedness so that when the cold does take hold people have begun to get ready.
Is your heating okay, do you have de-icer for the car and the right screenwash mix. If like me you've just filled up with water from the garage on a journey, that does need sorting before temperatures start falling below zero, Check the lowest temp on the screenwash some are -4C some -23C. That people are watching the weather forecast and if they don't have enough medicine, it won't be needed on a snowy or icy day. Contingency plans if schools or nurseries are closed. 'It's a Snow day!' maybe joy for children, but a nightmare for working parents. Do you know what to do if a pipe is frozen or bursts? What if there is a power cut, it's not just the lack of Wi-Fi, it could interrupt heating, cooking and the lights.
When and where is snow likely?
This is about the cold in the first instance but also the possibility of snow and ice. As there isn't a steady settled picture it does mean that more parts of the UK could see snow, rather than just eastern Britain. However, it means that there is low confidence about where precipitation and strong winds will hit and arrive, never mind if they will be of rain/sleet or snow.
Wednesday 16th Jan there will be snow showers over Highland Scotland as the winds veer to the NW. 20cm over the tops of the Scottish mountains with flurries and a light covering over the highest hills of northern Britain and Northern Ireland as the showers whizz past. By Wednesday evening, there could be more wintry showers running down western Britain into NW England and over Wales and the snow showers keep on coming for northern Scotland.
Thursday has been standing out as this week's cold day and there will be a frosty start with ice and further sleet and snow flurries in the NW wind.
Next up is a low pressure coming in from the Atlantic, against that cold air. This is where the models being to diverge, the GFS showing snow over northern Britain as a frontal system moves in.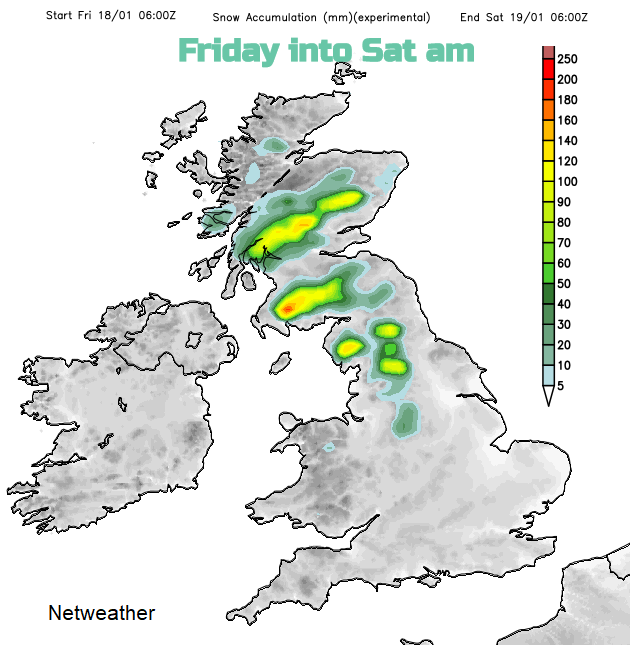 Other models such as the Met Office see the low being kept at bay by high pressure over Europe and a deeper low heading in for the start of next week. That could bring snow too.
If a true easterly does set in then snow showers will flood in from the North Sea once more and eastern Britain could get clobbered. Snow forecasting is tricky anyway and a shorter time frame is needed. Warnings will only be issued a day or so in advance, but it's worth thinking about the whole overall message. Turning colder with the possibility of snow and ice.
Will it Snow? five days ahead
Winter discussion in the Netweather forum