Thursday
By the start of Thursday, there will be this frontal band edging in from the SW with cloud and rain and milder air. The flow across the North Sea will bring in some cloud with a few showery bits. These will mostly be of rain but will be of sleet and snow inland over the hills. In-between there will be sunshine and clearer skies, but it will be a cold feeling day. This next band from the west also falters and fades as the cloud and rain lingers over Northern Ireland and the far SW of Britain during Thursday night keeping temperatures above zero.
For much of Britain, it will be cold with frost as the cold brisk wind continues for north and west Scotland, through the Irish Sea and for Northern Ireland.
After a cold start, there will be a lot of fair weather about on Friday. Still a few rain or wintry showers for NE Britain even down to the Humber. Northern Ireland keeps the cloud and patchy rain with a brisk nippy wind. Elsewhere bright and fine but cold, around 3 to 5C.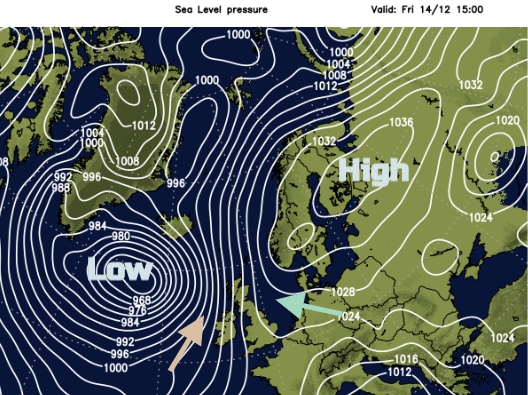 If you are off out on Friday evening, there will be more rain for Northern Ireland with a cold S wind. Much of Britain will be cold, clear but dry as the frost returns. Still windy in the far north and west with a few showery bits.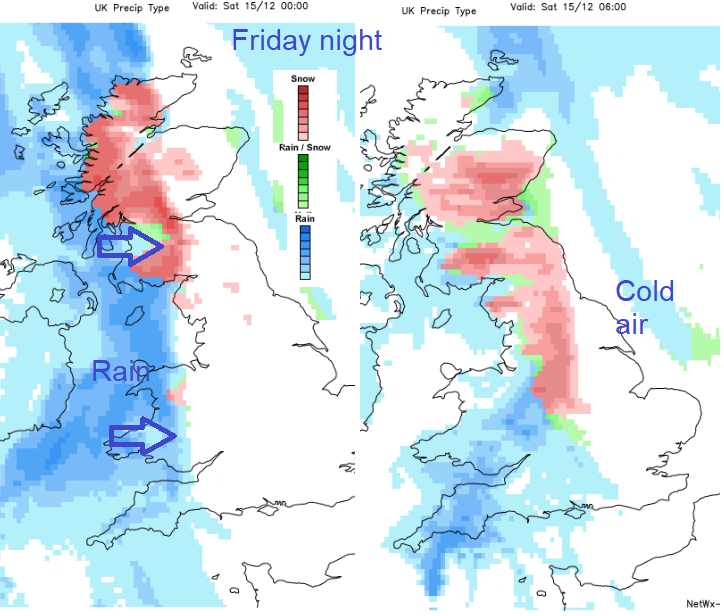 So, Friday night and Saturday could be the days to watch this week. There is a snow signal as weather fronts finally make progress across the UK and hit the cold air. It's mainly NW Britain down to the Peak District and for Scotland, over the hills. Although there could be snow to lower levels for northern Britain for a time. Further frontal bands follow the first with milder air, so rain will follow, even if you do see some early snow, so could then just mean slush. There could be more snow later in the day coming into SW Scotland as milder air tucks over southern Britain. Overall Saturday looks horrible. Cold, wet, wintry and windy with strong SE winds and a real chill in the damp air.