So, don your winter coat, gloves and scarf but you don't need extra bread or milk. I'm sure the Met office would rather you read this Winter Ready checklist than the fiction created in these articles. Always the same; dramatic, sensational headline with CAPITALS thrown in. A half quote from the Met Office press release to give article credibility. Photos of extreme weather, hot, cold, flooding, snow, gales, stormy seas. A made-up bit of forecast, or copy from another newspapers article and sometimes for extra fun the wind chill temp from top of Cairngorm as a scary minimum. Or a made up length of time as to how long the heatwave/snow storm/freezing winds/ heavy rain will last. Weeks or months just pick a number, any number.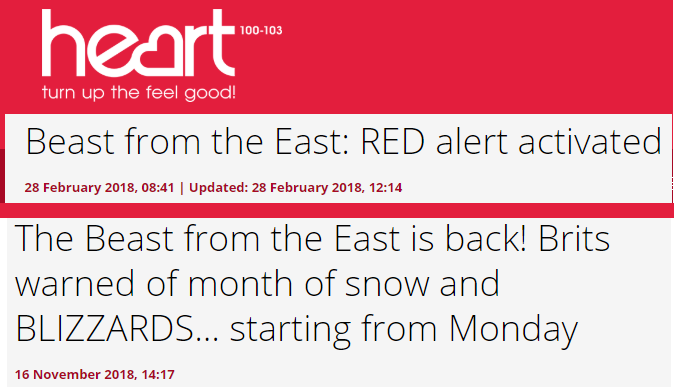 Why is this so annoying?
Because if or when real severe weather is forecast, people won't listen. There will be fatigue or numbness to weather warnings. As more and more newspapers fold, and ad revenues are squeezed, more output is copying the Daily Express weather tale formula as a potential success story. It gets clicks, it gets shared.
Stop sharing these, just screenshot it if you want to share and chat.
Before the real 2018 Beast from the East, which was very well forecast as the signal was so strong, we did issue advice and warnings. I suppose it is a case of who you trust in the world of every day fake news and hype. It is hard though with a bombardment of images and headlines on social media feeds, as well as the newspaper tops in the shops. It is only November. There will be a cold east wind this week and some wintry showers, but we have a whole winter still to come.
Will it snow? and radar (chose Precip Type on)
All about Thundersnow
What is the Beast from the East ?