A meteor shower weekend is coming up and with high pressure nearby there will be a lot of fine, dry and calm weather about. However, it will be chilly and there might be some fog. Just NE Britain looks at risk from low cloud off the North Sea.
At this time of year, the Leonids are visible in the eastern sky. This is not a particularly active year but still, there could be around 15 meteors an hour and the peak is the 17th and 18th November. Some year there are thousands of meteors per hour, it has been very dramatic in years gone by. They appear out of the constellation of Leo and the Leonids occur when the Earth passes through the debris left by Comet Tempel-Tuttle. As this debris, small dust grains, hit the Earth's atmosphere at high speed, it heats up and disintegrates in flashes of light. Depending on where the Comet is on its orbit allows the variations in the celestial show.
A full moon won't occur until the 23rd so the over a quarter waxing gibbous moon could be better and worse and it will set in the small hours of Sunday morning.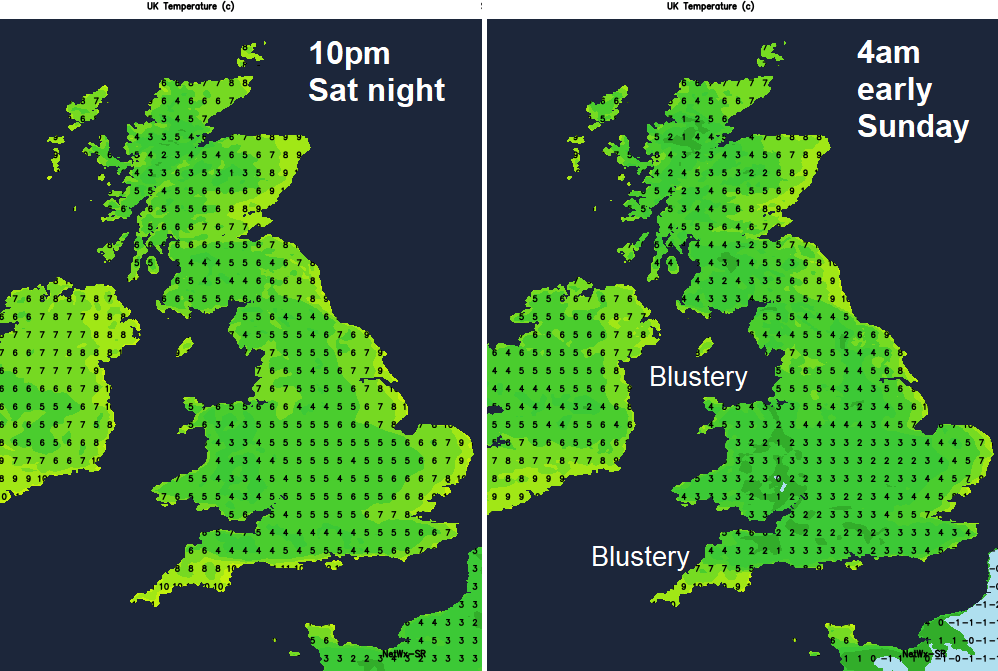 Weather
Not bad at all. It will be colder than it has been, with temperatures well down into single figures. It will be dry and clear for most, just the risk of low cloud lingering and coming in from the North Sea for NE Britain and the Northern Isles. The Friday gloom and cloudy skies should shift during Saturday as drier air gets pulled in from the SE.