Like yesterday, when some spots in the Highlands saw temperatures close to 17C, today will be another exceptionally mild day across Britain, with temperatures again reaching the mid-teens widely. However, as a large area of high pressure currently over Russia migrates northwest over Scandinavia over the weekend and into next week, the wind will change direction from a mild southerly to a cold easterly airflow over the weekend and into next week, bringing a daytime maximum temperature drop of up to 10C by next Tuesday. However, with the easterly airflow not looking deeply cold and the North Sea temperatures still in the teens, showers that develop over the North Sea are unlikely to be wintry away from high ground in the north.
Today
For many of us, it is a dry and mild start to the day, sunny across Wales and northern England, but across southern and eastern England it is grey and misty in places with areas of low cloud drifting north. Across central and northern parts of England, where skies stayed clear overnight it is a nippy start though. The exception to the generally dry picture is across western Scotland – where we have some thicker cloud and some patchy rain.
For Northern Ireland it is a generally dry if cloudy start but increasing brightness or sunshine here this morning will push north across western Scotland through the morning after the damp start, but it will be a windy day for both the island of Ireland and western Scotland and rain will return from the west in these areas this afternoon as a cold front pushes back in from the west. Otherwise, eastern Scotland along with England and Wales will have a dry day, if rather cloudy at times across southern, central and eastern England, but with some brightness. Best of the sunshine across Wales and northern England. Very mild everywhere in the southerly breeze, temperatures widely reaching 13-15C, perhaps 16-17C in the south and southeast of England and around the Moray Firth.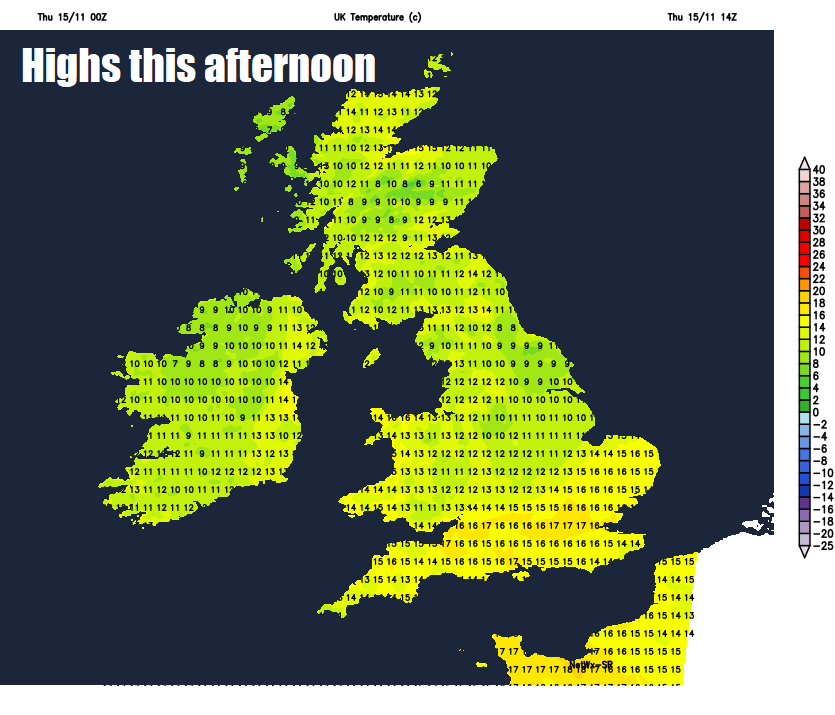 Tonight
A cold front will push east across Britain tonight, bringing a spell of rain across Scotland for a time, followed by clearer and colder conditions, but the front will be weak further south across England and Wales, so only bringing cloudier skies, with mist and fog over hills. Remaining mild in the south.
Friday
Southern Scotland, England and Wales starting off with grey skies tomorrow, it will remain largely cloudy across lowland England, Wales and southern Scotland for much of the day, with some patchy drizzle in places, but as it will be low cloud it will tend to break up over higher ground of the north and west to allow some sunny spells. Northern and eastern Scotland along with Northern Ireland seeing the best of the sunshine. It will be dry for most though and mild again in the southerly flow, temperatures reaching 12-15C widely.
Weekend
As the flow backs southeasterly then easterly through Saturday, so we import drier but chillier air from the near continent. As a result of importing the drier airmass, it will turn sunnier over the weekend, with temperatures slowly falling. With a strong ridge of high pressure extending west from Scandinavia over the weekend, it will remain dry for all. Nights will turn chilly, perhaps a gound frost forming in places.