Outbreaks of rain have spread east across northern and western areas of Britain overnight, with wet and windy conditions lingering across the western side of Scotland this morning, perhaps bringing 2 inches over southwest hills of Scotland. But, much of England and Wales will be dry, bright and mild today and with shelter from high ground we could temperatures reach 16-17C.
More rain is likely for western Scotland and N. Ireland on Thursday, otherwise, for the rest of the week it will be dry and mild, as high pressure builds in, but with a lot of cloud around along with mist and fog forming overnight, which may be slow to clear. There is increasing confidence from the model output that it will get colder next week, as high pressure builds across Scandinavia, allowing a cold easterly wind to develop, though not cold enough yet to bring snow for most.
Today
For now, for many in northern and western areas it will be a wet and windy journey to work this morning - particularly wet across SW Scotland and Cumbria. While across east Wales, parts of the Midlands, East Anglia and southern England it's a mostly dry start, sunniest towards SE England and East Anglia. A rather mild start to day for most too, thanks to the deep southwesterly flow. Temperatures widely in double figures.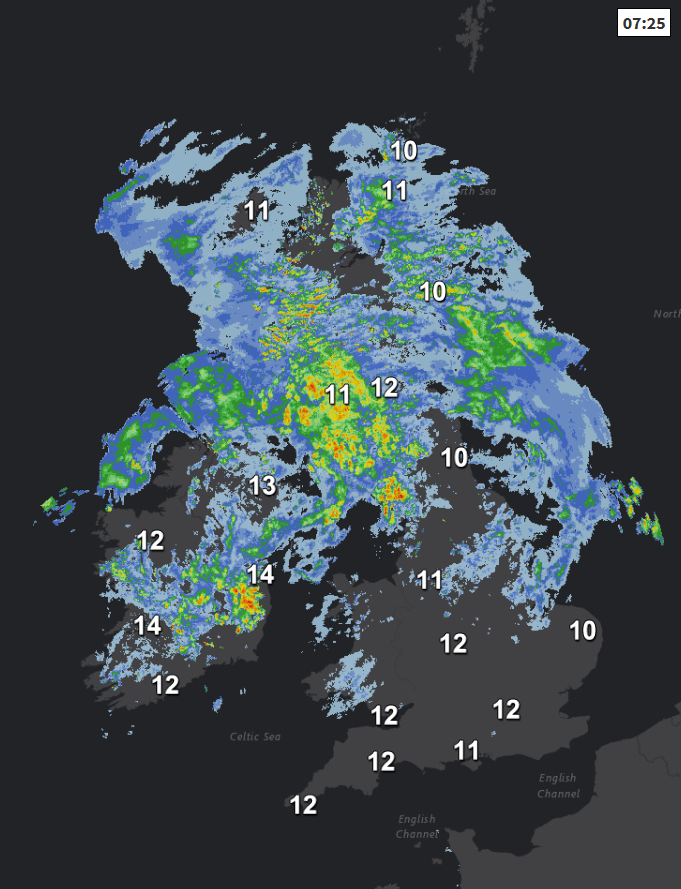 Early rain across the north will generally clear away northeastwards through the morning, but wet and windy conditions looks likely to continue across parts of western Scotland and Northern Ireland until early afternoon, rain heavy and persistent over southwest hills of Scotland this morning, bringing locally 40-50mm of rain on western slopes – which may bring some tricky driving conditions and a risk of flooding. Drier conditions should spread northeast through the afternoon here too.
Further south, after some early rain in the north clears, much of England and Wales should become or remain dry into the afternoon, best of the sunshine to the east of high ground, so eastern Scotland, eastern, central and southern England along with east Wales. Cloudier across western coastal areas. Temperatures widely reaching 14-15C and with shelter to east of higher ground we could see highs of 16-17C.
Tonight
Remaining windy across the northwest tonight, with cloud and rain returning across western Scotland and parts of N. Ireland, but for most it be mostly dry, breezy but mild, low cloud and mist forming across parts of England and Wales.
Thursday
Windy for Scotland, cloudy with rain at times toward the west coast and also Northern Ireland, drier and brighter for eastern Scotland. Perhaps a grey and murky start across parts of England and Wales, but where the sunshine breaks through coupled with the mild southwesterly flow, we could again see temperatures reaching 16-18C, otherwise 13-15C, which is still well-above average for the time of year.