It is going to get much colder this week. We start with a westerly wind and temperatures in the mid to high teens but by the end of this week everywhere will be shivering in an Arctic north to NW wind and stuck in single figures. Quite a change, you may have to adjust your wardrobe but if you are on half term October holidays this week there will be a lot of dry, fair weather about.
This is thanks to a lurking high pressure settling our UK weather down. At the edges of the high, it will still be windy and there will be bands of rain in the far NW, but overall this week is looking fine and bright.
Yesterday's cold front has taken it's cold away SE over the English Channel. Behind that are clear skies and it is a cool start for many. There will be lots of sunshine about today, although more cloud for Scotland. Northern Ireland and NW England will also see some cloud about today. In the far north, warm fronts whizz past, pushed by strong to gale force westerly winds. There will be showery outbreaks this morning for the Western Isles, but the Northern Isles become wet today and that will last through tonight.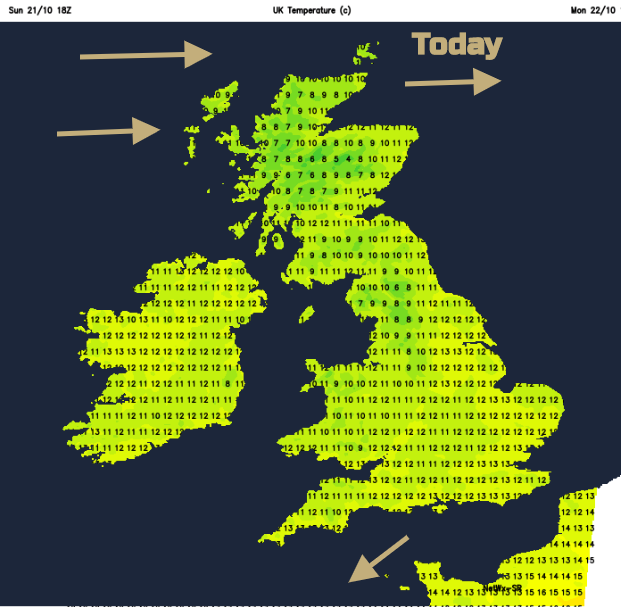 It stays windy across the northern half of the UK tonight with a fresh to strong west wind. Further south, it will be calm and cool with frost for southern counties of Britain.
Tuesday will warm up. It stays windy over Scotland and everywhere will be breezy but temperatures in the southeast could reach 17 or 18C and eastern England should fair well too. Most places will be fine with sunny spells but always a bit more cloud for western shores. It will be wet again in the far north of Scotland and western Scotland with low cloud and rain. Very wet in the far NW of mainland Scotland. Northern Ireland and Wales look fine.