The most likely reason for the increased hype, headlines and speculation is because of what happened late last winter and during the early Spring - e.g. the 'Beast from the East'. That was a notable cold and snowy spell and is still quite fresh in the mind, so it makes for a great headline to suggest that something similar, or maybe even worse may happen this time round.
Here's a look at the headlines at around this time of year, over the last six years - as I say they're as regular as clockwork.
2012

The Winter of 2012/13 was just slightly colder than average, so certainly not close to the coldest in 100 years.
---
2013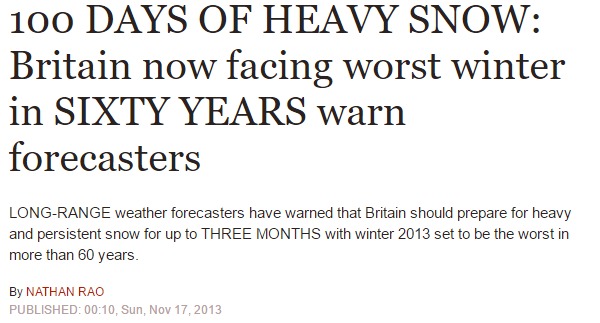 2013/14 was the fifth warmest since 1910, and the stormiest winter on record. So more like 100 days of wind and rain than 100 days of snow!
---
2014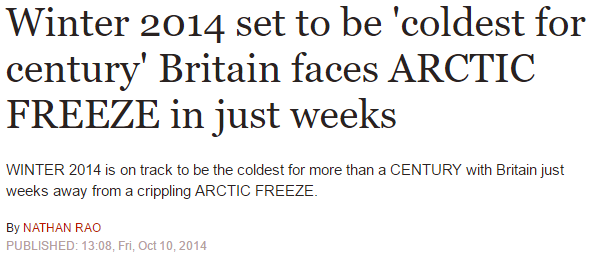 The winter of 2014/15 was close to normal across the season, so again a long way off of being the coldest for a century.
---
2015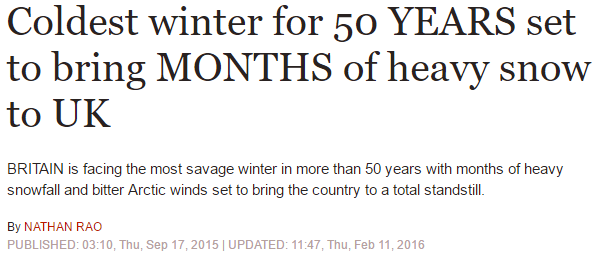 Winter 2015/16 was the third warmest since 1910...
---
2016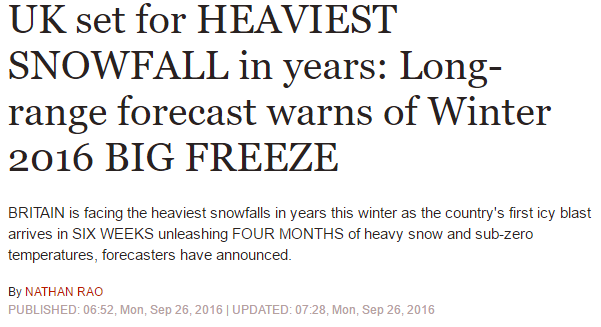 2016/17 was a dry, mild Winter. December was the 8th mildest since 1910, and February the 9th mildest. January was a bit closer to normal, with some parts even a little below average. But big freeze? No.
---
2017/18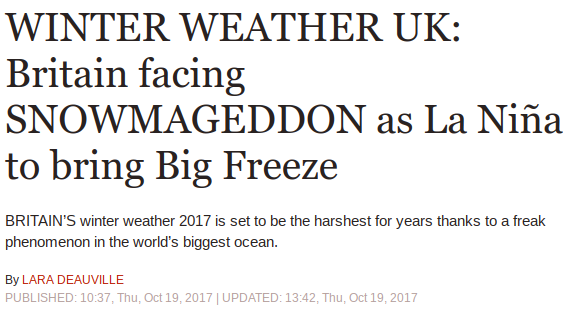 The 2017/2018 winter will be remembered for the 'beast from the east', which arrived late February and stuck around into March. But December and January were both milder than average across the UK, with February left as the only colder than normal month of the three. That did mean that overall winter was a tiny bit colder than average, but a winter long snowmageddon, it wasn't.
A pinch (maybe a bucket load) of salt needed
So based on these headlines and their record over the years, it's definitely not time to be panic buying tinned beans and taking an igloo building course. Winter is on the way though, so it's always worth keeping an eye on the forecasts as cold, snowy spells are never out of the question. The Netweather Winter forecast will be released in November, and if you fancy speculating on the upcoming winter, or seeing what others are saying about it, take a look at the winter thread over on the community pages.