Away from the northwest, who have often caught all the wet, windy weather that's been on offer, It's been a stop, start kind of Autumn so far. There have been occasional wetter, stormier spells affecting the wider UK but quieter weather has been more common. And that's where we're headed again now, with high pressure moving onto the scene.
Over the next couple of days, there will still be some rain about though, albeit nothing on the scale that we saw late last week and over the weekend. This morning, it's western Britain seeing some wetter weather, away from the northwest of Scotland the rain is light, patchy and drizzly but a more organised band is moving down from the northwest.
Away from that, there's plenty of cloud, but that will thin and break through the day, and with mild air still in situ across eastern and central areas, temperatures will climb. For parts of East Anglia and the southeast that could mean highs of 21-23c this afternoon, very warm for mid-October.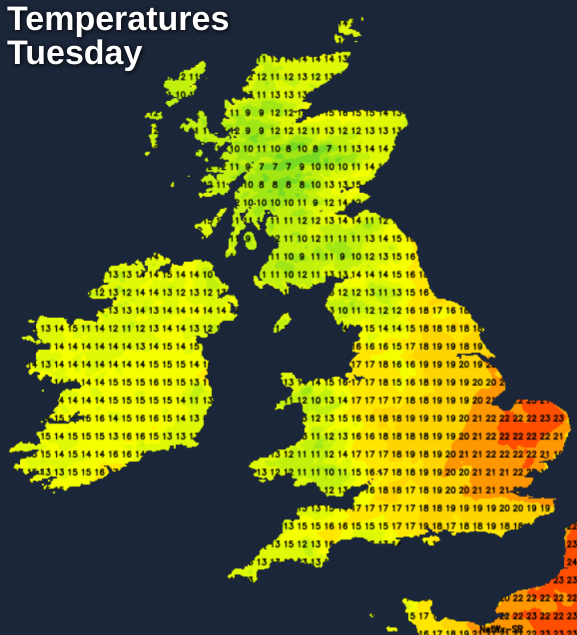 The high-teens will be more like it in other eastern and central parts of England, with the east of Scotland getting in on the act to an extent with maxes reaching the mid-teens. It'll be cooler further west though, with more cloud and those bits and pieces of rain continuing into the afternoon.
Overnight, with a fair amount of cloud in place, temperatures will stay on the mild side, but eastern and central Scotland could buck the trend and be chilly enough for a touch of ground frost in places.
Tomorrow, we'll have a couple of weather fronts, weakening and moving southeast.