For southern Britain, the Midlands and parts of East Anglia will miss the rain but keep more cloud as the warm front waves northwards. The highest temperatures will be around The Wash, mid-teens at best. The rain moves across southern Britain west to east, taking much of the day. So quite a disappointment for southern counties of England.
The rain will spread northwards through Wales by lunchtime. The north coast and Anglesey may miss the rain, just turning grey in the middle of the day. South Wales will have a wet Saturday with a slow improvement this evening. Winds will be light, and it will stay cool.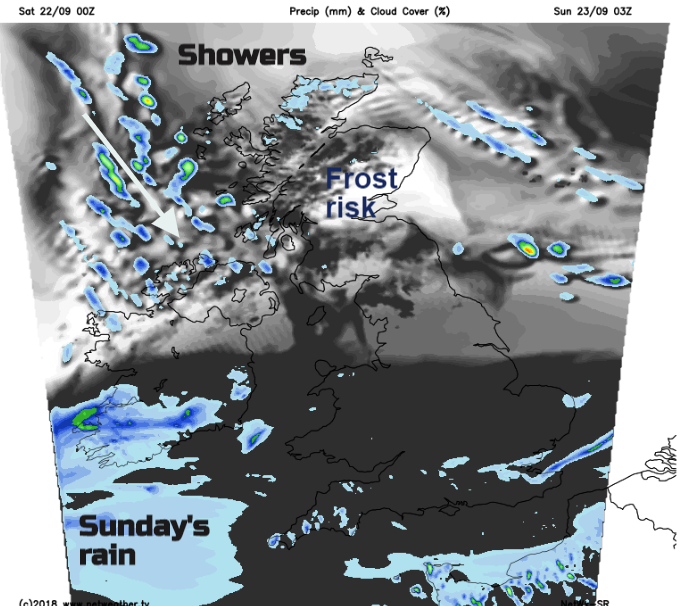 The first bout of rain clears away from SE England during Saturday evening leaving a settled night for much of the UK., A few more showers will dig down from the far NW and by dawn, the next area of rain will be showing itself in the SW. In the clear spells over Scotland, there will be frost inland as it turns chilly.
By Sunday, high pressure is trying to build in from the west and so the UK will be in a cooler NE then northerly flow. Hefty showers will flow down around the UK from the north but there will be sunny spells again for northern Britain and Northern Ireland. Interrupting this will be the next developing low along the waving front in the south. This will bring a spell of very wet weather which shouldn't last as long as today's rain. It could be heavier but will push eastwards during the morning and lunchtime and should clear away from southern England during the afternoon.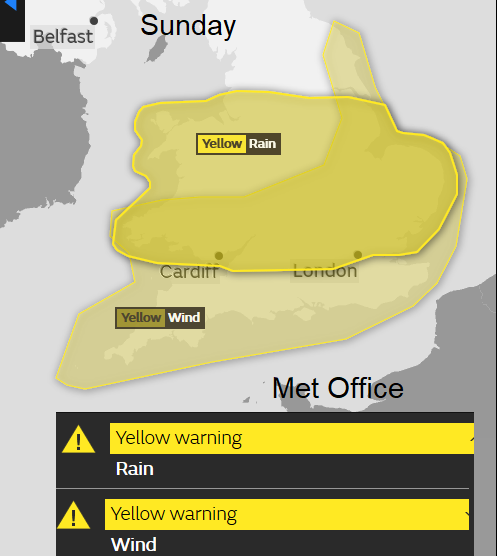 The Met Office do have Wind and Rain warnings out for Sunday. Kent and Sussex and around the Thames could see the winds pick up at lunchtime into the afternoon as the heavier moves through.
Next week
The winds then ease, most areas become dry but still cool and the start of next week looks much more settled and calmer.