A strong Atlantic jet stream across the UK for the rest of the week and the weekend will bring a succession of low pressure systems, bringing spells of wet and windy weather over the coming days, with a risk of disruption from gales in places. The first of these vigorous low pressure systems contains the remnants of ex-Hurricane Helene and will pass across northern Britain this morning, bringing a wet start here, while bringing strong winds across England and Wales. Wednesday sees another depression, recently named #StormAli, even deeper than today's, bringing stronger winds and heavy rain to the north and west. It remains windy for the rest of the week, with a slow-moving area of rain moving in across England and Wales on Thursday slowly clearing south by Friday, blustery showers across the north and west.
A strong jet stream will bring a succesion of low pressure systems, some deep, across the UK over the coming days
Today
For now, a rather windy start to the day across England and Wales, with gales around western and southern coastal areas, north Wales has seen gusts of 55-65mph. It is also rather warm, with temperatures widely 15-18C at 6am, even as high as 20C in central London. For Scotland and northern England it's a wet start, with heavy outbreaks of rain for the morning commute, generally cloudy elsewhere further south, with some showery bits of rain across western areas and patchy drizzle elsewhere.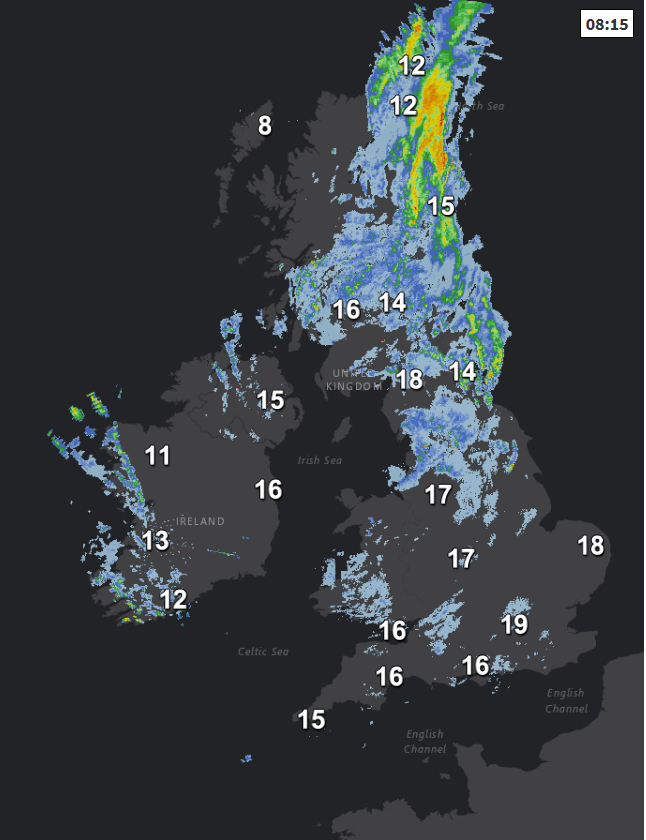 Continuing windy for the rest of the day across England and Wales, the stronger winds arriving across Scotland too, gusts of 40-50 mph possible widely across western areas, perhaps 50-60mph around exposed coasts and hills. The heavy rain will clear northern areas through the morning through replaced by sunny spells and scattered showers across western areas. Eastern areas largely dry and becoming sunny and it'll be warmest in the east too, with temperatures this afternoon reaching 22-24C across eastern England. Across northern and western areas temperatures reaching 17-19C.