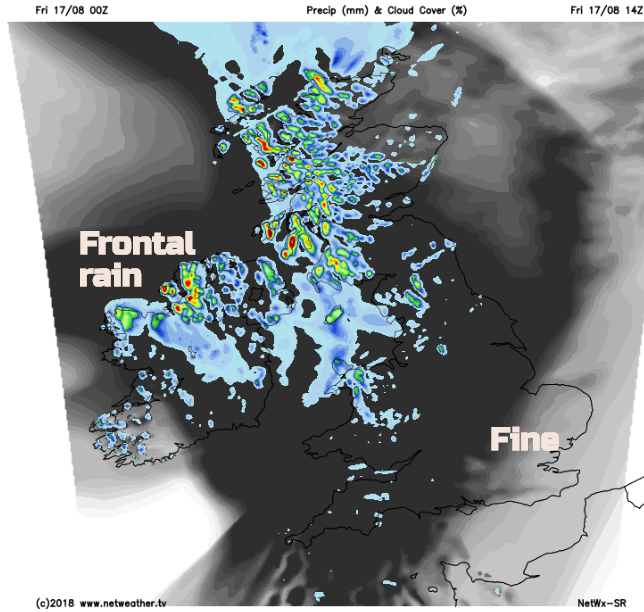 By this evening there will be clearer, cooler air over Scotland with blustery showers from the west. The frontal cloud and rain over Northern Ireland, Wales and northern England and more cloud for the rest of England but still fine in the far SE
Smoke particles from the Canadian wildfires will be reaching right across the Atlantic and could enhance our UK sunsets this weekend.
What won't enhance our weekend weather will be the addition of Tropical Storm Ernesto to the Atlantic weather mix. Low pressures are lining up out west and Ernesto will add extra warmth and energy as a frontal system moves across the UK Saturday night and Sunday. Heavy and persistent rain is expected
The Weekend
It will very windy for northern Scotland for the start of Saturday as a low pressure centre moves close to Shetland. The trailing fronts will bring more cloud and patchy rain over Northern Ireland, the far south of Scotland and the far north of England. To the south of this band there will be some lovely weekend weather with sunshine and warmth. Irish Sea coasts might keep more cloud and some dampness.
Gradually Ernesto gets caught up in the flow and adds into the frontal band, bringing the heavier rain over Northern Ireland, Ireland and SW Scotland and Cumbria during Saturday night.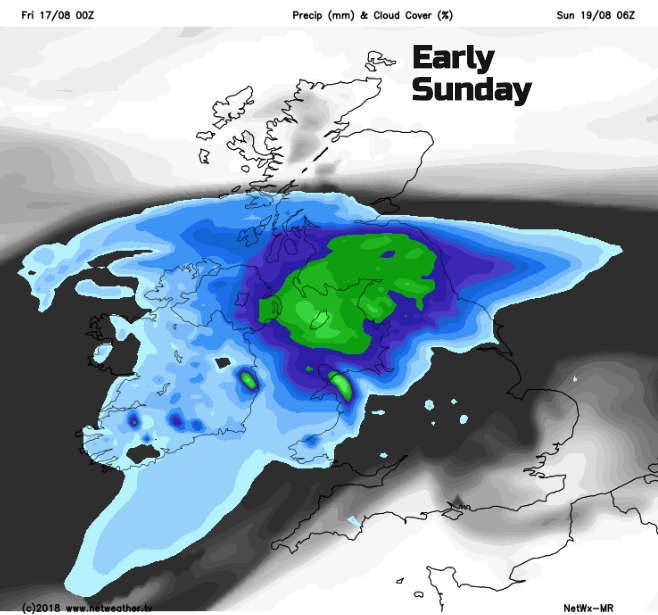 Great difference along the UK on Sunday. The southeast misses the rain and stays warm and bright. It won't reach northern Scotland and there will be some warmth in the sunshine. For the wet areas, the rain eases through the afternoon but it could be a soggy Sunday for some. Through the Irish Sea and for southern Britain there will be blustery winds for a time but nothing to worry about. The areas for the rainfall could change, shifting a bit further north or south so keep an eye on the forecast if you have outdoor plans. And of course, the radar when the rain heads in.
Next week is similar, bursts of warmth and sunshine for the SE and bouts of wind and rain from the NW. Thursday night looks much cooler and although temperatures will stray up into the mid-20s there is no sign of a return to the heatwave 30s Celsius of earlier this summer for next week.