Temperatures values today won't be that high, but the air is feeling close and muggy. It will be warm in the low twenties or high teens for much of the UK, London managing up to 25C with more sunshine. Through this week temperatures peak in the low to mid-twenties, maybe higher for the SE on Sunday but it's not the over 30C heat from earlier in the summer. You might still find the humidity a struggle though.
Yesterday's thunderstorms and heavy showers have faded. There was plenty of weather action during the Monday evening rush hour for parts for northern and eastern England. It's different today. There is rain coming in from the Atlantic, a frontal band bringing more cloud and wet weather over Northern Ireland, into Scotland and then this afternoon over the far north of England.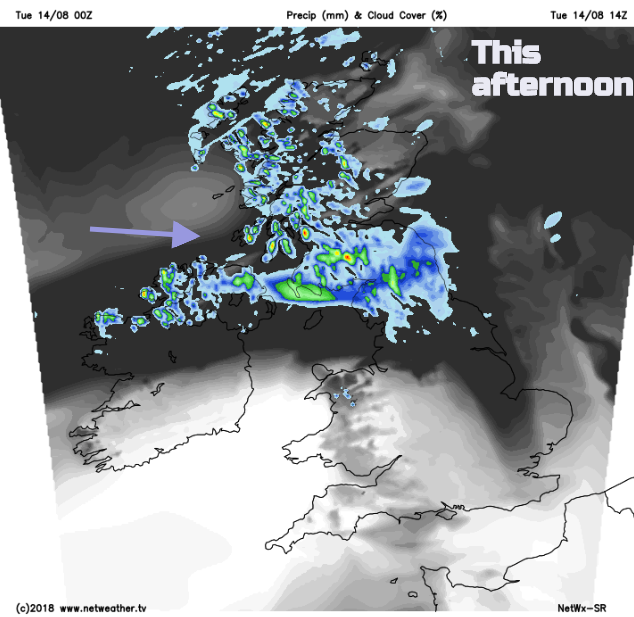 Many areas are cloudy this morning, with breaks appearing allowing bright or sunny spells to come and go. The SW to westerly wind picks up a bit today and will help with breaking up the cloud to the lee of high ground. So, more sunshine for Powys, eastern England and Aberdeenshire until the lunchtime rain arrives.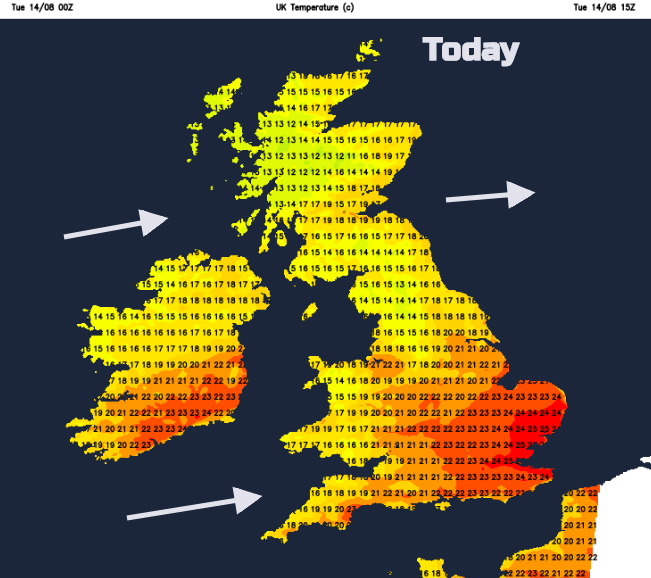 The cloud and rain will affect the temperatures, holding them back in the mid-teens. Belfast could see 20C and eastern Scotland. Wales will reach 18 to 21C. England will feel muggy at 20 to 23C with higher for London and Essex.
The rain becomes more patchy, with a cloudy band still over Northern Ireland W and SW Scotland and NW England into the evening. To the north there will be clear spells, a few showers from the west and a fresher feel to the air with temperatures falling into single figures. To the south of the frontal band it will be clear and dry but staying milder.