The rain becomes more patchy, with a cloudy band still over Northern Ireland W and SW Scotland and NW England into the evening. To the north there will be clear spells, a few showers from the west and a fresher feel to the air with temperatures falling into single figures. To the south of the frontal band it will be clear and dry but staying milder.
During Wednesday the weaker waving front reinvigorates as another area of low pressure heads in. The winds freshen, and further bands of rain appear from the NW.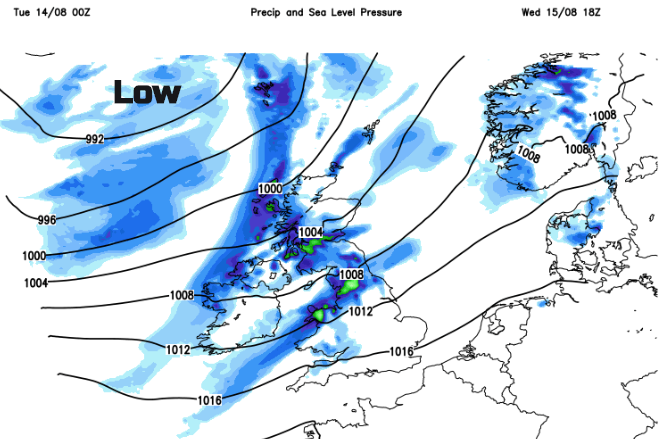 The UK is rather stuck this week in a westerly flow as low pressures nip past to the NW, with more cloud and rain and high pressure lurks away to the SW, trying to build in but floundering rather.
The midweek setup will be active enough to force a frontal band SE down through England, so there will be a spell of rain starting on Wednesday afternoon over Cumbria and NW Wales, moving through Wales and the Midlands overnight. This will then pass over East Anglia and SE England during Thursday but will become more patchy and showery by then.
This will bring a change of air mass, with a much fresher feel for Thursday. It will be bright, with blustery showers again from the west. Then another bout of wet and windier weather heads in for Friday.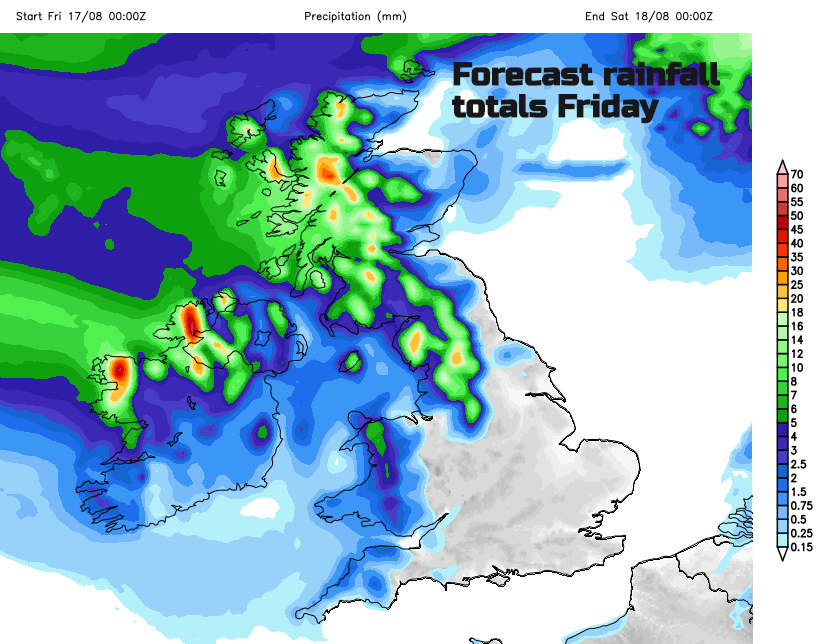 The rainfall totals image shows the areas forecast to see the rain, and again the SE half of Britain missing most of it.