Some parts of SE England and East Anglia have seen between 52-54 consecutive dry days with less than 1mm of rainfall during that entire period. A few spots in East Anglia have seen no rainfall at all in 48 days.
Summer 2018 so far has been notably dry and hot across large areas of the UK. Compared to other hot dry summers in the past, it has been the driest first half to summer since at least 1961, drier than the first half of the infamous hot and dry summer of 1976, drier than the first half of summer 1995 - which is the driest summer on record. Though we have some way to see if this summer will be the driest summer on record, but will likely be in the top ten at least.
Looking ahead, the jet stream dips south to end the week allowing a cold front to clear east by early Saturday and usher in cooler and fresher conditions for Saturday, albeit slightly cooler for eastern England. However, the heat may rebuild as early as next Monday, as the jet stream retreats back north to allow high pressure to rebuild, thus allowing temperatures to rise back into low 30s across SE England and East Anglia.
Jet stream dips south this weekend, before retreating north next week, allow pressure to build and heat to escalate again.
There are no signs of a major pattern change to shake-off the repeating pattern of heat domes of high pressure dominating towards southern and eastern Britain, briefly interrupted by occasional weakening Atlantic troughs and associated cold fronts trying to push through to drop temperatures a little for a few days, but bringing little relief in the form of rain to eastern England.
The persistence of hot and dry weather across southern and eastern areas rather than the usual changeable weather off the Atlantic that we are used to not helped by the persistence of an upper 'omega' blocking high that looks to return again across Scandinavia next week.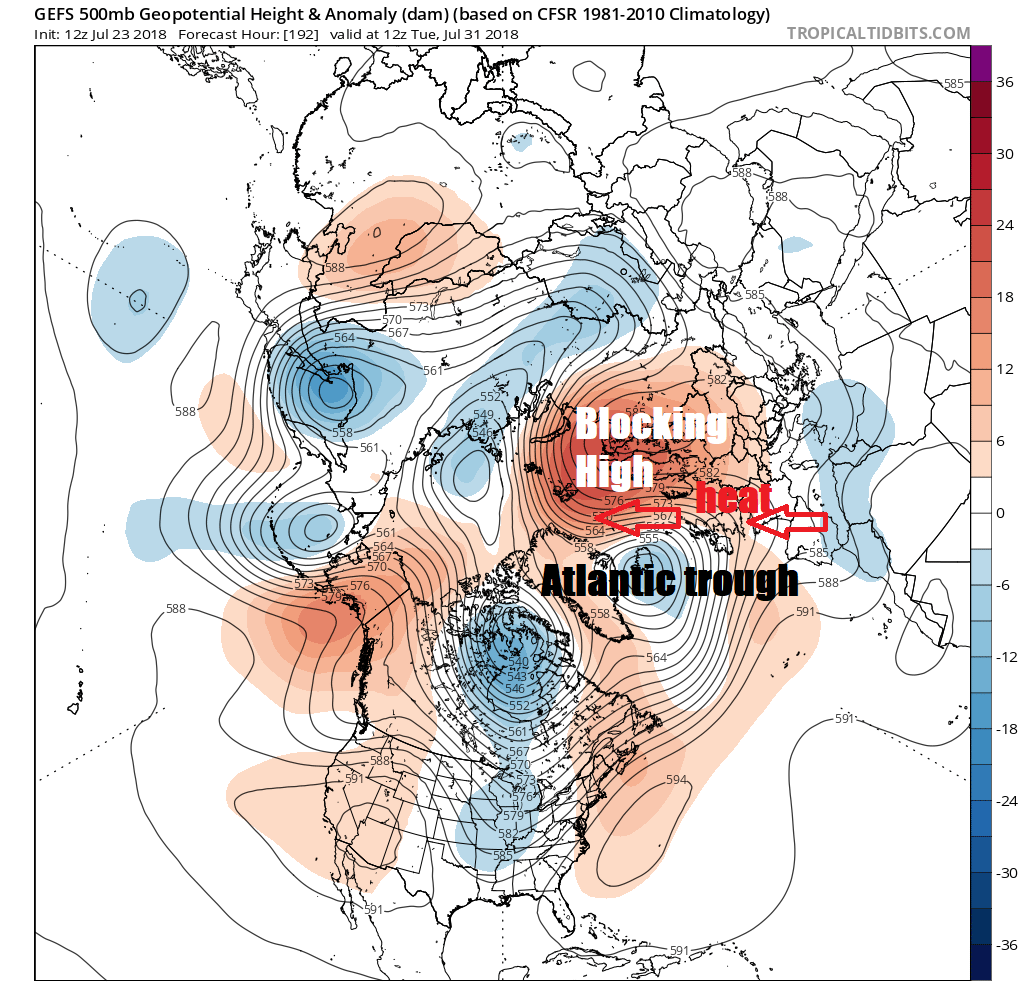 The persistence of this blocking high this summer so far is notable itself, as it the associated high temperatures experienced recently within the arctic circle of northern Scandinavia - where temperatures have reached the low 30s Celsius. But more importantly for us, the upper high anomaly to our NE over Scandinavia is blocking Atlantic systems from moving west to east and diverting the jet stream way to the north, keeping much of the UK away from the north and far west dry.