Some rain at last for much of the UK, it struggled to reach a few parts of SE Britain. Maybe it wasn't enough, maybe it soaked you for a few hours and you thought great weather turns for the kids being off school. It was a blip, a bit of a change. Many areas haven't had any rain in weeks, even months. For school holidays in Northern Ireland and Scotland, now well underway this week won't be quite like the rest of the July, less heat, more cloud and even showers. If your holidays are just beginning in England and Wales, there will be more heat and sunshine but also some downpours to watch out for.
The weekend looks okay, with more cloud from the west but even higher temperatures are forecast next week.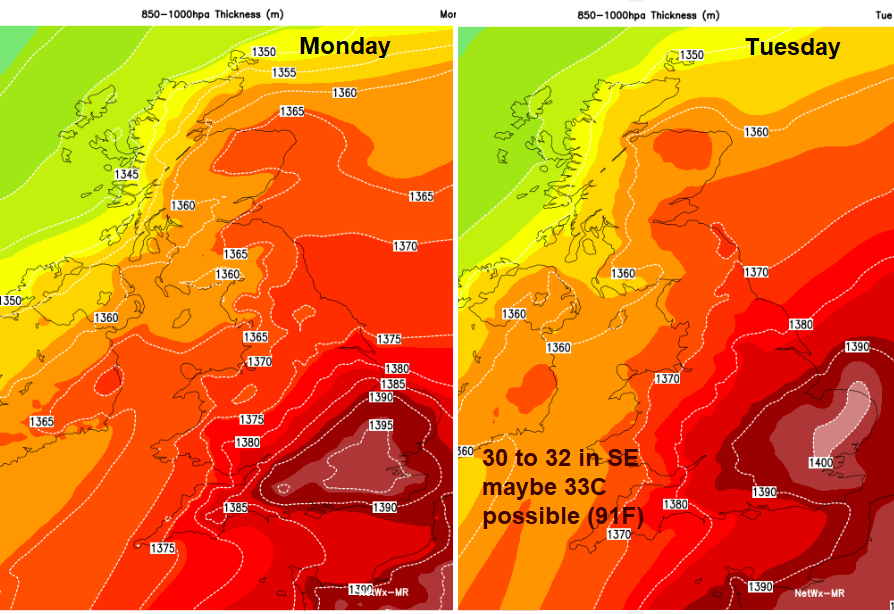 Today the south-eastern half of Britain will be warm, up into the mid to high twenties Celsius. The rest of the UK high teens and low twenties. There will be light winds for most, more of a breeze from the SW/W for western Scotland where there will be rain as fronts nudge in from the Atlantic. Elsewhere it will be fine and dry, with more cloud in the north and west, still sunny for the Midlands and SE.
Today we start off with more cloud, but it will break up. Northern England and parts of Wales could hold onto more cloud as a few showers will be set off over SW England and south Wales. Most will miss them, but the risk is there. Through the afternoon a warm front approaches NW Britain bringing rain with the waving cold front for Sunday morning.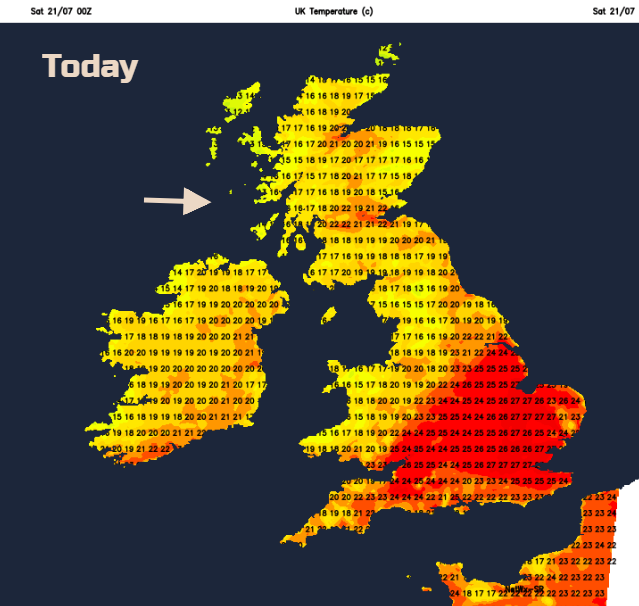 There will be more cloud over Northern Ireland and western Scotland on Sunday but elsewhere again a fine day with temperatures into the twenties C for eastern Britain and 30C possible in the SE.