We have a change in our weather this week, with some fresher air arriving for a time at least, but if you're expecting a dramatic swing to wet, windy much cooler conditions, it's not on the cards. So, while there will be some rain and showers at times, sunny, dry weather will still be the main player - especially away from the northwest of the country.
Lower pressure playing more of a role at the start and end of the week, but watch high pressure building back again for the weekend:
Today, we have a cold front moving slowly down from the northwest, with some showery, perhaps thundery rain on it. Behind it, there's fresher, slightly cooler air with sunny spells and scattering of showers. Ahead of it, it's still hot, but there is the risk of some isolated thunderstorms and downpours developing during the day. Temperatures will be highest in that southeastern quarter of England, with the high-twenties or low-thirties the peak once again. Elsewhere the high-teens to low-twenties will be more like it.
By tomorrow, the front will have moved through to leave us all in the fresher air. That'll mean the warmest spots in the southeast of England will see 21-24c, and other regions will again peak into the high-teens or low-twenties. So, still warm everywhere but several degrees down on the peak temperatures we've seen over the weekend.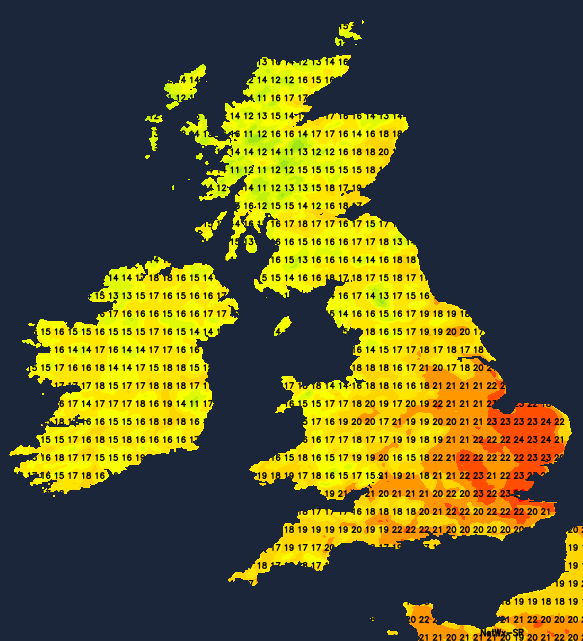 For most, it'll be a day of variable cloud, sunny spells and a reasonable scattering of showers - these most frequent in the north and west.