High pressure will continue to dominate our weather as we go through the weekend and throughout next week, so pretty much of the whole of the UK can expect no rain and temperatures will rise day-by-day. High pressure currently to the west allowed cooler and fresher air to move south across all parts mid-week, so for now nights are chilly and daytime temperatures are comfortable in the northerly breeze. Through the weekend, high pressure will migrate east to be centred over the UK, which will mean winds will become light and temperatures will begin to rise and the rise continuing into next week. So, by next Thursday, southern areas of England could see temperatures hitting 30C.
Today
For now, it's been a cool night, chilly for some – thanks to the cool northerly flow all the way from the arctic circle. The temperature at Trawscoed in west Wales fell as low as 1C overnight, which is rather low for late June, with some low temperatures in western parts too, bringing a ground frost. However, with the strong June sun and generally clear skies across the UK this morning, it will quickly warm up.
Other than some thicker cloud and showery rain clipping the north of Scotland and Northern Isles, most of the UK will be fine and dry again today, with plenty of prolonged sunshine. Northwesterly wind lighter today, so feeling a little warmer than yesterday too. Temperatures reaching 19-23C across England and Wales, though cooler around coasts. 14-18C across Scotland and Northern Ireland.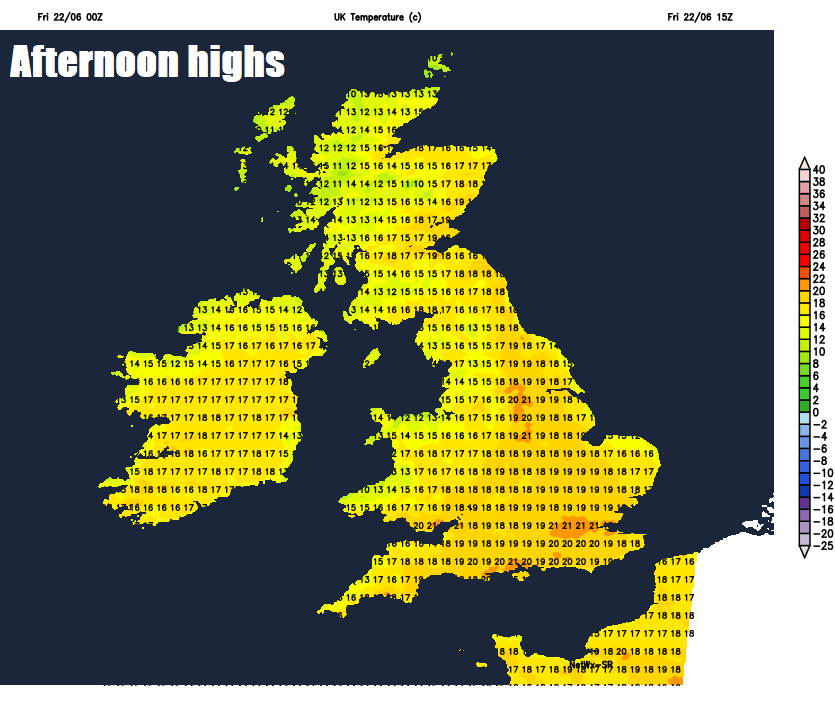 Mainly clear skies tonight will allow temperatures to dip and so becoming cool or chilly, with temperatures falling into single figures in rural areas. Thicker cloud across northern Scotland and Northern Isles.
Saturday
High pressure will be to the west of the UK to begin the weekend, this will allow a weak front to graze the far north of Britain, bringing thicker cloud and patchy light rain at times across northern Scotland on Saturday. But further south, high pressure will have more control, bringing another fine and dry day, with plenty of warm sunshine. There will be some high cloud drifting down from the northwest at times, making the sunshine hazy. Temperatures reaching 14-18C in the north generally, 19-24C in the south – though cooler around the coasts.
High pressure to the west drifts east over Britain over the weekend, weak fronts clipping far north on Saturday.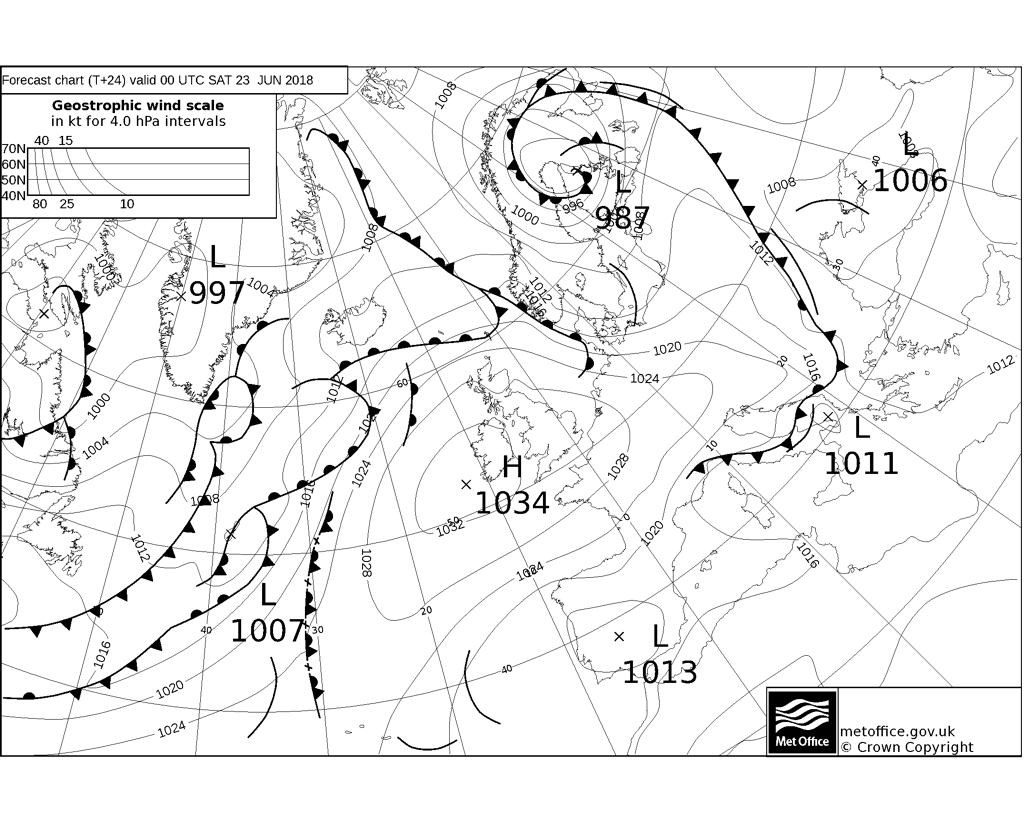 Sunday
Little change on Sunday, generally fine and dry with prolonged spells of sunshine for most, temperatures more widely in the low twenties away from the north of Scotland, perhaps 24-25C across southern England.