High pressure will be arriving back onto the scene again during the upcoming week, with the southern half of the UK first in line to see some fine, warm weather. Then, for a time at least, the high looks set to settle very closeby, if not right over the UK giving the northern half a break after an unsettled first half of the week.
Today though, we still have low pressure running the show. The heavy rain, showers and thunderstorms from yesterday have cleared through, but we've been left with a lot of cloud and some patchy, drizzly rain moving in from the west, along with some showers in the east. So, sunshine will be at a premium today, with eastern areas likely to see the best of it along with the warmest temperatures at 18-20c. Elsewhere 15-19c will be more like it.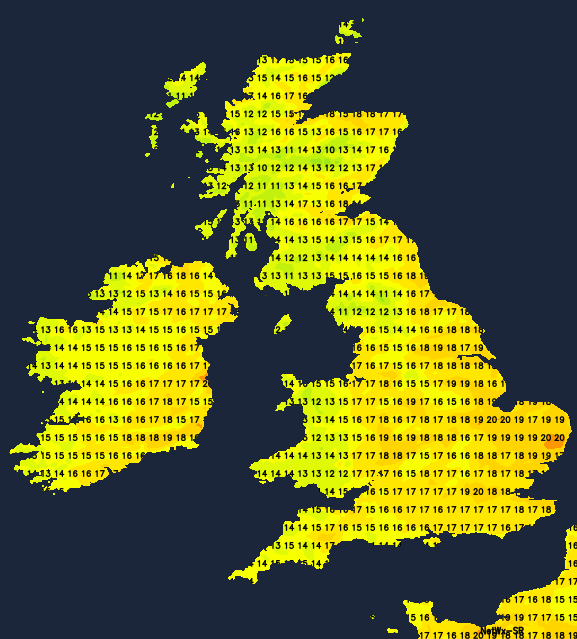 Monday will see the high just trying to nose up toward the south of the country, so it's here which will see the driest, sunniest weather. It'll be warming up too, with highs of 20-23c for a good part of central, southern and eastern England. Further north and west, there'll be a very different feel with showery rain affecting western regions. An area of heavier showers, perhaps merging to bring longer spells of rain, will move west to east across Scotland and the far north of England during the day. It'll be blustery in the north and west, touching gale force across the far north of Scotland later.
Tuesday brings a quieter day for the most part. There'll be a few showers in the northwest, but elsewhere plenty of sunshine, which'll again see temperatures moving into the twenties across a good chunk of England and eastern Wales. A small low will be zipping across the northern half of Ireland into the afternoon, bringing rain, along with blustery winds with it. That'll continue east into Scotland and northern England later.
That leads to a real split on Wednesday, with showery rain affecting the northern half of the UK for a good part of the day. Whereas further south it's dry, often sunny and very warm with temperatures perhaps heading up into the mid-high twenties.