Again, we will see NW areas up to 22 or 23C and similar values for SE Britain with light winds. It will be a gorgeous end to the working week here, but perhaps feeling a bit humid for some. The weekend will be even hotter.
Overnight the rain fades but there will still be a good deal of cloud. High pressure will stay away to the north, feeding low cloud in from the far NE but bringing a lot of fine, sunny weather. To the south of the UK is an area of low pressure which will throw heavy thundery showers across parts of the UK from time to time. In-between there will be a brisk east wind but also a lot of sunshine.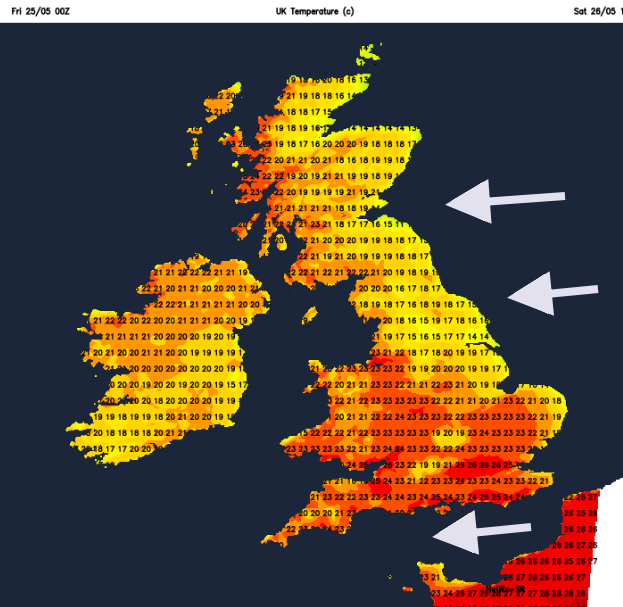 Areas at risk on Saturday look to be southern and SW England and the southern half of Wales. As the thunderstorms come through there will be the risk of torrential downpours, strong gusts, hail and lightning. Exact locations for the downpours can't be pinpointed at this stage, that will have to be left til nearer the rime whilst watching the radar. It will be hit and miss with localised flooding possible for one location and a mile or so down the road getting nothing. In the fine weather, remember your sunscreen even through the cloud, the UV rays can still reach you.
Saturday night will be fine for most but still the heavy showers rotate over SW Britain. By Sunday it looks like the thundery showers will move up over Wales, maybe trailing into central southern England, but away from Devon and Cornwall.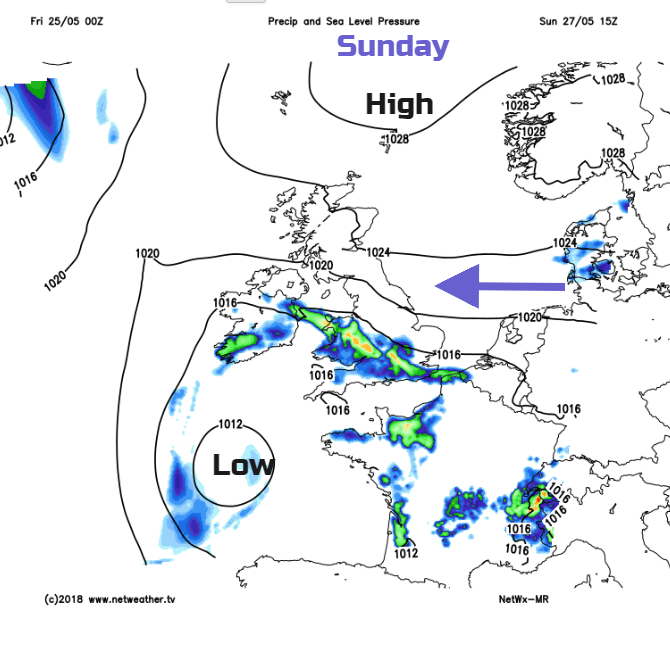 The easterly wind will keep North Sea coast resorts fresher feeling but there will be sunshine. Sunny spots will see temperatures from 20 to 28C, Northern Ireland and western Scotland again doing very well. The thundery showers rumble on overnight
Bank holiday Monday with lighter winds will again have high temperatures. The east coast will be grey, even damp at times and so cooler and that cloud will take its time in the morning to retreat and burn off. For the SW half of the UK, the threat of heavy thundery showers remains but they will be well scattered.