For many it stayed dry, warm and sunny on Tuesday, with just a few thunderstorms developing to the south of London in the afternoon. Temperatures widely reached the low twenties, with Porthmadog in North Wales seeing the highest temperature of 25C, though coastal areas of NE England were stuck under low cloud bringing cool conditions here. Wednesday promises another dry, warm and sunny day for most away from North Sea coasts. Thursday will continue dry in many areas with sunny spells, though southern areas will have more cloud and the chance of showers, perhaps thundery, these spreading further north across England and Wales on Friday. It will stay very warm and mostly sunny over the Bank Holiday Weekend, but with the risk of thunderstorms across southern areas. But by no means will it be a wash out though and temperatures may climb to around 26-28C by Monday across southern areas.
Today
For now, the low cloud that has been plaguing coastal areas bordering the North Sea has pushed further inland overnight across eastern England and eastern Scotland as far west as the Midlands. So, these areas starting rather grey, but this cloud should burn back towards eastern coasts fairly quickly through the morning to join most other areas to sunny skies through much of the day. The low cloud will linger close to coasts of NE England and eastern Scotland and cloud will bubble up across the SE corner of England in the afternoon to bring the odd heavy shower or thunderstorm by the evening.
Temperatures reaching 20-23C across England and Wales, 15-19C across Scotland and Northern Ireland - away from eastern coastal areas of Scotland and England - where it will be cooler with an onshore breeze – with temperatures pegged back to 12-15C.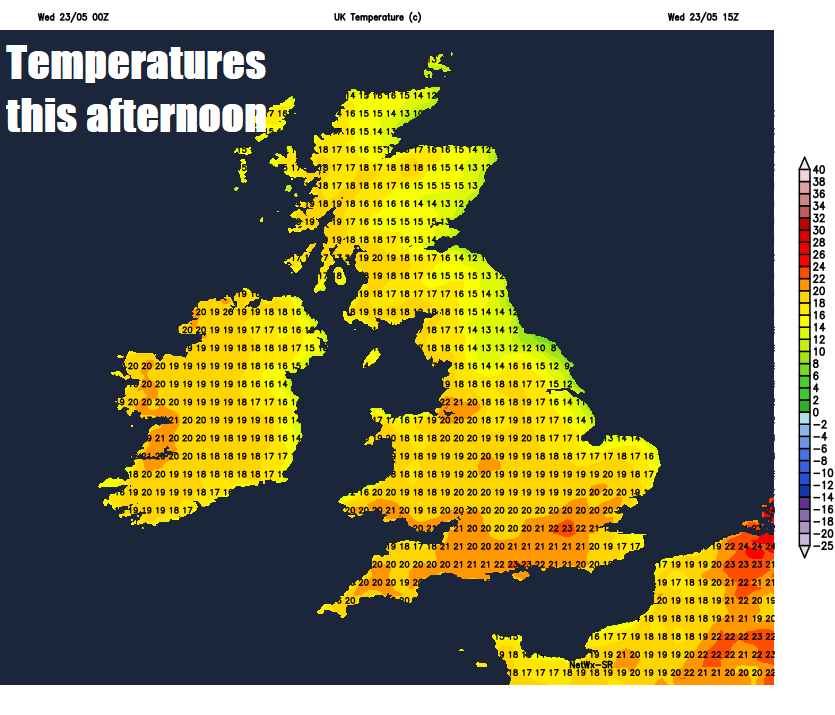 Tonight
For most it will be another dry night, with clear spells and not particularly cold. More of a wind picking up across southern areas of England and Wales tonight and with cloudier skies moving in with a risk of showers or longer spells of rain spreading in across southern England, which will be locally heavy with the odd rumble of thunder possible.
Thursday
Cloudy and breezy across the south with spells of rain, perhaps locally heavy and thundery, continuing to spread slowly westward across southern areas of England and into south Wales during the day, perhaps some brighter or sunnier conditions following across SE England. To the north, a mostly dry and bright or sunny day. Temperatures ranging between 17 to 21C generally, but again cooler along North Sea coast with an onshore breeze.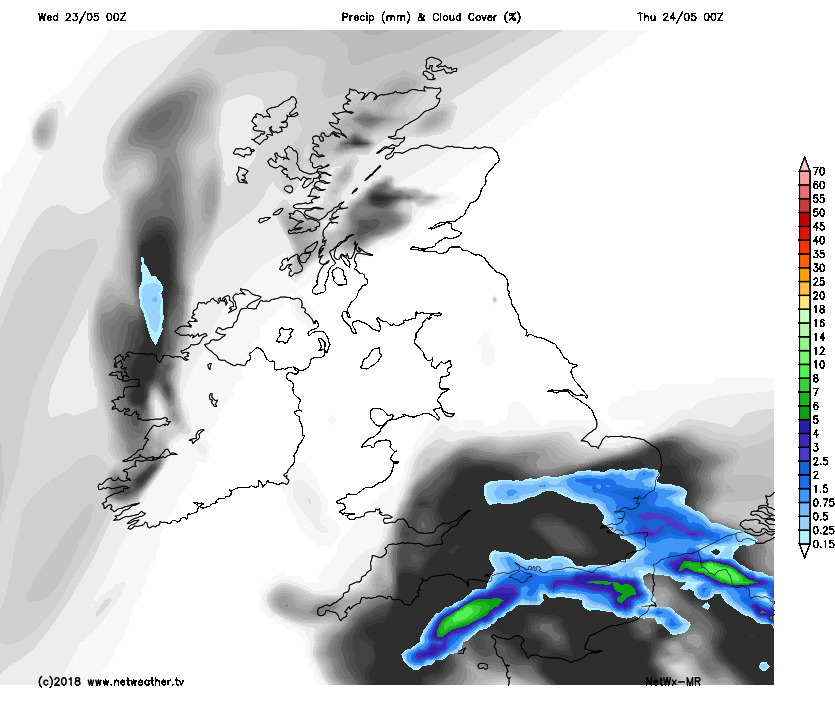 Friday
Outbreaks of showery rain across the south then pushing north across Wales and the Midlands into northern England during Friday, drier and brighter skies following across the south while Scotland and Northern Ireland stay mostly dry and sunny. A risk of further thundery showers approaching southern England from the south later in the day though.