Temperatures today will widely hit 21-24c over much of England and Wales, 25-26c in London. Southern Scotland will head into the high teens, maybe low-twenties here or there, with much cooler temperatures, just into the low-teens under the rain across NW Scotland and Ireland.
Overnight tonight, many of the showers will die away, although a few more may move into the southeast corner. The rain across Ireland will have eased at this point, and there'll just be some patchy outbreaks affecting the northwest of Scotland, with one or two showers perhaps extending further southeast.
Tomorrow will see a fair bit of cloud affecting Scotland, there'll also be some low cloud drifting onto eastern coastal counties. Elsewhere there'll be more sunshine, albeit with a little more in the way of cloud drifting about at times. Like today, there will be the risk of some thundery showers, these running through southern areas of England, perhaps with a few getting going into the Midlands and Wales. They will be quite isolated though so that most people will enjoy a dry, warm day with highs again touching the mid-twenties.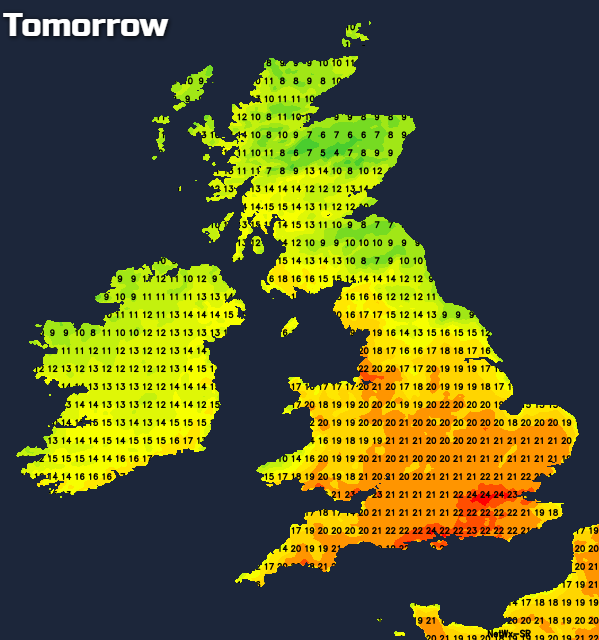 From midweek, right through to the end of the week the pattern doesn't change with lots of warm sunshine for the majority of the UK and Ireland. With easterly winds blowing, eastern coastal counties will be prone to some low cloud and a chillier feel at times. And, there will always be the threat of thundery downpours affecting southern parts.
Looking ahead to the bank holiday weekend, not much is likely to change, so we're set to make it 2 out of 2 when it comes to sunny, warm bank holiday weekends in May - it's not too often you can say that!