High pressure is going to be the boss of our weather this week, so there's plenty more fine, sunny weather on the way. But with the high centred toward the northeast of the UK for much of the time, and low pressure never too far away on the continent, there is often going to be the risk of some thundery showers. Which, after today will mostly affect the southern half of the UK.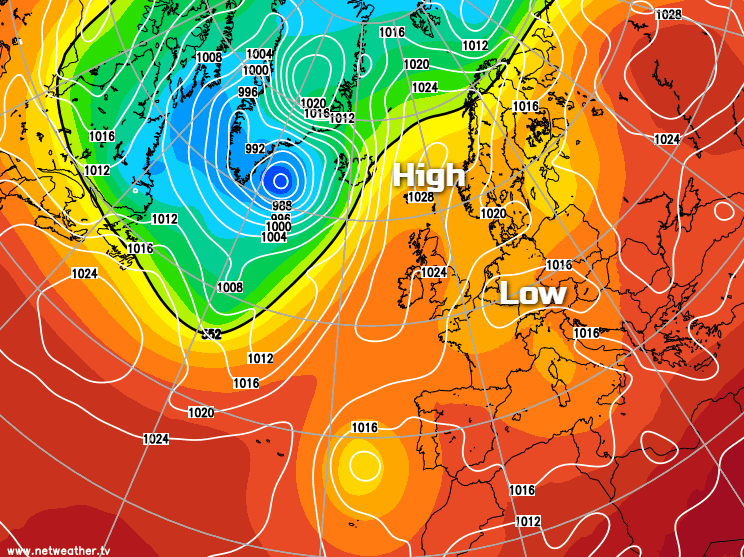 Today, we also have a weather front still affecting the northwest of Scotland and a good part of both Ireland and Northern Ireland. It's quite a stubborn one this one, having arrived Saturday, pushed a bit further southeast Sunday and having now retreated northwest again it's also pepped up a bit and is bringing some heavy, persistent rain at times. It should start to fizzle out later today to leave a drier day tomorrow though.
Elsewhere this morning, aside from a bit of low cloud here and there which will speedily burn off, it's virtually wall-to-wall sunshine. There is some more cloud coming into the southeast though, as you can see on the satellite image above, and that's the arrival of our first bout of less stable air this week. By lunchtime, we're likely to see a few isolated showers starting to pop up, initially in the southeast, but then moving further west and north, to affect central southern England, the Midlands, Wales and up into northwest England later. Not everyone will catch one, but they could be quite lively with hail and thunder if you do.
A storm forecast has been issued for today with more details on the thunderstorm risk, you can read it here.
Temperatures today will widely hit 21-24c over much of England and Wales, 25-26c in London. Southern Scotland will head into the high teens, maybe low-twenties here or there, with much cooler temperatures, just into the low-teens under the rain across NW Scotland and Ireland.