Friday brought another glorious day for many, not quite as warm for many as Thursday, with more of a breeze from the west, but with lighter winds across SE England, Frittenden in Kent recorded the highest temperature of the day, reaching 26.8C. There will be more warm sunshine today, however, scattered heavy showers or thunderstorms will develop and spread northeast across parts of England and Wales, these eventually clearing overnight. Cloud and patchy rain moving east on Sunday along a weakening cold front, cooler and fresher conditions following, though warm and humid weather hanging on in the southeast. Cooler, changeable and breezy conditions for all next week, with rain or showers at times, but also some sunny spells, temperatures back down nearer to average.
Today
For now, a glorious start to Saturday for many, with clear blue skies for most, though it is cloudy across the far northwest and we do have some low cloud across the East Midlands, Yorkshire and Norfolk – which should clear through the morning.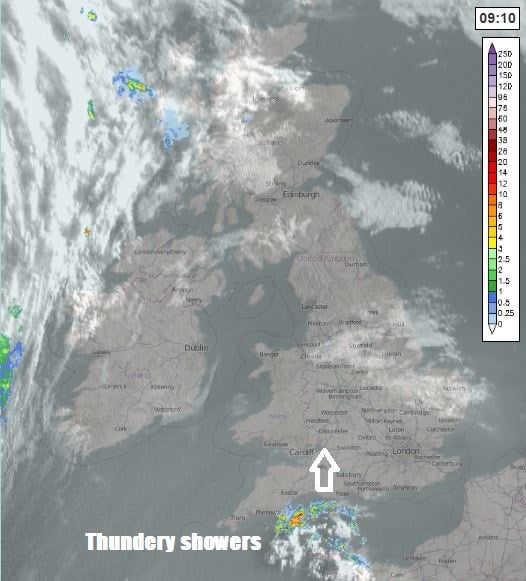 There is some heavy and thundery downpours spreading north across the English Channel towards Devon and Dorset, these isolated thundery downpours will then spread or develop northeast across SW England, south Wales and the Midlands this morning and into the afternoon, before reaching north Wales and parts of northern England by the evening. Not everywhere will catch one, with many staying dry and warm. But where you do, the rain could be torrential leading to some localised flooding, there could also be some hail and gusty winds. Netweather have issued a Thunderstorm Outlook covering today's risk of thunderstorms.
Scotland and Northern Ireland staying largely dry and sunny, as will SE England and East Anglia. The highest temperatures again across SE England – where we temperatures could reach 26C, more generally across England and Wales reaching 18-21C, across Scotland and Northern Ireland reaching 15-17C, though cooler across far north of Scotland.
Tonight
Further thunderstorms are forecast to develop over northern France and move northeast across the English Channel to affect parts of SE England and East Anglia later this evening and overnight before clearing in the early hours, ongoing thunderstorms or heavy showers over northern England eventually clearing northeast into the North Sea. Otherwise, most areas dry with clear spells overnight, though cloud spreading in across the far west, with patchy rain arriving across Northern Ireland and western Scotland.