Yesterday turned out to be the warmest day of the year so far, with temperatures reaching 25C in the London area. This is likely to be topped with 27C (80F) possible today again in the London area, possibly making it the warmest April 19th on record. The warmth is going to continue through Friday and the weekend too, temperatures perhaps not quite as high as today, but still reaching the low-20s Celsius across the south. But there will be an increase in humidity and falling pressure over the weekend, the warm sunshine will likely trigger heavy showers and thunderstorms on Saturday, which may linger into Sunday, before fresher conditions move in by Monday.
Today
For now, it's a gloriously clear and sunny start for many, mild too, with temperatures widely into the low teens already, some spots in the southeast not dropping below 15C overnight. There are some mist or fog patches across the southwest, but these should soon clear.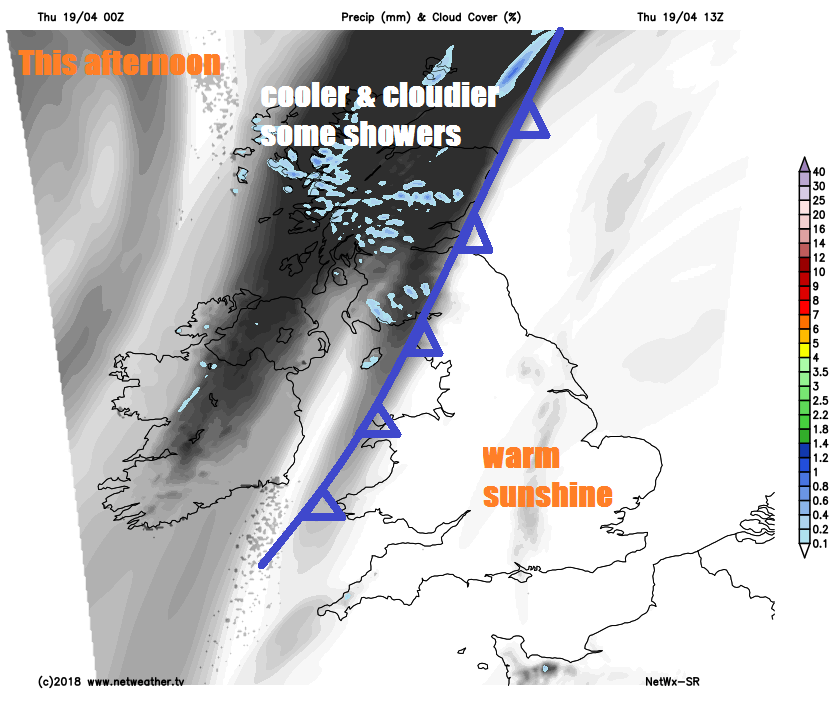 Staying mostly dry with more warm or very warm sunshine for many today, sunniest across central, southern and eastern areas, a weak cold front edging in from the west will bring more in the way of cloud across the northwest and far west, thick enough to bring a few showers to northwest Scotland and perhaps Northern Ireland.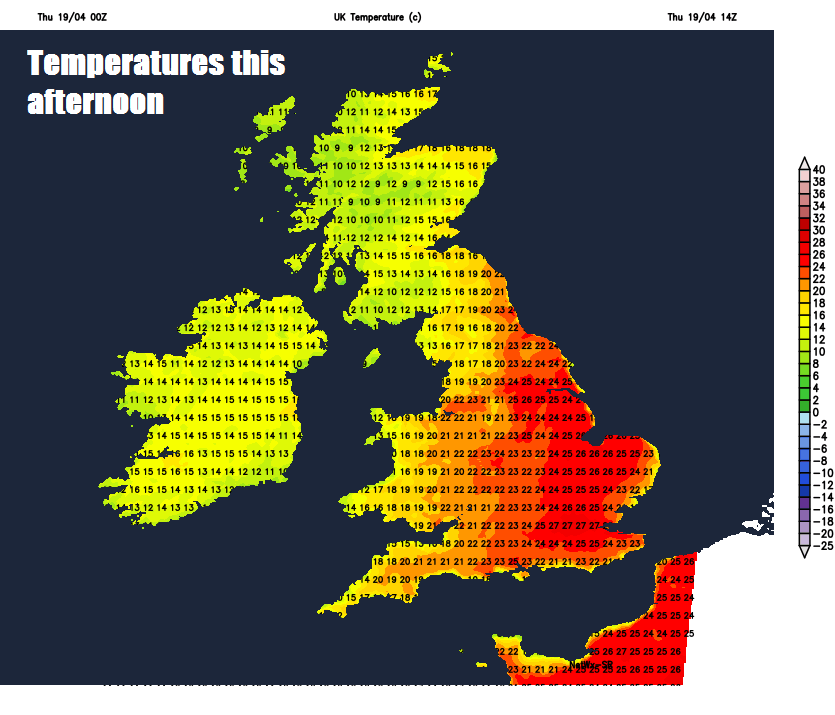 Temperatures are likely to reach 27C in the London area, 21-25C elsewhere across England and Wales; 17-19C across Scotland and Northern Ireland away from the far north where it'll be a cooler 12-14C.
Tonight
It will remain dry and clear for most tonight, though thicker cloud across far the west will bring some showers across northwest of Scotland, some mist or fog patches may form inland and perhaps some thick sea fog lapping onto to southern coasts as well. A mild night, temperatures falling between 7-13C.
Friday
Feeling fresher and cooler across the north, with a southwesterly breeze off the Atlantic, which will blow in some showers across Scotland, but with some sunny spells too and elsewhere across the north. Lighter winds across the south will bring another warm day with plenty of sunshine, early mist and fog soon clearing but coastal fog may persist in the south and west. Temperatures reaching 25C in the London area, 17-22C elsewhere across England and Wales, a cooler 13-17C across Scotland and Northern Ireland.