Southern Britain and Northern Ireland are around 7 or 8C and It's a bit colder this morning for northern Britain, especially in the wind. It will become much colder everywhere this weekend, with severe wind chill. There will be some snow, a hard frost and ice, do not under-estimate how bitter it will feel in the wind over the next few days.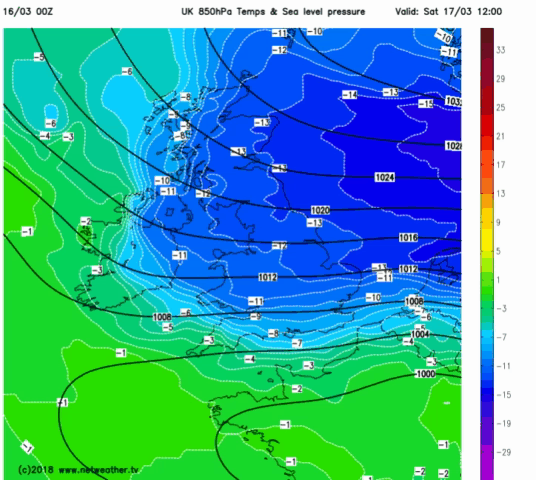 This morning there is more rain about. Weather fronts stuck in-between the high pressure over Scandinavia and large low pressure off SW Ireland. The rain bands have been shuffling NE wards this week, making the ground even soggier but they are about to be pushed SW wards today and tonight. The truly cold air piles in, turning the rain to sleet and snow and then we wait to see where the snow showers land during Saturday and if snow moves over southern Britain on Sunday.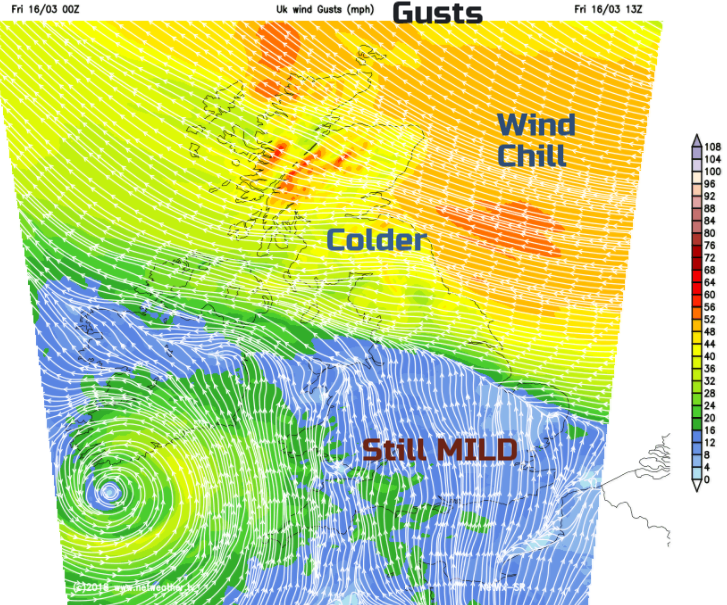 It is still very windy over northern Britain with gusts around 50-60mph. With air temperatures only up to 4C today, it already feels uncomfortably cold if exposed to the wind. Further south and west the mild air clings on with temperatures into double figures across southern Britain, around 7C for Northern Ireland.
There is a band of rain over Wales, the West Midlands which is bringing patchy rain to Northern Ireland and also reaches eastwards to the Wash. This edges northwards today bringing damp, grey conditions, reaching the Solway Firth this afternoon. To the south of this, there will be brighter spells and a scattering of showers, some heavy, even thundery. It won't be as mild as this until at least the middle of next week. Rest of March looks on the cool side.
This evening it will begin to turn properly cold. There is a selection of warnings out from the Met Office from Friday night through the weekend, for snow and ice. If you are in eastern Britain, you are more likely to see snow, if you are in the west or Northern Ireland less likely. In the middle, it's a bit tricky.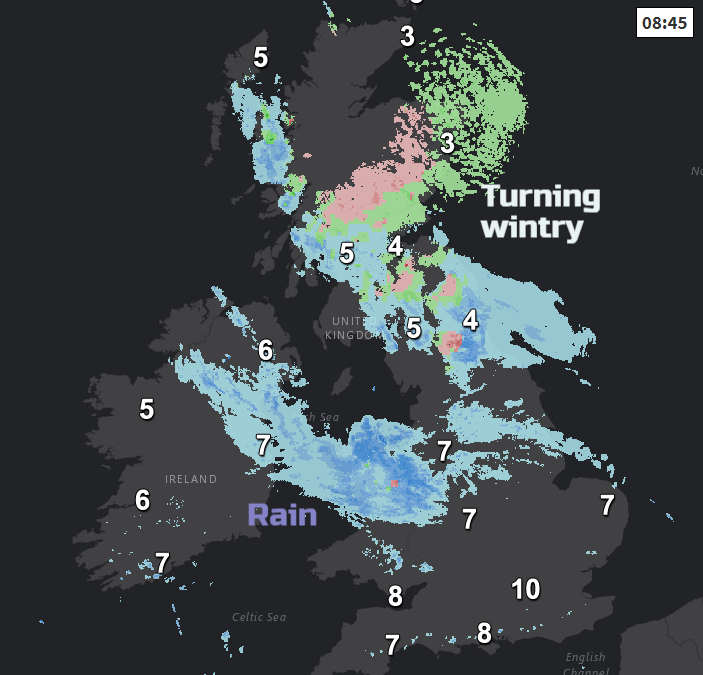 We have this front over NE Britain which retrogresses SW early on Saturday. This is rain (snow over the Grampians) but will increasingly turn to snow tonight and bring several cms to the Pennines, Cheviots, southern Uplands and North York Moors, with flurries and a bit of snow elsewhere to lower levels and the risk of ice overnight.
By Saturday morning there could still be some activity on the front bringing a bit of snow to Wales, right across to the Thames Estuary, over to Northern Ireland and its fading as it moves further south with a lot of cloud. Reaching the Moors of the SW by the afternoon.
Behind this front, there will be brighter skies, sunshine and the intensely cold air. A feed of snow showers gallop across the North Sea and look like mostly affecting Britain north of the Wash on Saturday. Lines develop once more in the flow, being blown right across Britain by the brisk cold winds. The SE winds back to the NE, so different areas will receive snow showers as the wind alters.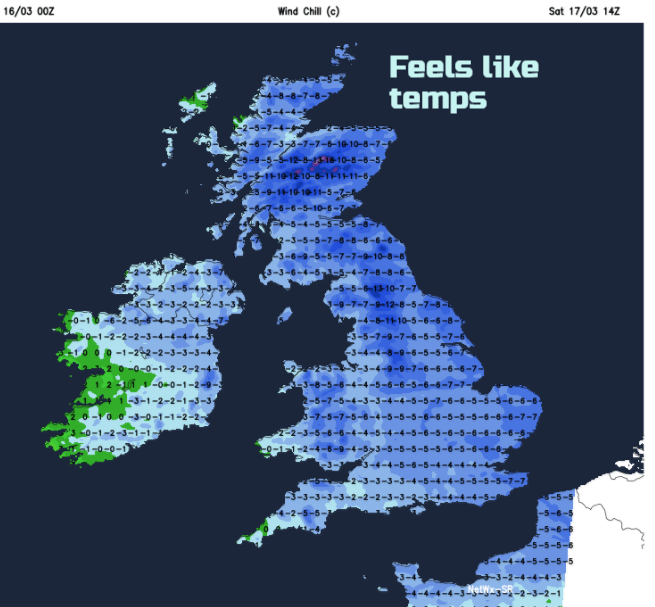 I'm going to say again; it will be horrendously cold. This is unusually cold air over the UK and a fresh to strong wind from the North Sea. 0 to +4C air temp, more like -7C in the wind. The winds will be lighter for northern Scotland on Sunday as the high moves closer, but the wind chill continues for most of the UK in a fresh to strong NE wind.
Southern Snow Risk Sunday
There are signs of more snow swiping SE England early on Sunday and this area of snow then heads across southern England to SW England Sunday afternoon/Evening. There is lots of uncertainty, even now about this part of the forecast. The coldest air will be over southern Britain Saturday night into early Sunday and there is a balance with a low pressure over the Mediterranean, whether that will have enough influence to enable snow over southern UK.
Then with high pressure nearer the UK, it will become drier by Monday, lighter winds for the NW half of the UK, still bitter in brisk NE winds for much of England and Wales and a significant wind chill for another day. Frosty nights but the worst of the cold will then fade by Tuesday.
Five questions about this upcoming bitter cold and snow
Sea effect snow, how snow showers form across the North Sea.