"Beyond the terrible scale of cold-related winter deaths, people experiencing fuel poverty can also struggle with poor mental health and this can sadly lead to total social isolation and even suicide," said Peter Smith, director of policy and research at NEA. "This preventable tragedy must end," he said.
Geographically there are issues with age and type of buildings, fuel provision, such as many homes in Wales being rural and not able to get mains gas, often built of stone and so can't have cavity wall insulation. Other forms of fuel are more expensive or fluctuate greatly in price over time. In Northern Ireland, the main fuel for homes is heating oil with over 2/3rds of households reliant on an unregulated fuel to heat their houses.
The table above gives an idea of how many homes live in Fuel Poverty (FP) where a household spends more than 10% of its income on fuel costs, or the Low Income/High Costs definition - income below poverty line (including energy costs) and their energy costs are higher than is typical for their household.
Help
Historically, temperature was a bigger factor in excess winter deaths back in the 1950s and 1960s. Overall, there has been a decrease in recent years mainly thanks to home improvements and energy efficiencies. Most homes are now easier to heat and keep warm than they were 60 years ago leading to more stable indoor environments. More people have central heating, rather than just fireplaces. And full double glazing, loft insulation and cavity wall insulation, some of these with help from government initiatives.
To ease decisions, such as whether to 'heat or eat', when budgets are stretched in fuel poor households, there are now a number of policies aimed at tackling excess winter mortality. These include winter fuel payments - a one-off payment from UK government. Cold weather fuel payments which are dependent on the actual weather in your local area. The Warm Home Discount scheme is a one-off electricity bill discount for people on a low income who meet the eligibility requirements, it is worth looking into this now for next winter as applications open in the summer and are limited.
There are many schemes to help provide funding for energy efficiency improvements to low-income households and those living in deprived communities to help eradicate fuel poverty. And also emergency help for a broken boiler, energy payment problems or fuel debt.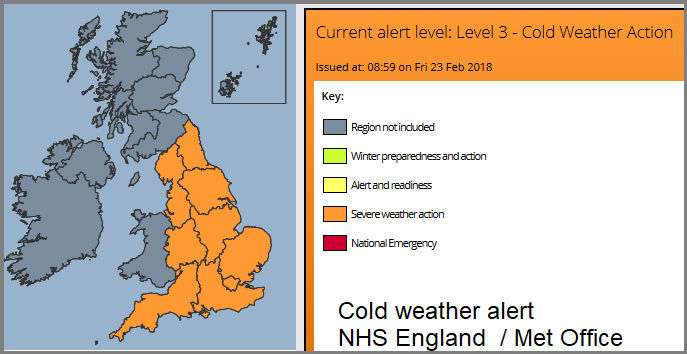 The seasonal flu vaccination/nasal spray programme is assisting with the yearly influenza outbreaks. NHS England has developed annual Cold Weather Plan, in partnership with the Local Government Association and the Met Office. "The Cold Weather Plan aims to prevent avoidable harm to health by alerting people to the negative health effects of cold weather. This should enable them to prepare and respond appropriately, and help to reduce the number of excess winter deaths. " Amber alerts for all of England were issued in February 2018 to warn of the upcoming cold and start preparations in the health service.
Is winter over for this year?
Maybe not quite. It seems there could be another cold spell this weekend. Daytime temperatures look set to plummet from +13C down to +3C and Sunday night could see a hard frost. Snowfall is more uncertain, and it won't be as severe as an event at the end of February but even so, after a mild week with hints of spring, the end of this weekend could have us all shivering again.
Model discussion and chat on the Netweather community forum