The increasingly heavy snow pushing north across the southwest today PM will be accompanied by an increasingly strong easterly wind as Emma deepens, with gusts perhaps reaching 50-60mph across the west overnight. bringing blizzard conditions and drifting of snow. 5-10cm of snow are likely widely, but over the SW Moors and higher parts of south Wales, we could see 30-50cm, so drifting of these large accumulations will likely lead to road closures and risk of stranded vehicles.
Less cold air trying push north on the southern edge of area of snow moving north over SW Britain may bring the additional hazard of freezing rain across southern areas of Devon and Somerset. A look at the cross-section profile of a warm front gives a general idea how it will be mostly snow but perhaps freezing rain on the southern edge of the area of snow moving north as milder air tries to push above surface air that is at or below freezing.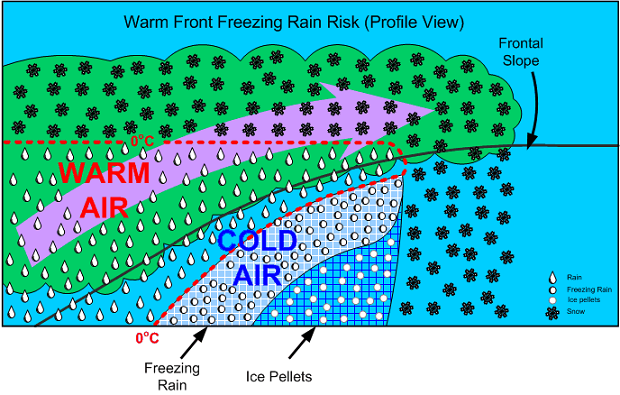 The deepening and change in direction of Storm Emma towards the northwest tomorrow from its track north today, is unusual in itself and is associated with a 500mb upper low / cold pool crossing the UK overnight and ending up to the SW of UK and Ireland on Friday. The upper low engages Emma into its circulation as it drifts north from Iberia, as surface lows tending to follow the 500mb flow.
Upper low in blues (500mb heights) and Storm Emma shown rotating around the upper low off SW UK.
Friday
After the heavy snow and freezing rain clears northwest from SW England and Wales overnight and into Friday morning, an occluding cold front associated with Emma will move N and NE across southern England and Wales on Friday afternoon and evening bringing another band of snow, the snow heavy in places, but less disruptive than for the southwest later today and overnight, but bringing 2-5cm widely, maybe 5-10cm in places, before the band of snow eventually weakens and peters out as it drifts north across the Midlands and East Anglia overnight into Saturday morning.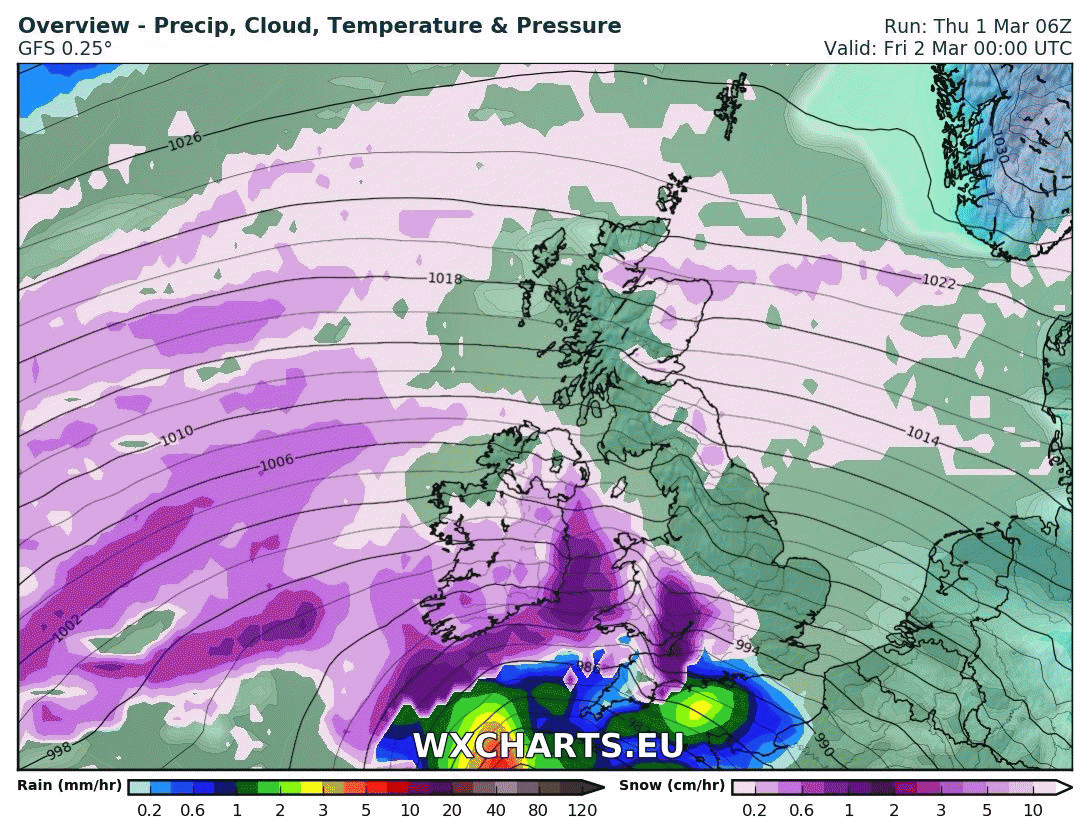 Weekend
A strong and very cold easterly wind will continue to feed in heavy snow showers across northern areas on Saturday, further south, snow band fizzling out over central areas of Wales and England, perhaps turning less cold across the far south. A small low may track northeast in across the far south later in the day, bringing some snow inland across Wales and England and rain or sleet across southern counties of England. A recovery of temperatures across the far south on Sunday, perhaps reaching 6-7C for southern England, but for many colder than this further north, a band of sleet or snow spreading north, with another band of rain or sleet spreading in across the southern or southeast England in the afternoon and evening.