It's lovely at the moment despite the cold, and with the sun getting a little higher now, it'll even be quite pleasant for a time today where you can find shelter from the wind. Most of us, however, I'm sure are aware of the particularly severe weather expected this week, as even colder conditions move in from the Russian steppes, bringing a wind chill factor quoted as low as -15C. As a result, a level three warning of unusually disruptive severe winter weather has been issued, together with yellow warnings of snow by Tuesday, especially for central and eastern areas.
Amidst all the coming mayhem and after a widespread sharp frost in places at first, today like yesterday will be dry with long spells of sunshine. As ever there are a few exceptions, with a good deal of cloud at the moment East of the Pennines that's giving isolated light snow flurries. This'll tend to break up to let some sunshine come through in places but here together with parts of East Scotland where there'll also be patchy cloud, further light snow showers or snow flurries are likely through the day.
A moderate or fresh East or North Easterly wind will feel raw particularly where you keep cloud, with some eastern areas seeing temperatures struggle to get much above 2 to 4C. In the West, however, some sheltered places could reach 6 to 8C in the sunshine for a short time into the afternoon, most likely to towards Irish Sea coasts and across Tyrone and Fermanagh.
A frost will quickly return around dusk, becoming widespread after dark. There'll be clear spells particularly over Northern Ireland, Wales and in the West, while some central and eastern areas see some cloud. This'll produce a few further mostly light snow showers or snow flurries, enough to perhaps give a 'dusting' in places by morning, but most parts continue to be dry. It'll feel bitter in an East or North Easterly wind that'll be fresh towards North Sea coasts. This'll give a penetrating frost, with lowest temperatures -3 to -6C in the West and -1 to -3C in the East.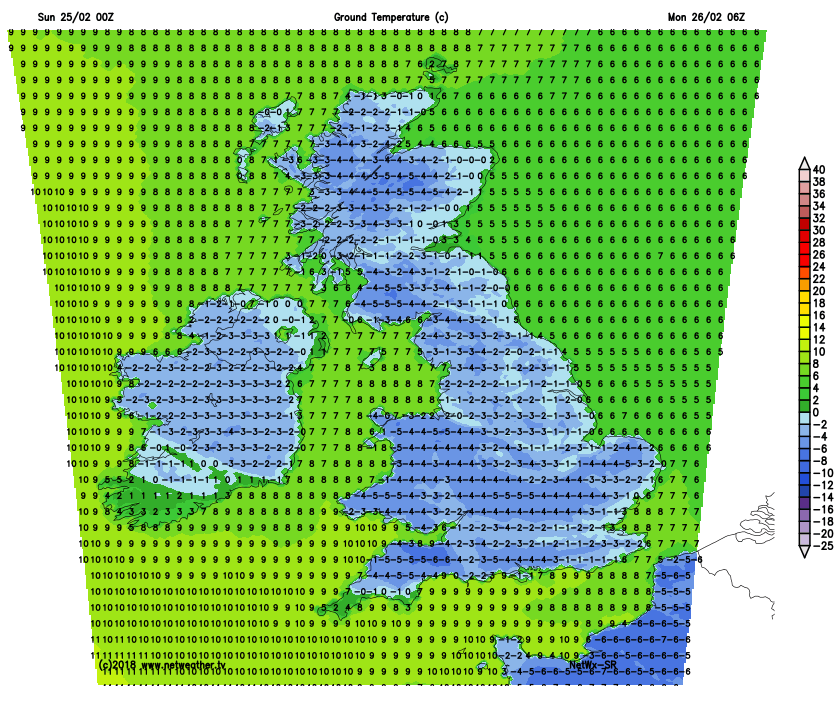 After the sharp frost in places, the new working week sees further sunny spells particularly over Northern Ireland and in the West. Central and eastern areas should also see some hazy winter sunny intervals, but here, cloud amounts will be more variable. There'll also be a few mostly light snow showers, but the trend through the day will be for these to become more widespread and a little heavier. Not everywhere will see them, but parts of East Scotland and North East England could well have a slight covering of snow by the end of the day.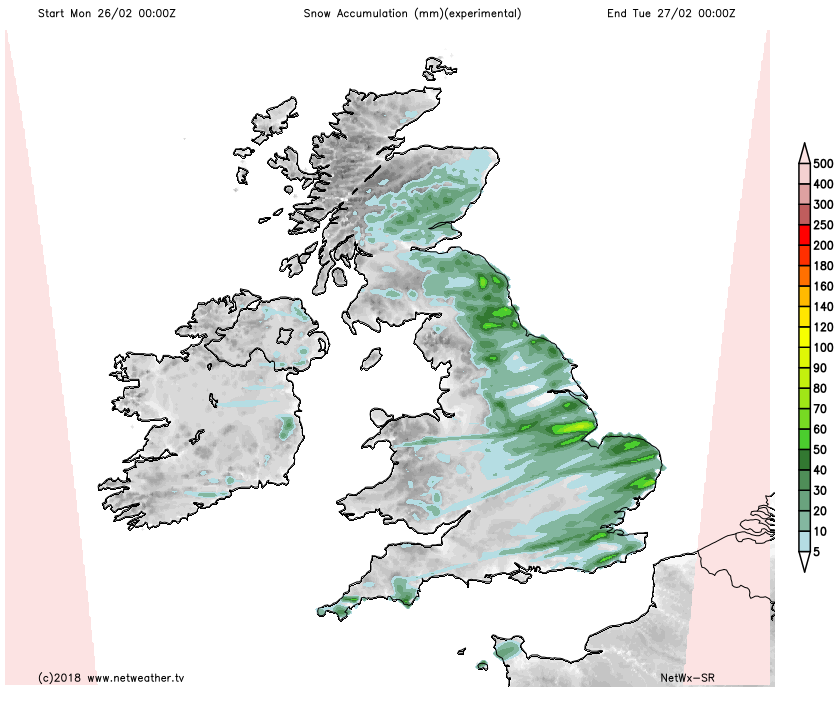 A mostly moderate occasionally fresh East or North East wind will be bitterly cold, with temperatures struggling to get much above freezing in some eastern areas. In the sunnier, more sheltered spots further West 5 or 6C is possible briefly around mid-day.