If you have been enjoying the sunshine and mild air with temperatures in double figures to start this week, your thoughts might be turning to spring, especially with the lighter mornings. However, there are more and more steady signs on the forecast models for a spell of bitter cold to reach the UK from the east, drawing air from Russia or Scandinavia.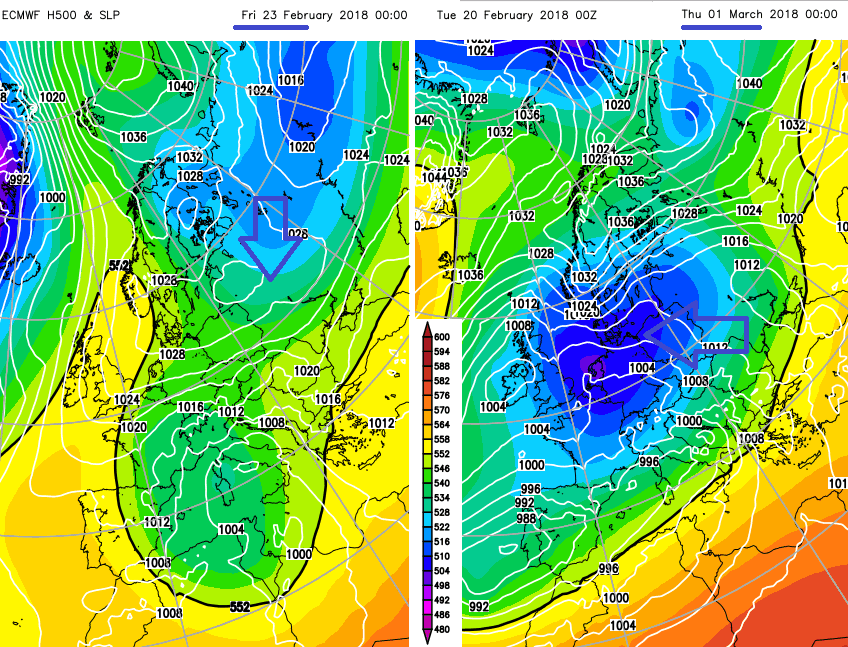 The end of this week will be cooler with a return to night-time frosts and daytime temperatures around 4 or 5C. A brisk, chilly east to NE wind will also pick up, making southern Britain feel colder. However, it is next week when the proper cold looks to set in. Some of the charts appearing, yet still varying run to run, have been quite phenomenal with the depth of cold reaching the UK. There is still plenty of uncertainty about how cold it could become, how long the cold spell will last and whether there will be any significant snowfall. Eastern and southern areas are more at risk in this setup, than the far NW.
By the end of February, some people would hope the worst of the winter has passed, nature begins to re-awaken, even the meteorological calendar moves onto spring on the 1st of March. This year could bring a shock and even misery as people will struggle with a sustained cold spell, heating costs will continue, unhappy farmers, never mind if we have to add late snowfall in too.
The air this week is pretty dry, you might see snow flurries in the air for eastern/SE Britain at most. Next week looks different. As the cold air flows over the North Sea, currently SST of 4 to 7C, heavy snow showers can form. These then get blown towards eastern Britain and can deposit significant snow, in places. Lines or troughs, flow in, giving periods of snowfall which can reach further inland. The current charts are still too far ahead to identify specific locations and amounts or timings. This week high pressure over the UK is keeping our weather settled and Atlantic low pressures at bay. That won't be the case next week and we'll have to watch to see if any frontal systems manage to sneak up against this cold air if the UK is in a more marginal zone. That could also bring significant snow with the south and SW of Britain being more at risk.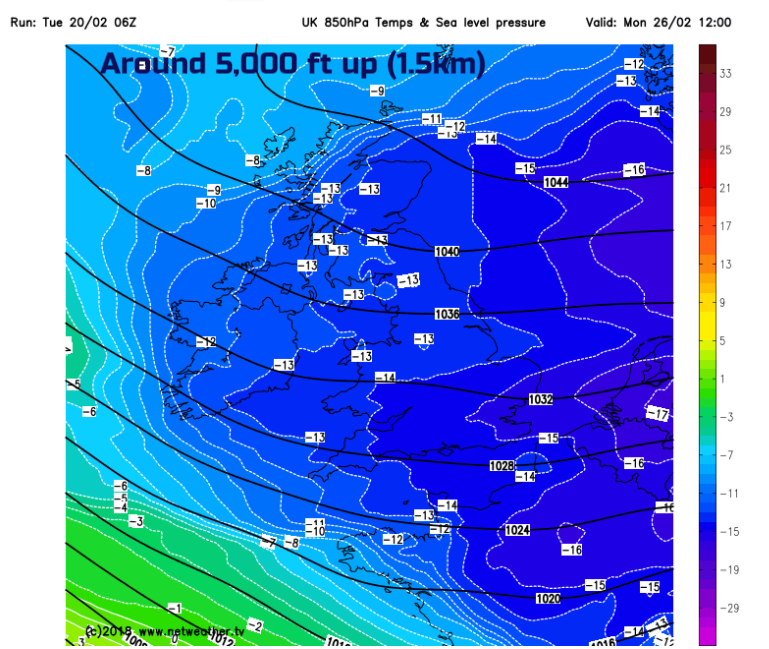 850hPa temps from early next week, currently around -1C to -4C Tuesday 20th
The message is about it turning colder next week, even by the end of Sunday 25th; that it could be a prolonged spell of cold weather, intensely cold in the winds and also could bring snow for some but not everyone. Stay tuned.