Northumberland events Message from Mercury, star gazing Sat 17th near Hexham
Talk tonight at Waterlooville and Star Gazing on Saturday night South Downs
Wales events various locations 16th and 17th Feb GoStarGazing
The original Galloway Dark Sky Park, also has a set of events coming up with star gazing this weekend and next.
Weather conditions
For organisers and participants, the weather can be annoying. It's February so prepare for the cold. This weekend won't be as bitterly cold as we have had, but even so any length of time spent outside in the dark and the chill takes hold. Plenty of layers, a hat, gloves, windproof layer on top, just take those waterproof trousers and decent shoes and socks. Some of these events include a meal, hot drink, even mulled cider was mentioned.
The cloud conditions could be better but they could be worse. Northern Ireland looks cloudy with rain and that edges into wstern Scotland through the evening. Clear spells are likely across much of Britain.
Saturday evening, again cloud rain are about for Northern Ireland, could have clear spells early evening for Down and Antrim. Clear spells over BRitain with just a few showery bits. For your specific location, check out the 7 day Netweather forecast.
And also keep an eye on the Radar (there is an app too) . You can add current temperatures, wind direction, satellite cloud cover, model data and change the display to show snowfall rather than just rain.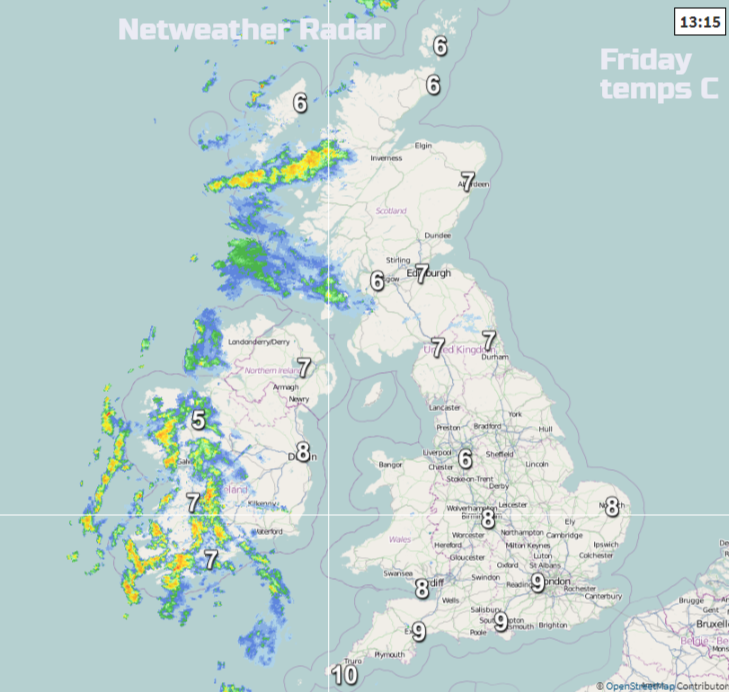 Aurora
There was excitement from various media sources about the Aurora being visible over the UK last night but there are so many variables that need to come together, and even when they do, it's like fishing, just waiting to see if something super will happen. There is a chance again tonight (Friday night) . View it as a potential bonus to whatever Dark Skies activity you have planned, don't linger long.