Rain comes and goes today and tomorrow with wintry bits and brightness in-between. Our weather continues to push in from the Atlantic but will turn colder through the week and stay that way for next week.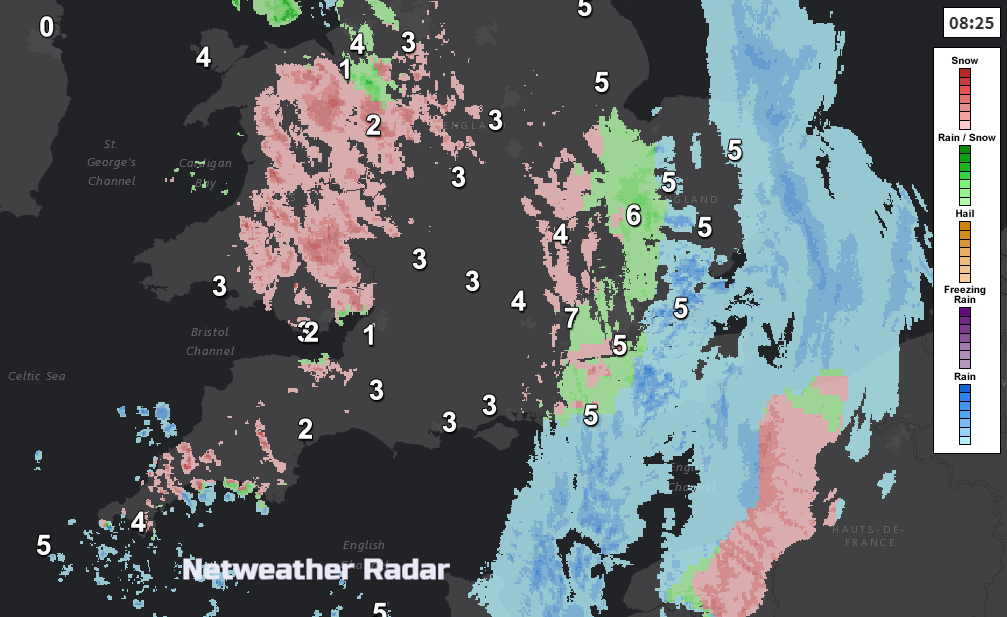 Southeast Britain starts off wet on Friday with surface water and spray on the roads this morning. It's dull and damp with temperatures around 6 or 7C. Away to the NW, for Northern Ireland and western Scotland, there are clearer brighter skies with sleet and snow showers brought in on a brisk NW wind. Here there is cooler air, and it will feel chilly in the wind. Between these two areas, there is a risk of ice, the curl of occluding front which will bring sleet and snow, mainly over 100m but flurries down to low levels too. That feature moves from Wales, northern England and southern Scotland. So that will be a bit miserable for a few hours this morning. The curl of sleet and snow will move from NE England to eastern England through lunchtime and early afternoon pulling away from Norfolk and Suffolk this evening. There will be several cms of snow for the Cheviots and North York Moors but elsewhere a light covering or just wet snow whizzing past.
For most of the UK, the day will be (or become) bright, breezy, cool with sunshine. There will be more wintry showers from the west, mainly into western Scotland and Derry.
Through Friday evening pressure will be rising, subduing the showers and there will be clear skies and lighter winds. The cloud and wintriness may still take its time to completely clear the East Anglian coast as temperatures across Britain fall just below zero.
Approaching from the west will be a new frontal system, ready to bring wet and windy weather on Saturday. Before dawn, there will be rain and hill snow for Northern Ireland and western Scotland with a fresh to strong SW winds. Milder air will be caught up in this system especially for SW Britain, but it won't hang around for long.