The 9am procession did set off in the rain, but if you look at any radar picture, there won't be any echoes over Shetland. It is the only part of the UK not within range of a weather radar. So there are not any real time images of rain, snow, sleet to help forecasters. Or people in the procession this evening wanting to keep an eye on the rain band coming in from the west. There are observation points with a few manual obs from the airports but data is sparse, especially when the flow is from the north. Satelite images help and are vital when uncommon Polar Lows develop off Norway, or Iceland but even with the upgrading of UK radar systems, no one, it seems, wants to pay for the installation of Shetland Radar. The last campaign put forward to the Scottish (then) Executive was in 2007.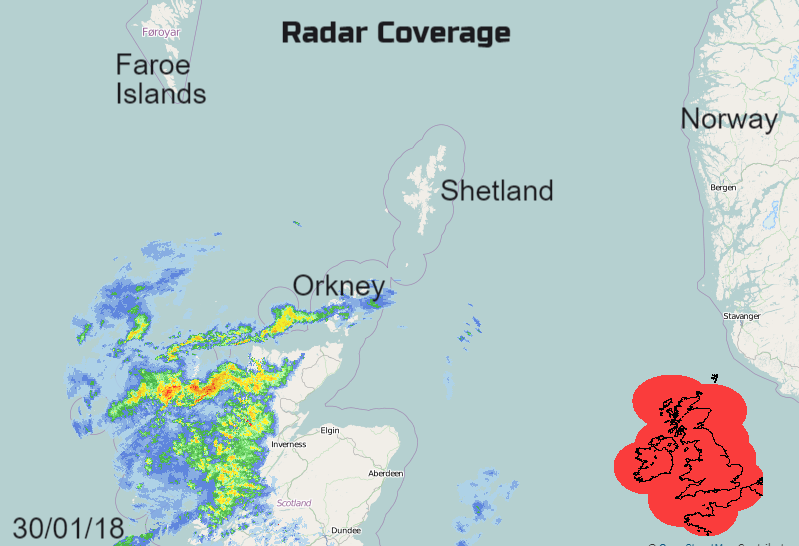 The Norwegian radar doesn't reach either. You can fly to Shetland, or get the overnight ferry from Aberdeen. Anyone who has viewed the Shetcams Cliff Cams will know that views of the Northern Lights occur quite often, so if you do want to see the Aurora, it's a good place to be. Shetland is closer to Norway than mainland Scotland and consists of over 100 islands but only 15 are inhabited. It is 60 degrees north and has a population of around 23,000. That's similar to Felixstowe, Antrim, Musselburgh and Market Harborough. The same parallel of latitude runs through Alaska, the Gulf of Finland and grazes Greenland.
However, it's not warm and it is windy. Don't be mistaken about the weather. Western mainland Scotland can enjoy summer spells of warm sunshine and fine days when the wind is in the east thanks to the high ground in the middle. The Northern Isles are much more exposed. The average day temperature in February is 5.5C at Lerwick, rising to 14.5C in August. The average wind speed in January is 20mph and it is likely to rain on 21 out of 31 days. Fine time to have an outdoor festival, but the Vikings were hardy and this time of year is dreich and dreary.
For those missing the BBC show Shetland or just DI Jimmy Perez, the series is back this year.
Back to moody skies, crashing waves, darkness, Island intrigue and gales. The ferries, wandering sheep, isolated farm buildings, looming churches and deserted beaches where there is bound to be a body.
For Wednesday there is a Met Office yellow 'Be Aware' warning for Snow and Ice. After the evening rain, dipping temperatures will lead to the risk of ice in places along with wintry showers on Wednesday.
More info Up Helly Aa