We've had our coldest night of the winter to date with -13C recorded at Dalwhinnie Highland. The very cold spell is on the way out though as milder air already in the South West eventually spreads all parts by this evening bringing a thaw. Beforehand though, we have warnings of snow and ice this morning for Scotland, the North and East of England and the Midlands where it's a dry but very frosty start with widespread ice and a few patches of freezing fog, so be careful if you are venturing out.
Track the latest on the live radar here
We currently have a swathe of rain heavy in places across Northern Ireland, Wales, the South West, central southern England and Merseyside that's turning to snow on its leading edge. As the front responsible advances North and East through the day and encounters the very cold air, it'll bring a spell of snow. Over Scotland, the Pennines and the moors of North East England, blizzards will cause travel problems for a time. For most, however, the snow will be a transient affair before turning to rain, as misty but milder conditions giving patchy hill fog spread from the South West through the day bringing a thaw.
Winds will freshen from the South East or South with gales in exposed areas, before veering South Westerly later. Across most of Scotland and North East England, it'll be a very cold and raw day, with temperatures getting no higher than 1 to 3C. Elsewhere 6 to 8C is more likely, with the West and South of Wales and the South West in the much milder air, probably reaching a quite balmy 10 or 11C.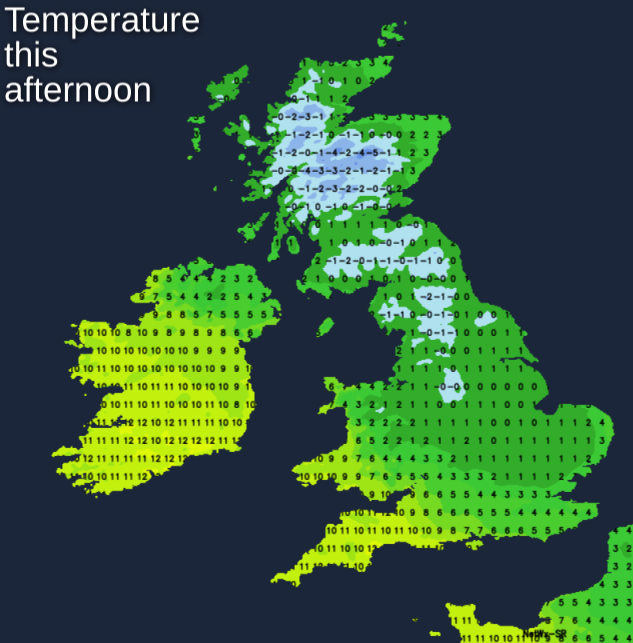 Any remaining snow across North East Scotland into the evening will move away, leaving all parts in the milder air bringing a thaw, that may cause a few flooding problems later where you have snow melt. Apart from scattered showers though mostly over Northern Ireland and the West of Scotland, it should be a mainly dry night, with skies breaking in places to perhaps give a few clear intervals later. The exception will be the Channel Islands and the far South West, where a meandering front will bring patchy rain or drizzle. A light or moderate West or South West wind will be fresh in exposed areas on a milder night, with lowest temperatures mostly around 2 to 6C, but 7 to 9C in the far South West.
The working week may start cloudy and damp in the far South and over the Channel Islands, but you'll soon join the remainder of the country in a day of sunny spells and scattered showers. These will be mostly over Northern Ireland, the North and West of Scotland and in the West, where a few could be heavy. Many central and eastern areas, however, should get away with a dry day and see the best of the sunny spells there'll be on offer.