Big change to colder, unsettled and windy weather next week, as strong jet stream fuelled by big temperature contrasts off coast of eastern N America arrives from the west but with UK on cold polar side.
Risk of snow from heavy wintry showers affecting northern and western areas from Tuesday, giving accumulations, greatest over higher ground - where 8-10cm possible.
Windy conditions for all, with gales likely at times around coasts and over hills, which will cause drifting of any snow accumulating over higher ground.
Cold conditions with risk of snow could persist next weekend and beyond, if high pressure builds to the west, which will lock in a cold flow from the northwest, north or northeast.
Currently there is a large area of high pressure dominating across Scandinavia which is control of the weather across much of northern Europe, with a slack pressure pattern across the UK these last few days leading little wind which has meant that weak weather fronts getting trapped in the slack flow have brought a lot of cloud, a little drizzle, mist and fog.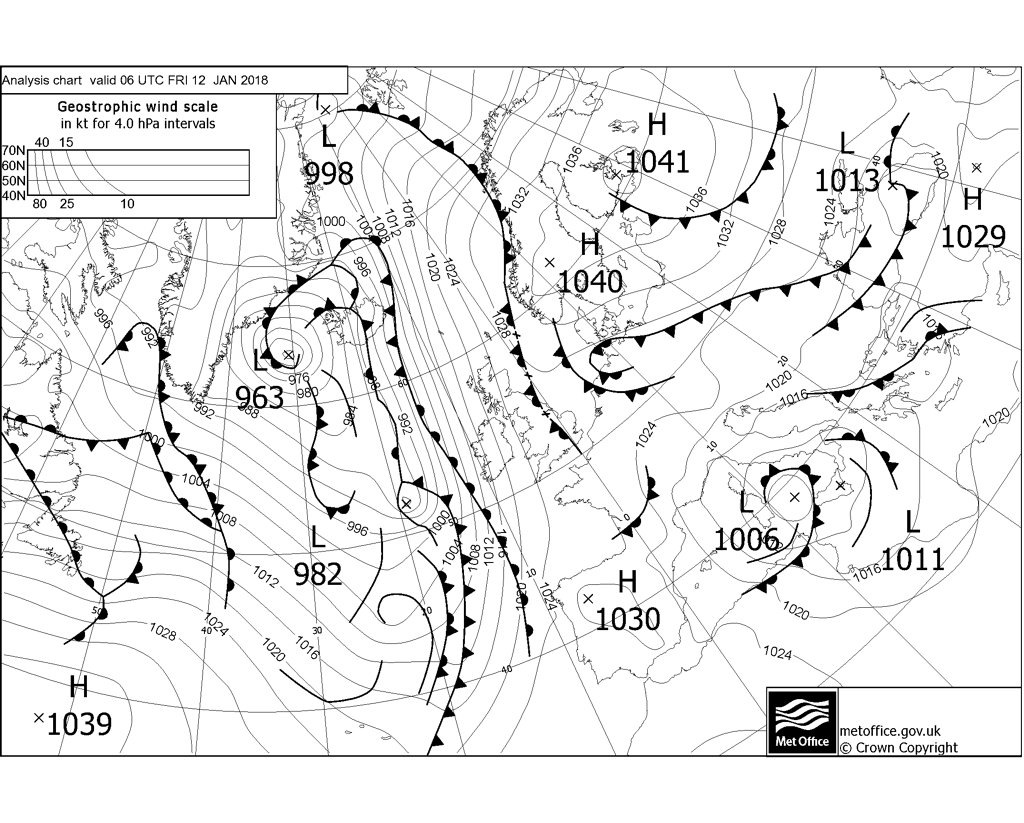 However, this is set to change by the end of the weekend. The blocking high pressure system over Scandinavia will slowly retreat east this weekend, allowing weakening fronts to move in off the Atlantic bringing cloudy skies for many on Saturday, with some rain and breezy conditions in the west. Although Sunday's looking brighter and drier, rain and gales will reach the northwest in the evening, heralding a big change as we head into next week.
What's causing the big change in our weather?
This big change to unsettled, windier and colder weather is coming about because of changes thousands of miles upstream over North America. A storm that brought flooding to parts of California earlier in the week has crossed the States over the last few days and will turn into a new winter storm that will affect parts of the mid-west, Lower Great Lakes and northeast U.S. today and into Saturday. As this winter storm clears northeast tomorrow, a rapid freeze across the whole of NE U.S. will occur as cold arctic air plunges southeast from Canada in wake of the storm moving away. A rapidly sharpening thermal gradient between the very cold air being drawn southeast towards the Atlantic against warm air being drawn up from the Caribbean will drive a very strong jet stream across the North Atlantic towards the UK. Because of the blocking high to the NE and E of the UK only slowly retreating, and a lobe of the tropospheric polar vortex extending southeast from Greenland/NE Canada towards Europe, the jet will be forced southeast this side of the Atlantic into France, with the UK on the cold polar side of the jet stream and under a cold upper trough close to the north through much of next week.
Contrast between deep cold over N America and warm air over western Atlantic driving strong jet towards NW Europe next week. Credit: wxcharts.eu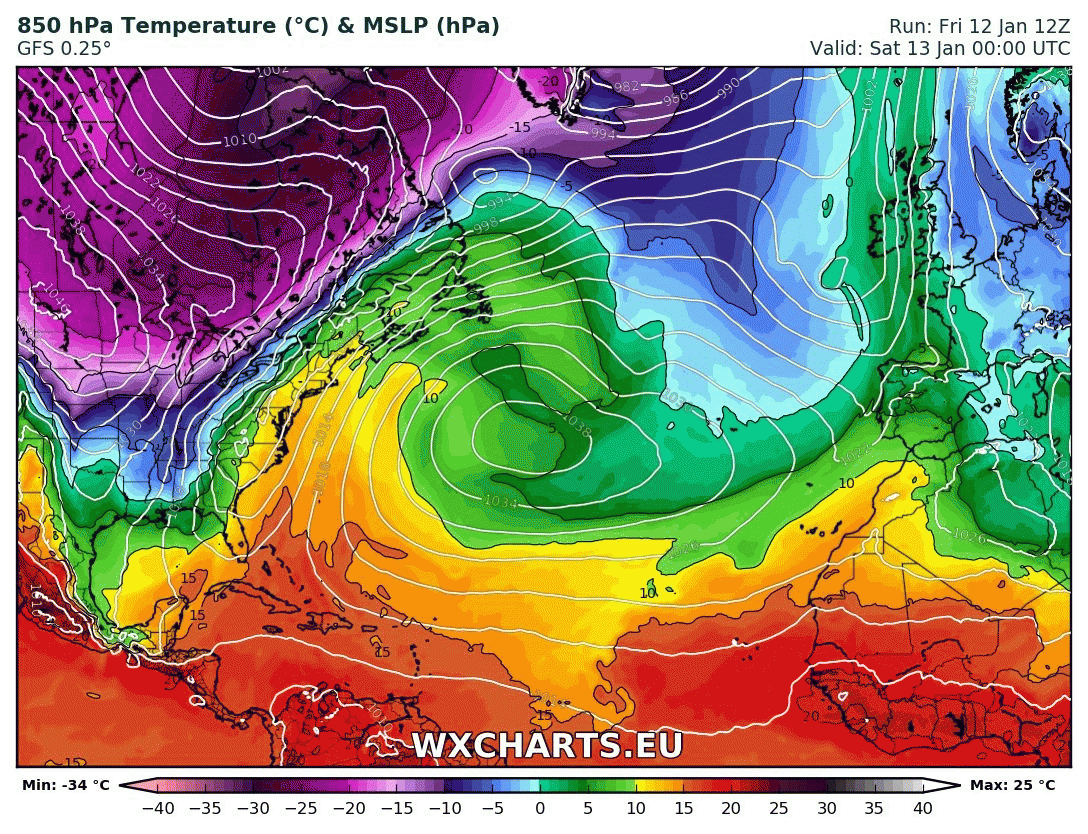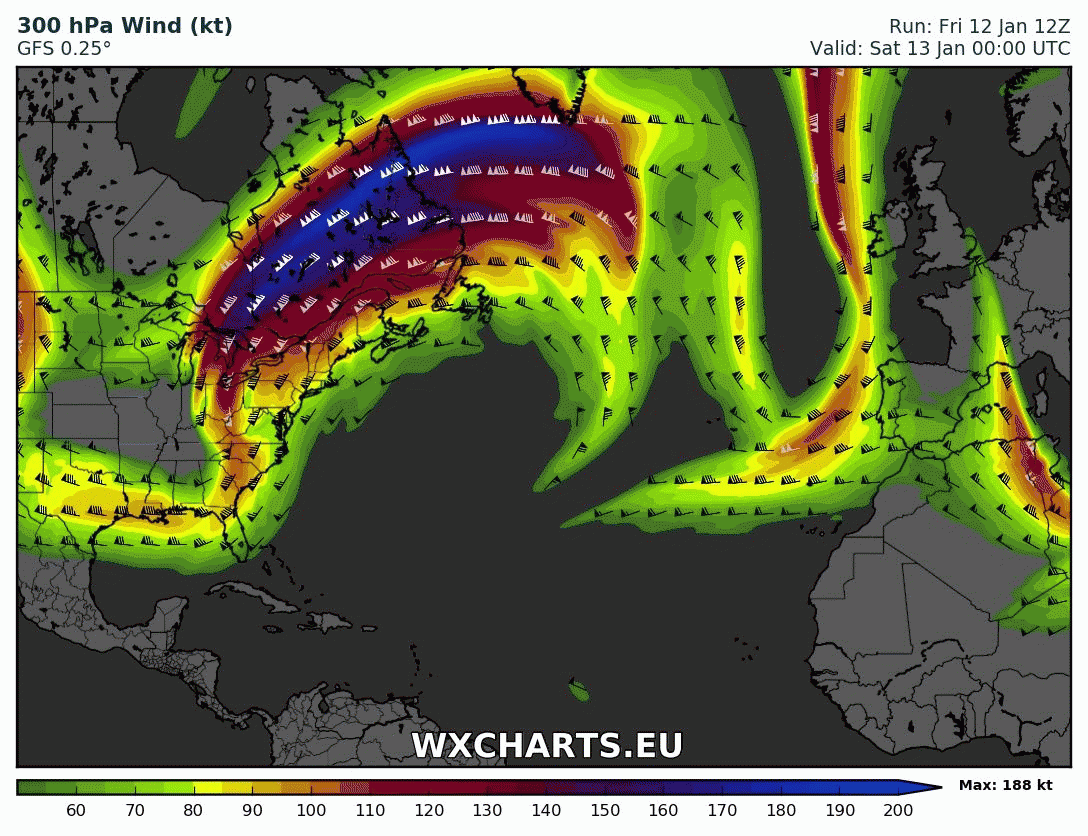 As a result, it will turn colder as well as unsettled and windy, as cold polar air originating from NE Canada and Greenland is drawn across the North Atlantic by a strong WNW flow on the northern side of the strong 200mph jet stream heading towards the southwest of Britain and on into France.
There is potential for some snow in places next week
The zonal cold WNW flow that will likely dominate much of next week will be showery, with showers most frequent across western areas, particularly towards western coasts and they will turn increasingly wintry too. The air is forecast by models to be cold enough to support snow to fall, even to lower levels from Tuesday in the north and west. However, given the long sea-track of the polar flow over the North Atlantic, moderated by the Gulf Stream in the lower layers, temperatures at lower elevations, mainly below 200m, maybe too high to support more than temporary slushy accumulations from heavier snow showers. Above 200m, there could be some significant accumulations, particularly for hills and mountains in the west. There is also potential for shower trains or streamers to set up in the westerly flow through lower areas surrounded by hills, for example through the Central Belt of Scotland. The streamers could bring continuous snow showers that may allow temperatures to keep low enough for snow to accumulate.