After a cold start with a frost and a few mist or fog patches in rural areas that'll linger into the morning, Monday should be ideal for Christmas shopping across much of England and Wales. There'll be some sunshine, especially in central and eastern areas, with light winds making it feel quite pleasant by the afternoon when temperatures will be mostly in the range 6 to 9C. Through the day though Wales and the West will tend to cloud over and turn misty, with patchy drizzle or light rain moving in later.
After a bright but cold start over central and eastern parts of Scotland tomorrow, cloud already over Northern Ireland and in the West eventually spreads to all parts. This'll give some mostly light rain or drizzle in places, with perhaps a few heavier bursts over Highland later. A South to South West wind will freshen a little, introducing much milder air once more, with temperatures reaching 9 to 11C over Northern Ireland and North West Scotland, but probably only 5 to 7C towards Lothian and The Borders.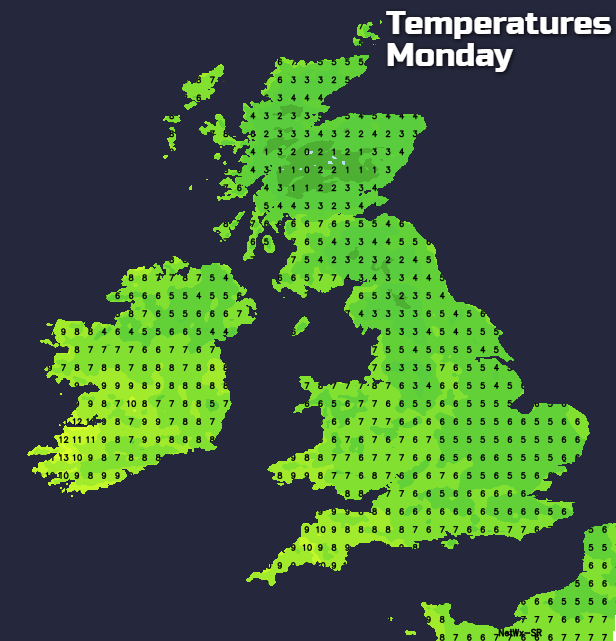 Central and eastern England turn cold into the evening perhaps with a touch of frost, before clouds move in from the West. Most parts then have an overcast, misty but milder night, with some hill and coastal fog in the West. There'll be patchy mostly light rain or drizzle, with probably some heavier bursts moving into Northern Ireland and North West Scotland later. Winds remain light over central and southern areas, with a moderate or fresh South Westerly breeze further North. Temperatures may briefly fall close to 2 or 3C in the East, but for most, the thermometer shouldn't drop below 5 to 8C.