It's still very cold first thing across much of England, Wales and South East Scotland, with a warning of ice particularly over northern England, as rain falls on frozen surfaces. We'll see a change though over the next few days, as milder air moves in from the West. This'll bring some rain mostly to the North and West, while high pressure further South keeps most other parts mainly dry.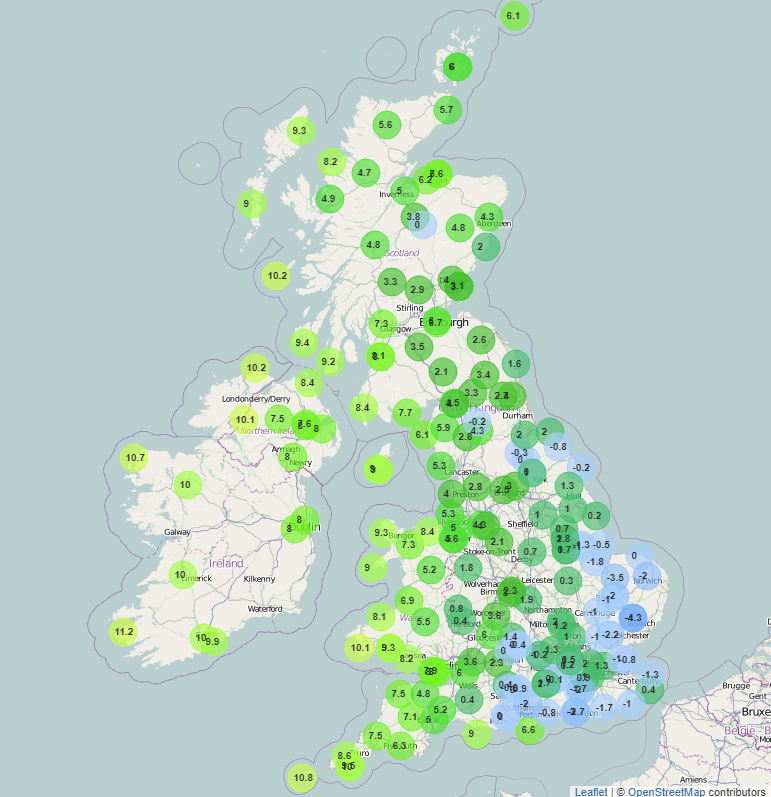 Check the live temperature map here
Much of England and South East Scotland are waking to a cold and frosty start, with patchy freezing fog. Temperatures were as low as -4C first thing over parts of Lincolnshire and Kent, but both the frost and fog will lift and clear as it clouds over from the West through the morning. It'll remain misty and cold though across the East and South East, where patchy rain by the afternoon could be preceded by a little sleet or snow in places. Scotland and Northern Ireland have rain locally heavy, but this is already clearing from Northern Ireland, with sunny spells spreading to all parts during the afternoon. Wales and the remainder of England see some rain through the day, which should be light and patchy in the South, with brighter weather reaching Cumbria and other parts of northern England before dusk.
A West or South West wind will be fresh over the North and West of Scotland at first, before veering North West and decreasing as the weather clears later. Across England and Wales, winds will be light in the East at first, before becoming South Westerly. Across East Anglia and Kent, temperatures may struggle to reach 4 or 5C, but elsewhere it'll become milder with top temperatures 7 to 9 locally 10 or 11C in the far South West.
Cloud giving patchy rain and misty weather across central and southern parts clears to the South through the evening. Then apart from a few showers over the North of Scotland at first and perhaps towards the East coast for a while, it'll become dry. Clear spells and a lighter North Westerly breeze will allow it to turn to cold again, the exceptions being the far South West and Northern Ireland later, where after a chilly evening it'll cloud over. There'll be a slight frost in rural areas, around the Welsh marshes and in the North and East, as temperatures fall mostly to between -1 and +3C.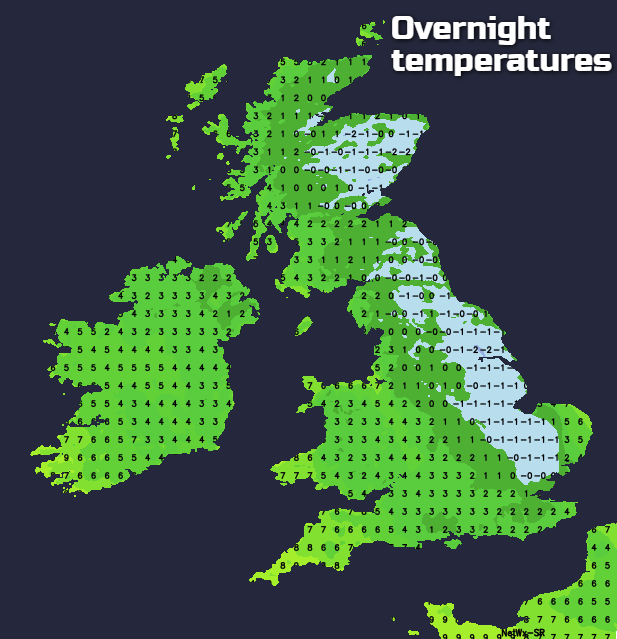 After a cold start with a frost and a few mist or fog patches in rural areas that'll linger into the morning, Monday should be ideal for Christmas shopping across much of England and Wales. There'll be some sunshine, especially in central and eastern areas, with light winds making it feel quite pleasant by the afternoon when temperatures will be mostly in the range 6 to 9C. Through the day though Wales and the West will tend to cloud over and turn misty, with patchy drizzle or light rain moving in later.