To the SE of the rain band in the mild air, SE England and East Anglia will see sunny spells with temperatures of 14 to 16C. Much of central, eastern and southern England will have a mild, fair day. Rain will edge over more of Wales during the day, also into SW England later in the afternoon. The Pennine rain shadow is protecting NE England somewhat already, and today there will be a mixture of rain edging into Northumberland and maybe bright spells appearing for eastern Yorkshire.
Winds
It will be windy for England and Wales through today. The SW winds are beginning to pick up already in the western Channel up into the Irish Sea. The winds will reach gale force along the coast with gusts up to 70mph. By lunchtime, it will be windy over England and Wales with gusts of 50-60mph possible and the risk of coastal gales transferring to the North Sea later today.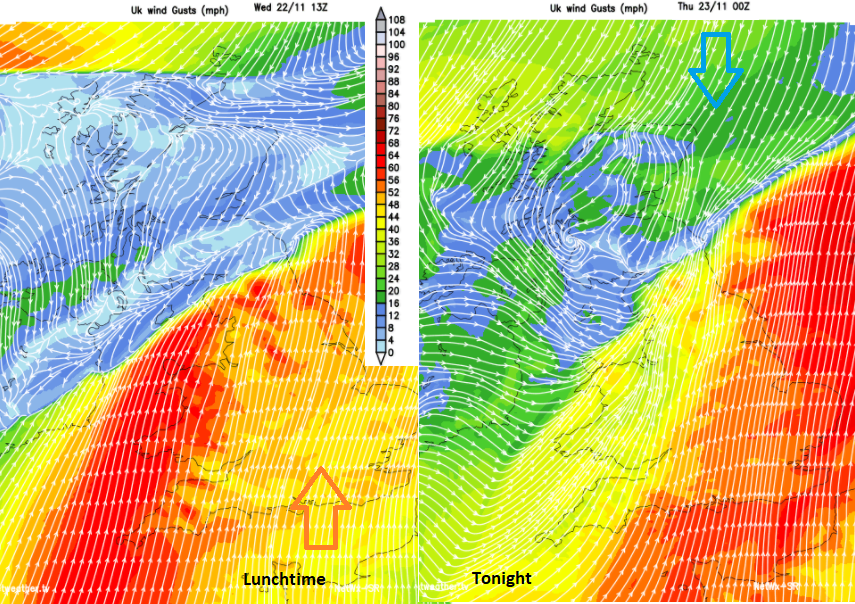 The rain is a definite diving line between the mild and cool air, but also to the north it won't be windy. There will be light winds for Northern Ireland today and much of Scotland. As the strongest winds in the south transfer eastwards a colder north to NE wind begins to edge down.
It will stay blustery for Thursday with a brisk SW then westerly wind. The Met Office Yellow Be Aware warning for strong winds runs from Wednesday til early Thursday.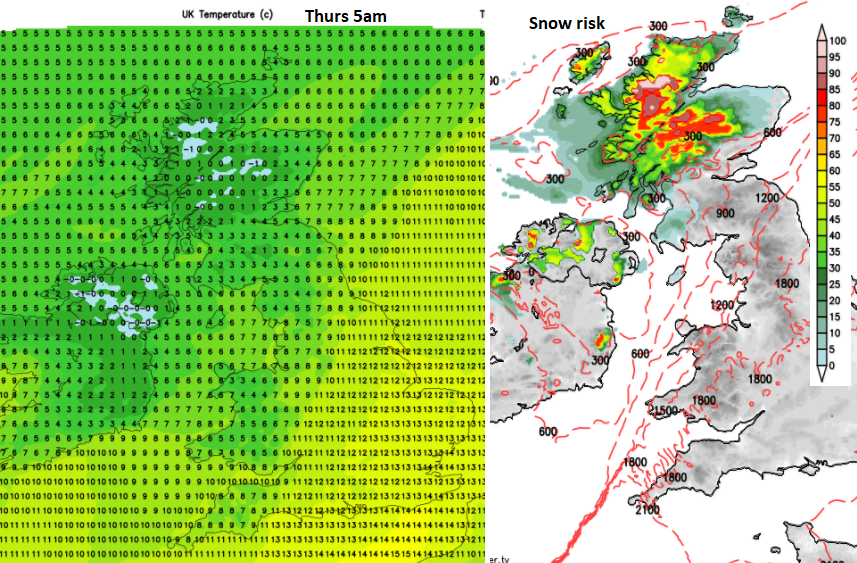 Cold air and Snow
Everything begins to transfer SE by Thursday. The winds will be veering from SW to NW, cold air will sink southwards, and the rain band fades over England and Wales, leaving bright skies. The next warning relates to snow.
Chief Forecaster's assessment: Snow is expected to develop across parts of Scotland early on Thursday. Snow is likely to become heavy and persistent for a time on Thursday morning before easing during the early afternoon. 2-5 cm of snow is likely for many parts with 10-20 cm possible in places, mainly over higher ground. There remains some uncertainty regarding where the heaviest snow will fall.
Small low pressures seem to be swirling around each other in the flow, with a band of precipitation forecast to move into northern Scotland from the NW and the leading edge of today's warm front rain edging north into the cold air. This all begins to turn to snow.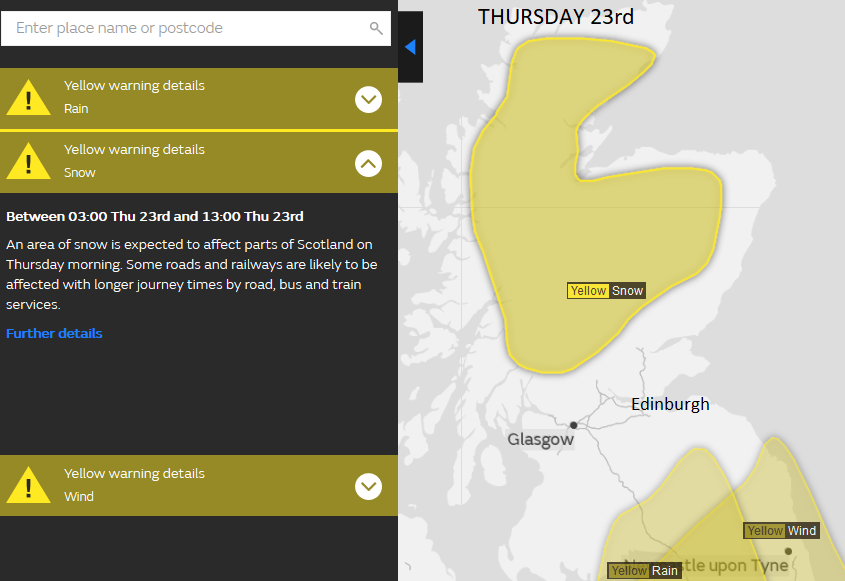 The snow begins to fall over the higher ground tonight but will reach lower levels of mainland northern Scotland during Thursday morning. There will be heavy snow for a time, with routes like the A9 looking at a risk of disruption. 10 to 20cm of snow over the hills and a few cms around 200m. Also lying snow is possible inland for Orkney and the Western Isles.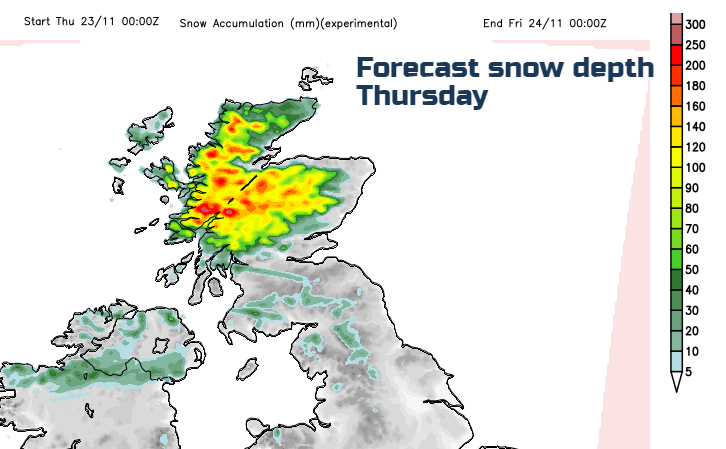 A few other areas could see a bit of snow, more likely to be wet snow or sleet. Northern Ireland will have a cold start with a frost, but there are other troughs in the flow which could bring a surprise dusting, even light covering. There is still uncertainty about the small features whirling about, in this colder air, so Antrim hills, Mourne mountains, Cumbrian Fells, southern Uplands maybe get something on Thursday morning, but the main area is the northern half of mainland Scotland.
It will feel cooler in the south with temperatures of only 10 or 11C and decidedly chilly further north at only 4 or 5C on Thursday afternoon.
It will stay cold with the risk of frost right through the weekend. At times with a raw north wind which could bring more snow showers in the flow, but only for prone NW areas.
More on this week's severe weather