The Met Office have issued warnings for rain and wind for parts of England and Wales for Wednesday through to early Thursday, then snow for northern Scotland on Thursday morning. There is then the potential for further snow in places Friday evening. This blog aims to elaborate on these risks over the coming few days.
Heavy rain risk Wednesday
A complex system of slow-moving waving fronts will slide up from the southwest across Ireland, central and northern Britain during Wednesday. A strong southwesterly flow transporting mild and moist air of sub-tropical origin from west of Iberia will be forced to ascend by this waving frontal zone across central Britain, which combined with orographic lift over windward hills, will produce persistent rain leading to some large rainfall totals over northwest Wales, northern England and southern Scotland on Wednesday before rain gradually eases during Wednesday night. 25-50mm is likely widely in these areas, with 50-100mm possible over higher ground. This will lead to spray and surface water flooding on roads and may flood some properties in places.
Slow-moving waving fronts and plentiful supply of moist air from the SW = heavy rain.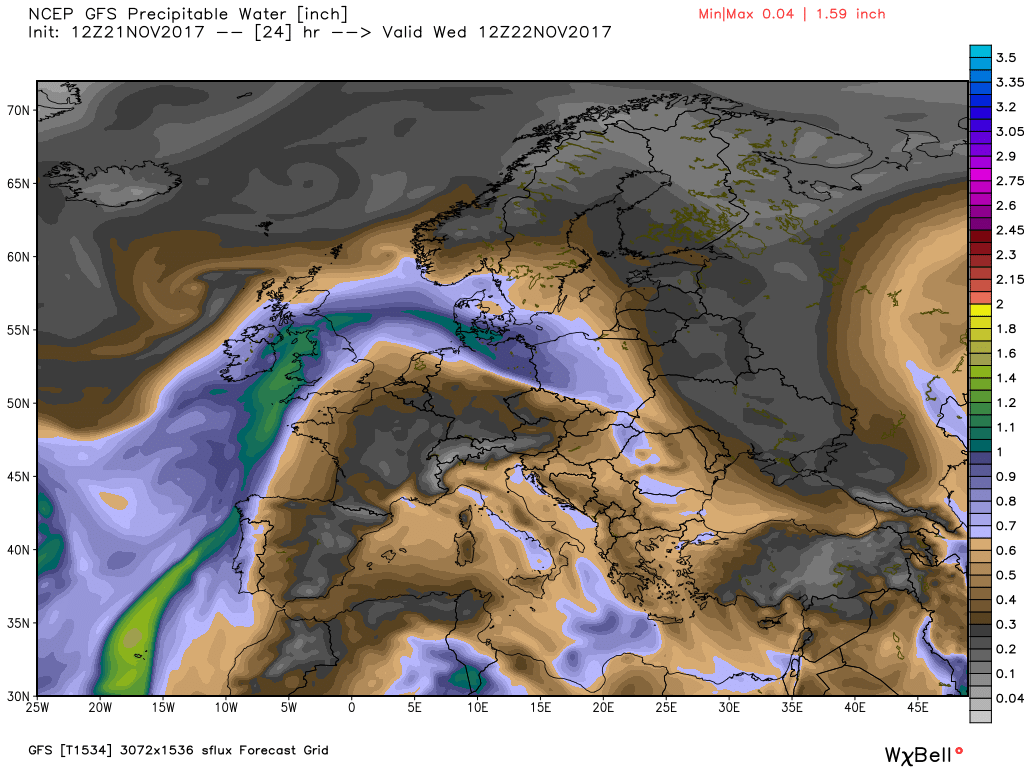 Credit: weatherbell.com
Strong wind risk Wednesday
In addition to this swathe of heavy rain over central Britain, tight spacing in the isobars to the south of the waving frontal system across central Britain will produce some strong winds across England and Wales during Wednesday, with gusts of 60-70mph possible over higher ground and along southern and western coasts of SW England, Wales and northern England – while elsewhere gusts of 40-50mph can be expected widely, perhaps 50-60mph along coasts of SE England and East Anglia in the evening. Strongest swathe of winds arriving across western areas around midday on Wednesday before transferring toward eastern England by the evening, before winds finally ease across SE England after midnight.
There will likely be an overlap of the heavy rainfall risk in addition to the strong wind risk across north Wales and northern England.