The bright but rather cold weather of the past few days has left now, as we see a change to conditions more akin to November. Although milder, there'll be a good deal of cloud across a large swathe of the country today, with the best of the weather over Scotland.
There's still the remnants of the chill towards Kent, but you'll soon join the remainder of the country with a milder day. There's a good deal of cloud though over England, Wales and Northern Ireland that's giving some patchy mostly light rain or drizzle, with a few heavier bursts across parts of the South East at first. It'll remain this way through the day in most regions, with any sunny intervals limited. The exception will be Scotland and the North of Derry and Antrim where it'll be much brighter, with the best of the best of the sunny spells across East Scotland. Here and across southern Scotland, it'll be mainly dry, while mostly Highland and the Northern Isles see a scattering of showers some heavy.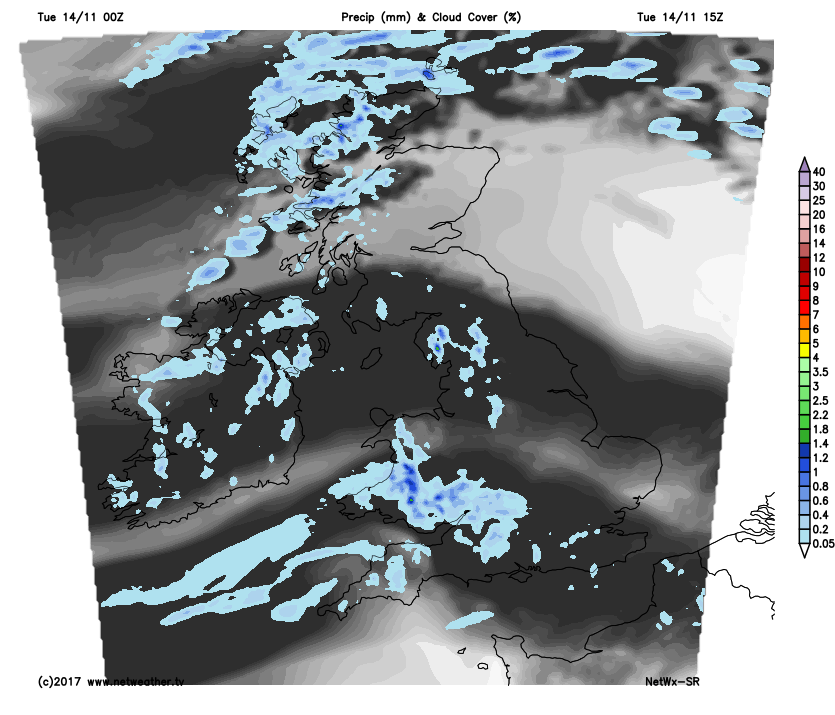 A light or moderate West or South Westerly wind will be fresh locally strong for a while across the Northern Isles, with top temperatures a much milder 8 to 12C.
Little change is expected after dark, with Scotland remaining mostly dry apart from scattered showers in the far North. There'll be clear spells, and with a West wind lighter in the East and South, mist and patchy fog will form. Here it'll also become cold with a slight frost, as temperatures fall to -2C in the coldest spots and 2 to 6C more generally. The far North of England and Northern Ireland may also see broken skies, but across most of England and Wales, it'll continue mostly cloudy. There'll be further patchy light rain or drizzle, and it'll turn misty generally. Patchy mostly hill fog will form in light winds, with perhaps a few thicker patches across eastern England later should any holes appear in the cloud sheet. It'll be a relatively mild night though, with temperatures unlikely to fall below 6 to 8C.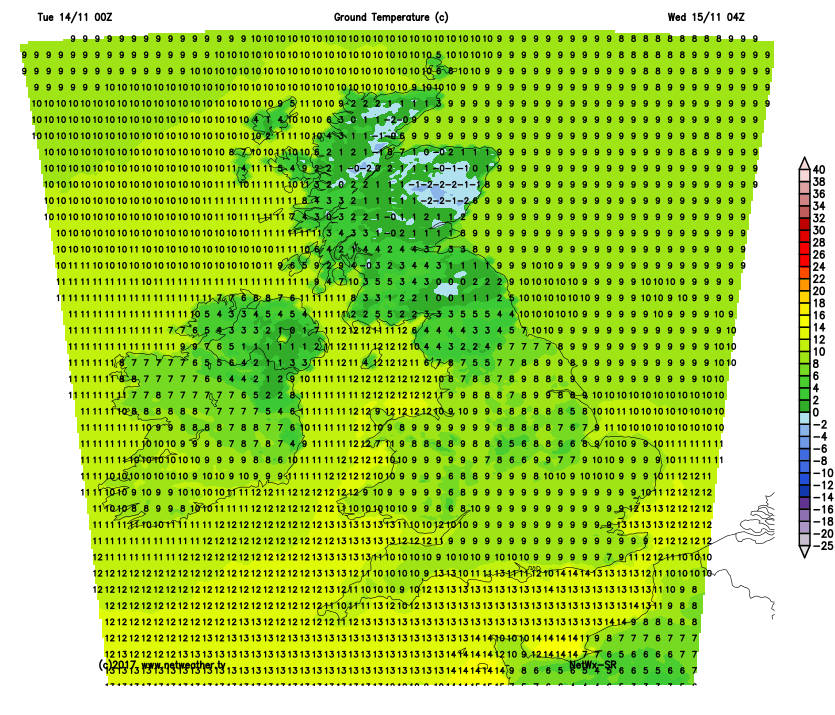 Wednesday will dawn dull and misty over much of England, Wales and Northern Ireland. There'll also be patchy fog that'll only slowly lift through the morning. By the afternoon some places will be brighter with a little hazy sunshine coming through, but for most, it'll simply be a quiet, rather cloudy November day. Apart from some further patchy light rain or drizzle mainly over Northern Ireland at first and in the West it'll be mostly dry and mild in a gentle southerly breeze, with top temperatures 9 to 12C.
Scotland should again see the brightest weather after a chilly start, where it'll be dry with some sunshine. Patchy fog freezing in some sheltered eastern glens, however, will be slow to lift making it much colder in these parts, before cloud spreads from the South through the afternoon. A southerly wind will also begin to freshen in the West, ahead of an Atlantic frontal system moving in, but much of the day towards the Moray Firth and Aberdeenshire should be fine. Top temperatures mostly 5 to 9C.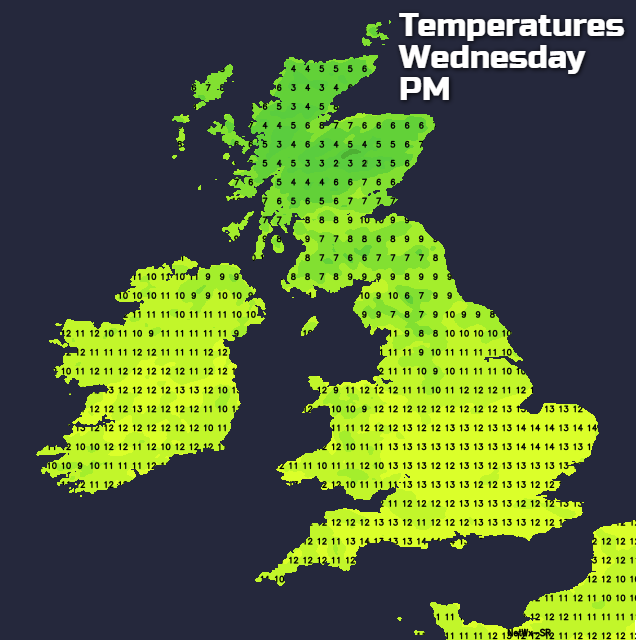 After dark central and eastern parts of England may see skies breaking at times, allowing mist and patchy fog to return. Elsewhere it'll also be misty with generally large amounts of cloud and patchy hill fog, but this should begin to lift as a southerly wind freshens a little. Apart from patchy drizzle, most parts will be dry, but into the early hours, Northern Ireland and the North and West of Scotland will see outbreaks of rain arriving, on a fresh or strong South to South West wind. Pockets of ground frost are possible for a while across eastern England where skies clear but for most, it'll stay relatively mild, with minimum temperatures generally in the range 5 to 8C.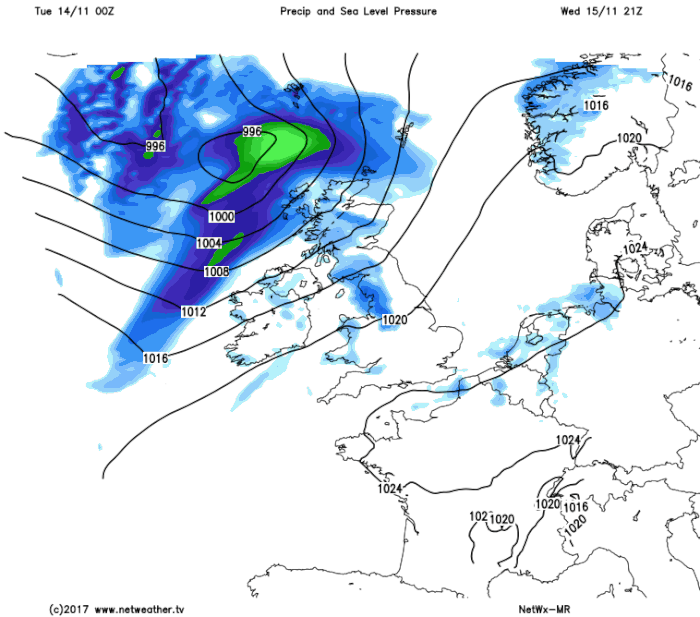 A front brings rain from the North West on Thursday, but much of it in the South will be light and patchy. It'll then be colder again with the return of slight overnight frost. Apart from scattered showers in the North and East wintry on hills, it should then be mostly dry for the remainder of the working week.