Tropical Storm Rina formed over the central North Atlantic last Monday night (6th), the 17th name storm of the 2017 Atlantic Hurricane Season. Only 7 other years have seen more than 17 named-storms by the 6th November. This is the most named storms since 2012, the highest number of named storms was in 2005 – which saw 28.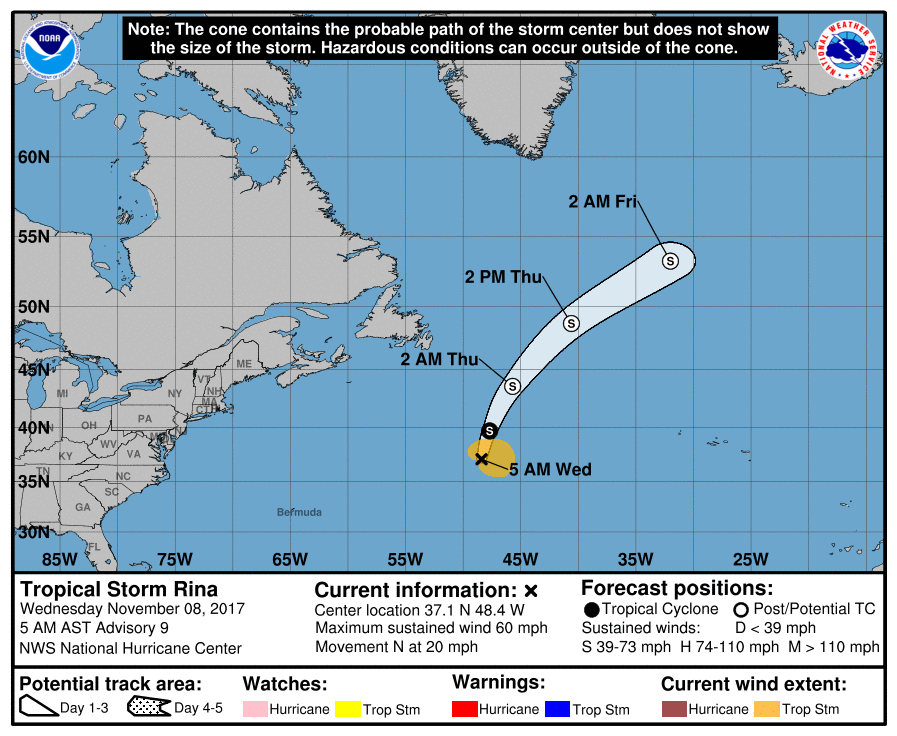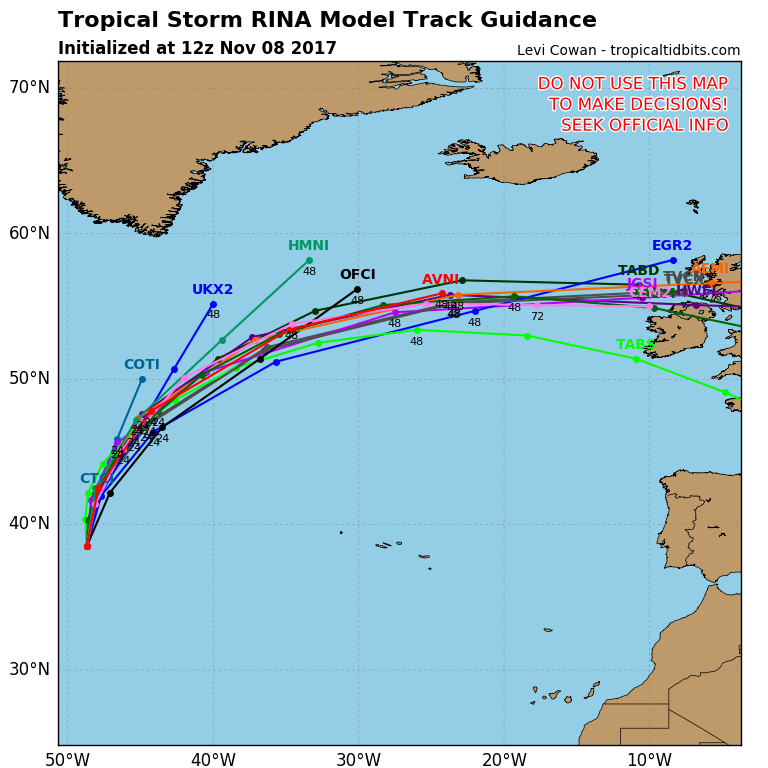 Tropical Storm Rina is currently moving north on the western side of a vertically stacked ridge of high pressure, some slight strengthening is possible today. However, Rina will continue to pass over increasingly colder waters, less than 20C by end of Wednesday. So, on Thursday, Rina should become an extratropical low, due to a combination of passing over colder waters of the far N Atlantic and an increase in vertical shear as it encounters a belt of upper westerlies coming out of Canada. A shortwave trough to the SW of Rina will accelerate its forward motion today, then on Thursday accelerate even further as the low is picked up by the upper westerlies /polar front jet stream.
The remnants of ex-Rina will then continue east as a low-pressure system, still with some tropical warmth and moisture wrapped up in it as it approaches the west of Ireland Friday afternoon. The low will continue to track east across Ireland in the evening then mainland Britain Friday night, by then as an open frontal wave rather than a closed low. Models continue to vary in exact track though. But with still some warmth and moisture wrapped up in the frontal wave, it could bring a spell of heavy and persistent rain and strong winds, with gales indicated by models around southern and western coasts and hills of Ireland, Wales and England.
Following on from the low pressure wave, winds will turn northwesterly on Saturday before veering northerly on Sunday, bringing down increasingly cold arctic air. Maximum temperatures are indicated to remain in single figures across the UK and Ireland, low single figures across northern Scotland. Showers driven down in the cold northerly flow will be increasingly wintry too across Scotland, with snow settling over the Scottish mountains. A widespread frost looks likely Sunday night, leading into a chilly Monday. However, winds look to turn southwesterly later on Monday, ushering in milder air, cloud and rain for Tuesday.
Arctic outbreak from the north this weekend