Into Saturday, and it'll be a north-south split. The south will see the showers in the west spreading further east through the day, whereas the showers in the west of Scotland will gradually ease back. Temperature wise it's the other way round though with the southeast warmest, making it into the high-teens, but cooler the further north and west you head.
With the rain in the south, the wind will also be picking up during the day, blowing up from the south or southwest, and feeling particularly noticeable near the coasts. All this happening as the remnants of hurricane Lee move closer. By this point though, it's on its last legs, soon to be merged into the flow of an Atlantic low to its north.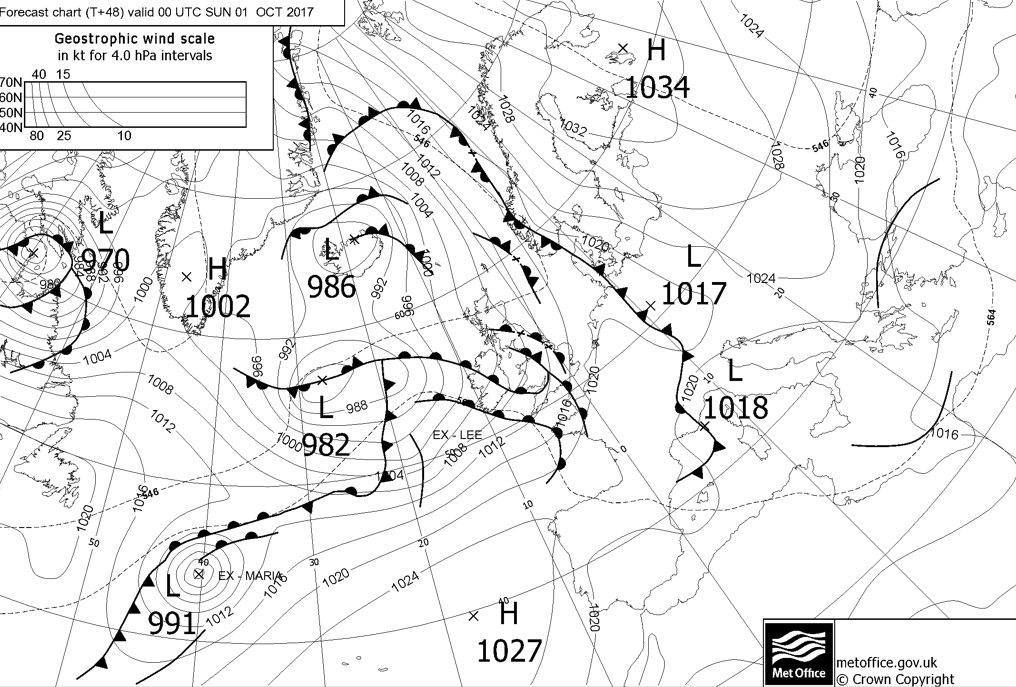 Overnight and Into Sunday, the wet, windy weather spread through to all parts. Strongest winds will be across northern Scotland, but all areas will be blustery with a spell of rain moving across the country. Behind the rain, a few sunny spells but also blustery showers. Despite the rain, it'll be a humid, warm day, with tropical air from ex-Lee in the mix.
Then it's a case of waiting for the next batch of wind and rain to turn up, this time the heaviest rain is likely to be in the north and west. It'll be the turn of ex-Maria to show up later Sunday and into Monday, again being pulled into the circulation of the main low, which will be close to the north of Scotland at this stage. There is some uncertainty over the details of this, but the animation below shows roughly how it's expected to play out currently.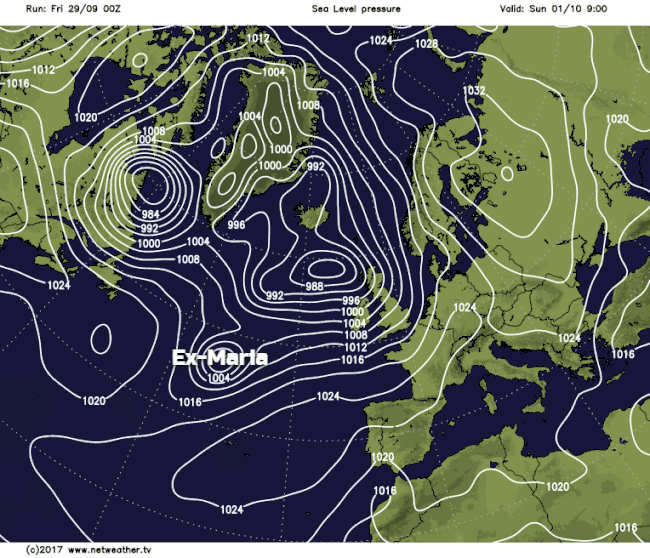 What this all means, that it's likely to be parts of Ireland, Wales, Northern England and southern Scotland seeing the strongest winds later on Sunday and into the early hours of Monday - perhaps up to severe gale force. Then the focus switches to the north, and northeast of Scotland during Monday. Further south, it's an improving picture during Monday once the rain clears as a ridge of high pressure starts to build in.
So, plenty happening over the next few days, don't forget to tune into Michael Fish later on and stay up to date with the latest forecasts and warnings when you can.