It is quite murky and cloudy this morning, it's grey with a bit of mist and fog. Sunshine will begin to appear and the day will improve. We continue to see mild even warm conditions across the UK in the south/SE flow. For the rest of the week, we have bands of rain strolling across the UK and blustery winds as it begins to turn a bit cooler.
Overall, we keep the light winds today. There will be a moderate to fresh SE wind for coastal Scotland and a freshening wind for Northern Ireland. Temperatures will rise into the high teens even low twenties. With 20 or 21C likely around Greater London and southern inland counties. High teens for NW Scotland, Manchester region with many western parts doing quite well. Along the North Sea coasts especially for NE Britain, it will be cooler. Cloud will linger and the breeze off the sea will make it feel less warm.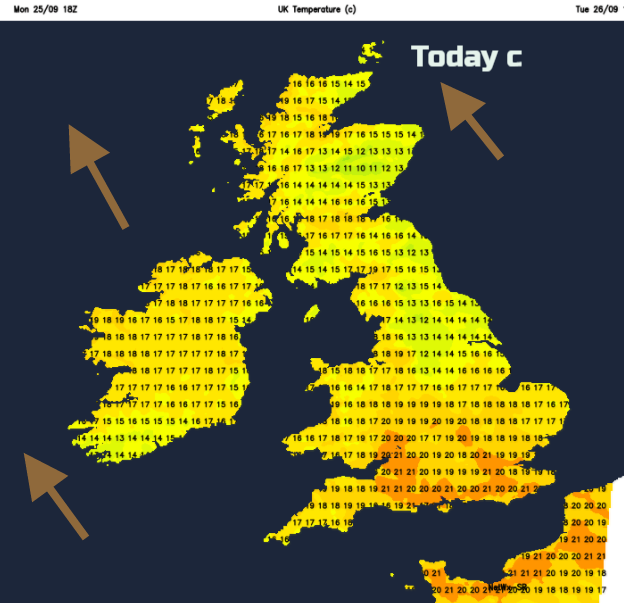 Overall, Tuesday will be a fine day once the fog lifts. The winds are picking up as a weather front heads towards western Ireland but with the high pressure still over Scandinavia, everything is queuing up, blocked by the High.
Blustery bands of rain for next few days, sunshine in between.
Wednesday looks to be a similar day for Britain with a bit more breeze but again the risk of early fog for SE Britain. There will be fine, bright conditions, more cloud in the far west and a weather front will begin to make progress in from the Atlantic.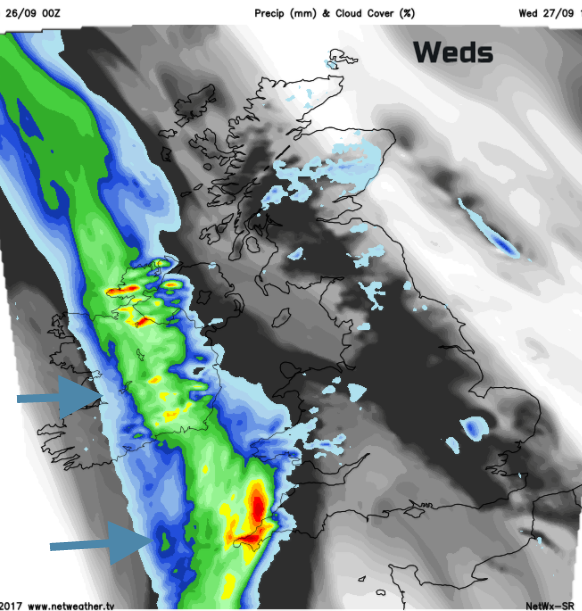 Temperatures will be similar again, 18 to 20C except it will be cooler in the NE of Britain with the breeze off the sea. Through the afternoon, heavy rain will set in for Cornwall, then Devon, west coast Wales and move over Northern Ireland. This band will slowly move north-eastwards during Wednesday night, bringing a spell of heavy rain.