By Thursday morning, the rain should be over Scotland and eastern England, with brighter, clearer conditions behind the frontal band. The winds will have veered to a more westerly direction and it will be noticeably colder to start Thursday for Northern Ireland and cooler for SW Britain. Eastern areas see the rain and cloud breaking up, so still with a few showery bits but it will feel warmer in the shelter of the westerly breeze. Further west, it will feel cooler but there will be a fine, sunny spell of weather. Then the winds pick up once more from the south and a new area of low pressure begins to throw in more rain from the west.
That band takes its time to move right across the UK on Friday as the winds ease and it could get stuck over SE England and East Anglia by Friday evening right into Saturday morning.
Friday and at the weekend will bring colder nights with a nip in the air and a touch of frost by early Sunday. This lingering rain could dampen Saturday for the SE, but most of the UK will have a fine Saturday with light winds. Sunday should start off fine for eastern UK and wet further west but we could see strengthening winds and more rain to end the weekend. There are uncertainties about the forecast by then as we have some tropical input for Atlantic developments.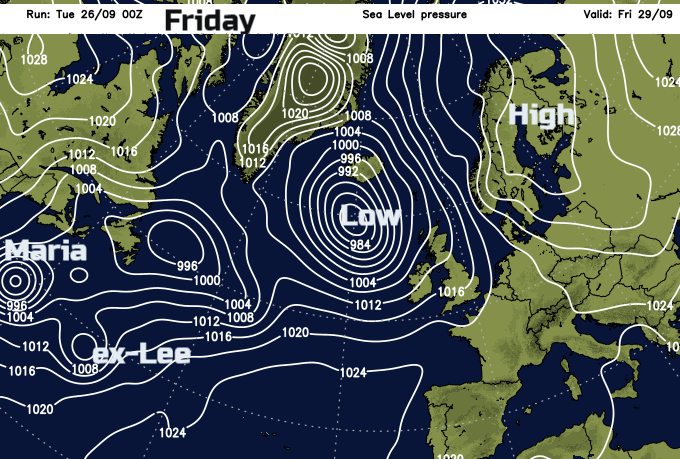 Another deep area of low pressure could bring a spell of stormy weather to the UK late Sunday into early Monday, with Scotland looking most prone at the moment. It may get named Storm Brian if the UK Met Office or Met Eireann think the impacts of this low warrant an amber warning. This has not happened yet.
If you have read Double Hurricane Hell headline, find out more here, in a less sensational way. Stormy end to the weekend, hurricanes, hype, Brian and Mar-ee?