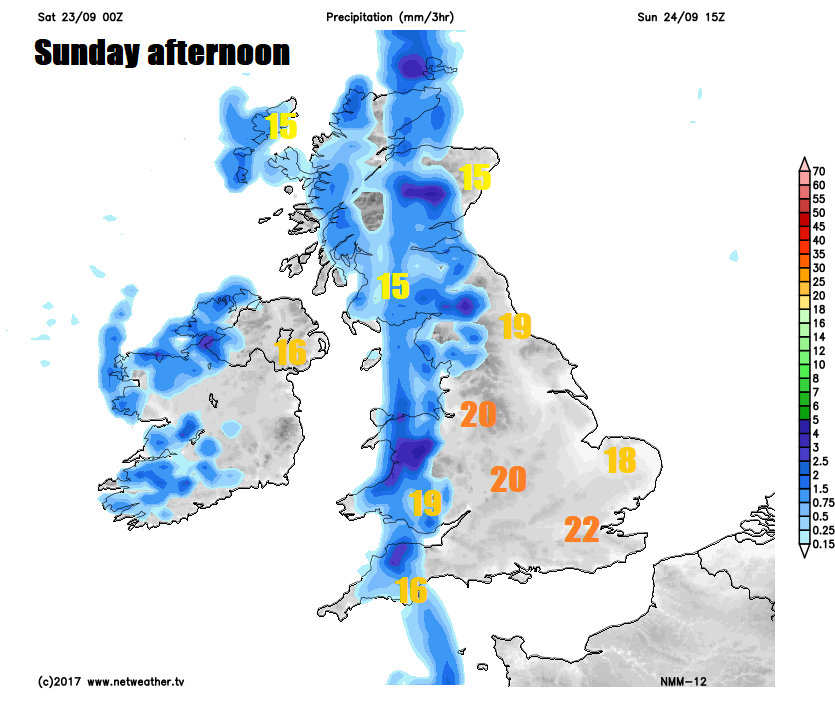 Monday
Cloud and rain across the north and west to start early on Monday will gradually edge in across central and southern areas of England, though tending to fizzle out, perhaps no rain reaching parts of East Anglia and far southeast of England, where it may stay bright or sunny. Drier and brighter weather with sunny spells moving in across western Scotland, Ireland, Northern Ireland, Wales and far SW of England. Temperatures reaching 15-19C.
Tuesday
Tuesday is looking mostly dry and fine with sunny spells, warm too in the sunshine, temperatures reaching 17-19C generally, perhaps 20-21C across southern and eastern England. A risk of scattered showers developing across western areas, but they'll be hit and miss.
Wednesday
Most areas again looking largely dry and fine on Wednesday, warm in the southeast, though cloud increasing from the west, with outbreaks of rain and strengthening southerly winds arriving across Ireland and Northern Ireland through the afternoon before reaching western areas of mainland UK through the evening.
Thursday & Friday
Outbreaks of rain and breezy conditions spreading east on Thursday, clearing eastern England later in the evening, drier and brighter conditions arriving in the far west by early evening. Some uncertainty by Friday, some models paint a drier day, while other models bring more wind and rain back from the southwest.
Spell of wind and rain on Thursday for all parts