So Northern Ireland and eventually most of Scotland will have a grey, damp day with a brisk breeze this morning. The rain will only be patchy in the far north of Britain with temperatures in eastern Scotland reaching 17C or 18C. England and Wales see the SW winds picking up this afternoon with fresh winds around the coasts of Wales and SW England. Here the rain will set in and it will stay cooler, but for much of inland Wales and the rest of England, it will be a fine day with sunny spells. Temperatures will reach the high teens, low twenties in the east. There will be more cloud and patchy rain for NW England as the frontal band waves in.
Tonight
It will be very mild tonight across much of Britain. Cooler air will reach across Northern Ireland and the NW half of Scotland as winds fall light. The rain continues through the night, only beginning to head properly across the Irish Sea by dawn. Wales, SW England and Cumbria could see heavier rain to start Thursday with further outbreaks over Scotland.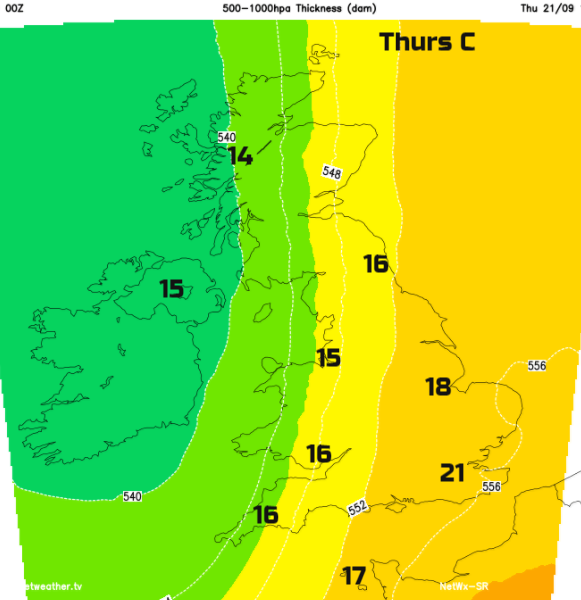 Thursday
The weather should improve and brighter for Ireland although it will feel cooler. Through the day the band moves eastwards across the West county, the Midlands, and northern England. Ahead of the rain, it will be another fine warm day, up to 21C. By the time the band reaches eastern England it will be fading with a more broken line of rain. So, it will be more hit and miss who sees the evening rain.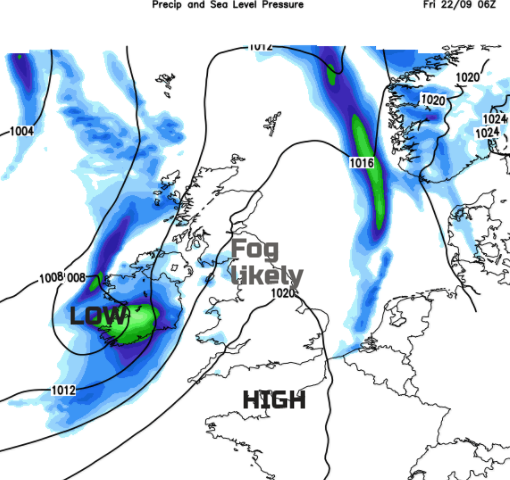 It then turns cold and clear for Thursday night. Fog is likely for Friday morning for Britain whereas Ireland will be seeing a little low pressure arriving, this will bring brisk winds and more rain. The wind and rain will spread over western areas of the UK with central and eastern parts having a fine day.
At the weekend, there will still be high pressure for the south and east but a large area of low pressure will begin to make its influence felt from the Atlantic.
This will bring windy weather over Ireland and a blustery southerly for western Britain. We'll have to see how this low develops, in case there are gales for the far west of the UK. There is also a band of rain edging in through the weekend, but much of Saturday looks fine.