Ahh, so this is what summer feels like - it's been a while. Most parts have dawned to blue skies and sunshine this morning, and for a good part of the country, that's how it'll be staying for the rest of the day. Beyond today, summery it won't be.

Satellite and radar from earlier this morning - check the latest here.
We've had a bit of a chilly start to the day today, with many rural areas comfortably down into single figures. But the sun still has plenty of oomph at this time of year, so temperatures are recovering quite speedily. Don't expect anything heatwave like though, with the high teens and low twenties the peak.
As you may have already spotted, it's not wall-to-wall sunshine for everyone, unfortunately. Some showers are affecting western Scotland this morning, and these will tend to spread a little through to other parts of Scotland during the day. They'll be fairly well scattered though, so not all will see one. A few others will also pop up into Wales and southwest England this afternoon, but again they'll be relatively few and far between.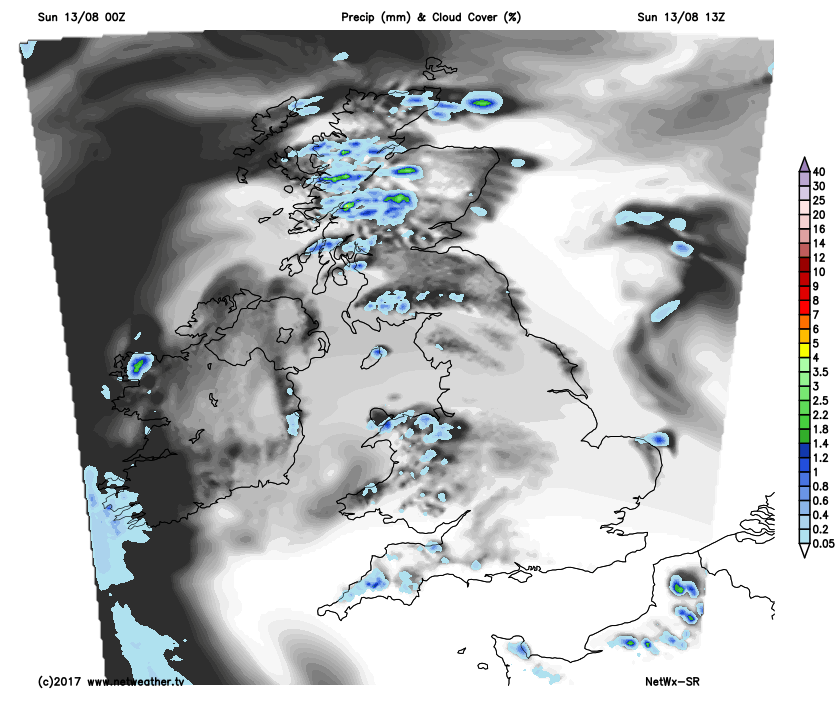 Although they'll not be big players today, the showers do give a good hint as to what's happening: The ridge of high pressure which has brought the improved weather this weekend being eroded from the west, as low pressure moves our way from the Atlantic.
Ireland will see the change first, with a band of rain moving through this evening. By tomorrow morning, much of western England, Wales, southern and central Scotland will be seeing some outbreaks of rain. That'll all continue marching east and north. Northern Scotland will be wet by lunchtime, with central England starting to get in on the act by this point too. Eastern regions will stay dry the longest, with the southeast avoiding much of the trouble, and enjoying a warm, bright Monday.