This week starts off with high pressure bringing more settled, but not always dry, weather to the UK. Through Tuesday more blustery conditions push in from the NW and as we head towards Christmas weekend the weather is looking wet and windy, even stormy at times.
It's quite cold out there this morning, particularly through the Midlands with temperatures just above freezing. Again, there is fog and mist for southern Britain. Conditions on some roads, including the M4 could be tricky, with thick fog, for the Monday morning rush hour, so extra time maybe needed.
Across the UK it is quite grey and murky. There is one weak frontal band edging into SE Britain this morning, bringing damp weather and a cold front moving across Northern Ireland into western Scotland which will allow brighter conditions from the NW this afternoon. The cold front rain won't amount too much. So, for most, it's a grey, damp feeling day with a lot of cloud and light winds. Temperatures will reach 7 or 8C Celsius. A moderate NW to W breeze will pick up for N.Ireland and Scotland behind the front, so it will feel cooler here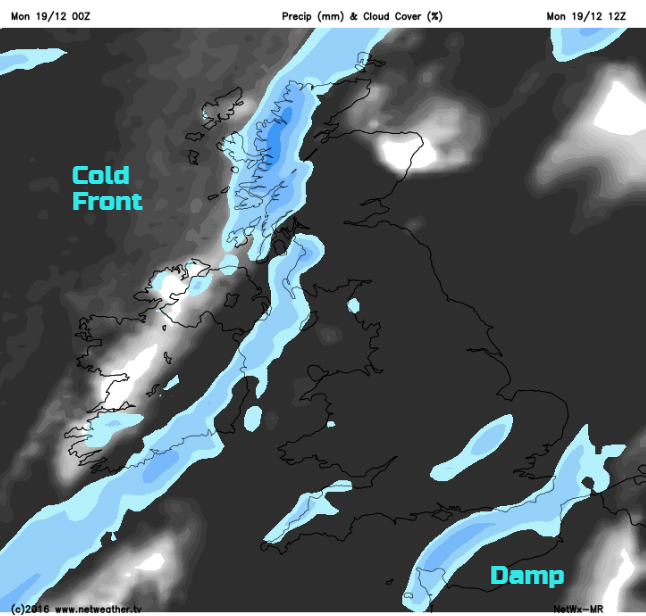 The frontal band over SE Britain will pepp up a bit in the afternoon bringing rain to southern England. Dorset and Hampshire look quite damp this evening with the rain band continuing westwards over Wales and the West Country. The cold front will have crept across the Irish Sea so a damp night for NW England and NW Wales. The clearer skies over N.Ireland and Scotland mean a chilly night with temperatures just dipping down below freezing and a frost in places.
As Tuesday starts, there will still be damp weather over Wales and SW England, a lot of cloud for England and sunny spells further north with a strengthening SW wind. An area of low pressure heads over Iceland once more (as so many have done this season) and the UK will see wet and windy weather from the far NW. Southerly severe gales will affect the Western Isles during the day with strong winds over northern Scotland and blustery condition for most of the northern half of the UK. In the southerly winds, breaks could appear in the cloud for eastern England giving sunny spells.