This morning we have a bands of rain and showers, brighter spells in-between and temperatures varying from zero in the north to 11C in the far SW.
Everything is moving south and east, the frontal band of rain over SE England is clearing off into the Channel. The band of rain over Wales and NW England will move over the Midlands and become more patchy over southern and eastern England. Then, there is a whole cluster of showers skipping into N.Ireland and Scotland, NW Scotland is in for a lot of rain this week. In between these bands, for England and Wales, there is a fair amount of cloud to start Tuesday but breaks will appear with sunny spells. Scotland will also see sunshine inland and in the east particularly with most of the showers over SW areas this morning and NW Highlands this afternoon. N.Ireland will see the skies cheering up at times but the showers do rattle through on the brisk winds.
As the rain clears Kent, Sussex and Essex the fresh SW winds will ease off and veer westerly. By this afternoon most of the UK will be a a fresh to strong West wind. N.Ireland and the West Country could see temperatures up to 9 or 10C today but adding on the wind it won't feel mild. Much of England and Wales will be 7 to 9C and Scotland 5 to 8C.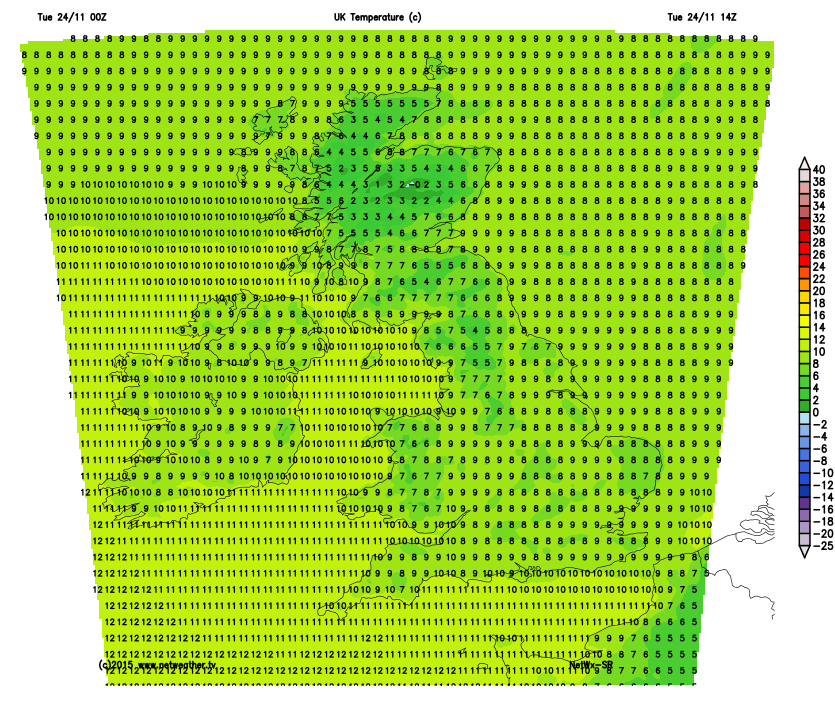 This evening a scattering of showers continue to flow in for N.Scotland, through the Cheshire Gap (off the Irish Sea down into Cheshire then central England). For much of Scotland and E.Britain it turns chilly with moderate NW winds and temperatures may stay just above freezing in the breeze. For Wales, N.Ireland and SW Britain it will be blustery with more cloud and damp weather coming in off the Atlantic from a warm front, so temperatures stay around 7 or 8C.