Storm rainfall totals over northern Philippines as of Tuesday PM local time (image courtesy of The Weather Channel)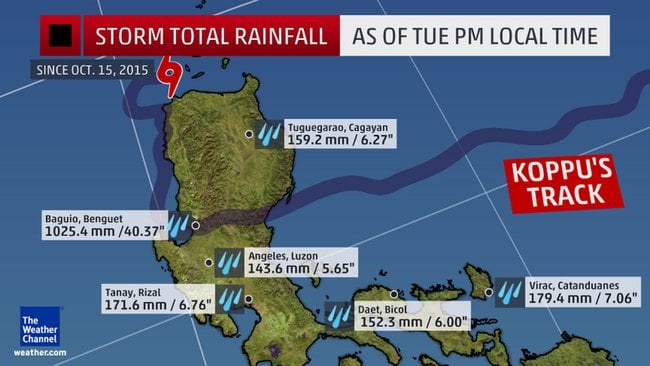 Some computer models were predicting more rainfall to fall over northern Luzon than has actually fallen, probably because Koppu has tracked somewhat further west than models anticipated, Koppu's close proximity to land, though, has meant that its structure is more ill-defined with convective bands around the tropical storm weakening. There is still model uncertainty over Koppu's erratic track, though the Japanese Meteorological Agency and U.S. Navy Joint Typhoon Warning Centre (JTWC) predict that it will turn and head northeast to the east of Taiwan and towards the southern Japan's Ryukyu islands over the coming days. Although Koppu is slowly moving away from the Philippines now, it will still be close enough over the next few days to bring an onshore moist westerly flow which will rise over the north-south mountain range along the NW coast of Luzon, creating ideal conditions for extreme rainfall over the area, increasing the severity of flooding and increasing the risk of landslides. Even if there isn't any further significant rain, like has been seen since Sunday, over the next few days, recent heavy rainfall over the mountains still takes a few days to work down through water courses onto the flood plains, so the risk of increased flooding remains.
Tropical Storm Koppu is now fragmenting and weakening off the NW coast of the Philippines island of Luzon (image courtesy of Weather Underground):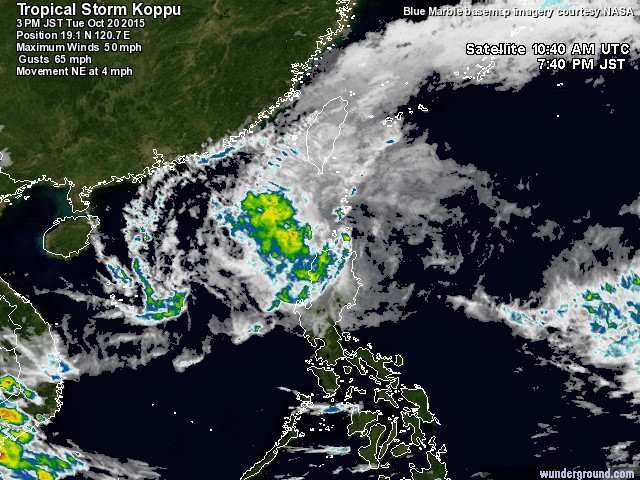 5 day track for TS Koppu (image courtesy of Weather Underground):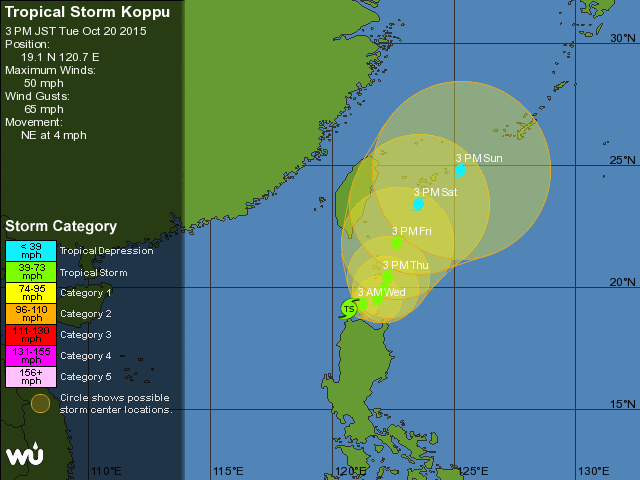 Further east, Typhoon (25W) Champi, which attained Super Typhoon status (150 mph) for a time on Sunday, has weakened over the last few days, and is now category 2 on the Saffir-Simpson Scale (96-110mph winds). Champi will drift north before curving NE from Thursday, passing close to the Pacific island of Iwo Jima on Thursday local time, where they will be preparing for damaging winds, heavy rainfall and storm surge flooding.
5 day track for Typhoon Champi (image courtesy of Weather Underground)