A brief ridge of high pressure arrives from the southwest on Wednesday bringing a drier and brighter day across southern and western parts, though showers may continue across the north and east and we may see cloud and rain return by evening across the northwest.
Thursday may see wet and windy conditions return, though some uncertainty on timing between the weather model output. The wind and rain may continue into Friday, with winds turning northerly too, so turning colder across all parts, with some sleet and snow over higher ground in the north. Northerly winds continue next Saturday bringing a cold and bright day with showers in the east with wintriness over higher ground, but with high pressure building in from the west it should turn drier and brighter across western parts. Easter Sunday, at the moment, has some agreement from weather models at being mostly dry and chilly, though the models diverge over how far east high pressure will build. Further west, as ECMWF, then we may see some showers moving down across eastern parts, further east as per GFS, then it will be generally dry and sunny for all areas. A risk of frost overnight will exist for most parts though where skies clear - given the cold northerly flowing setting in early in the weekend.
8-10 day 00z ECM and GFS 500mb height comparison shows ridge building in from the west over the Easter Weekend, though differences in timing.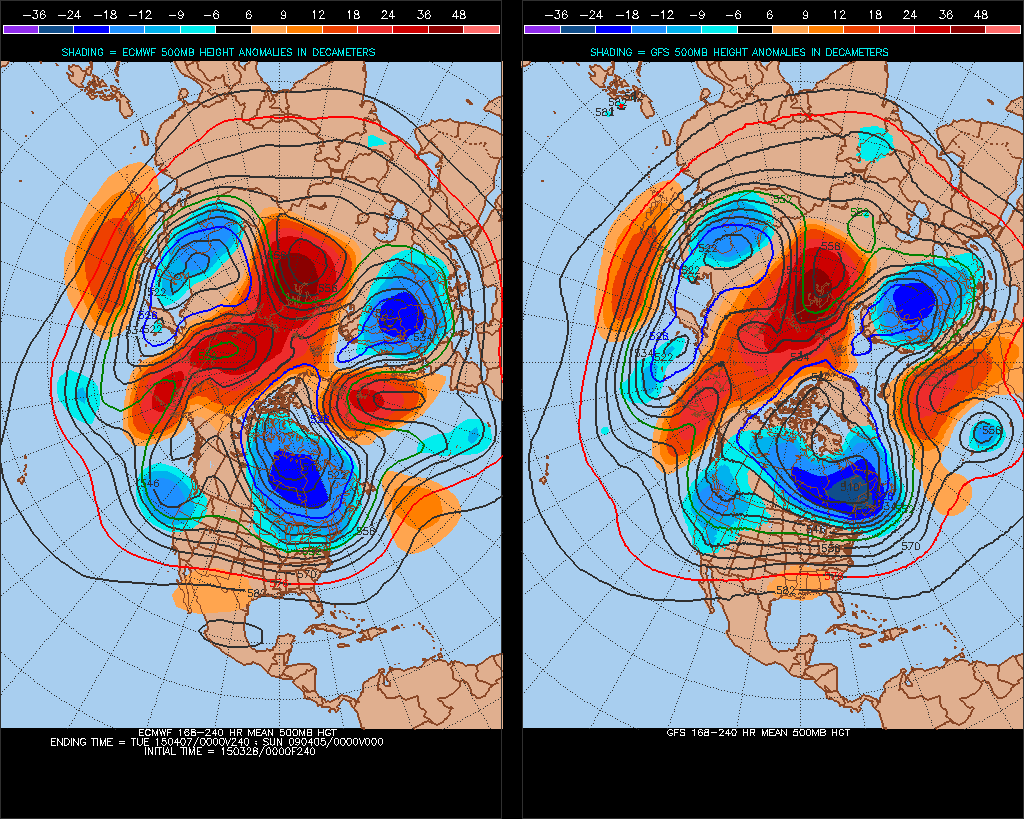 Into the second week of the Easter Break, I have some reasonable confidence, for the first half of the week, that high pressure close the west or over the UK will influence the weather bringing mostly dry and settled conditions, though uncertainty over how cloudy it maybe, but where skies clear overnight, there could be a local risk of frost. The second half of the week, confidence naturally drops, though there appears to be a reasonable chance that high pressure will keep in charge.
00z GFS ensemble 500mb height and anomaly for the middle of the second week of the Easter Break suggests a ridge of high pressure across the UK: