The UK saw HIgh pressure dominating last week with a warm flow off the continent and the settled mainly dry weather is back this week thanks to another area of High Pressure. This one is drawin in cooler air from the north and then east, which has already led to come chilly nights and a bit of a nip in the air first thing, but it is still warm enough in any sunshine.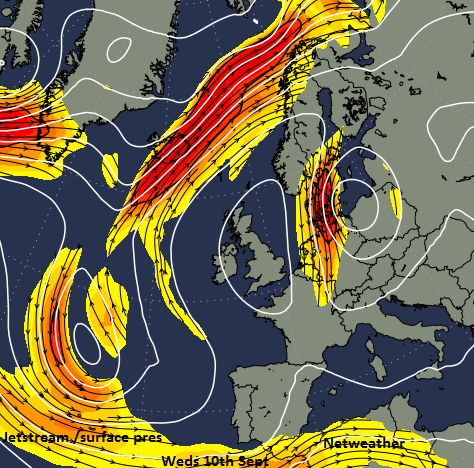 This high pressure is part of a synoptic pattern called a Omega block. OMEGA being a greek letter which looks similar to the jetstream on the synoptic chart above. A capital Omega and the last letter of the Greek alphabet .
The eastern low brought heavy showers at the weekend to NE Scotland, although the Queen managed to miss a hefty downpour at the Braemar gathering and step out of her car into sunshine. Does she have her own personal forecaster? This eastern low is pulling away from eastern Britain on Monday, taking its blustery cloud with it. Then the UK sits right under the centre of the High midweek, whilst the western low is kept at bay but the blocking high. Usually you'd be watching low pressure rattling across the Atlantic towards NE Europe, but this low just stalls of western Iberia, bringing some pretty unsettled weather to Portugal and NW Spain.
The main thrust of the jetstream is away to the north, right over Iceland mid week. http://www.netweather.tv/index.cgi?action=jetstream;sess=#at_pco=smlrebv-1.0&at_si=540da953f0fe8a3e&at_ab=per-12&at_pos=2&at_tot=4
There is an upper high and a surface high and the whole thing will only slowly drift across towards the North Sea, with SW England turning more breezy at the edge of the high. This kind of setup can stagnate for days, even weeks in winter (that's when you get record breaking low temperatures). It's harvest weather.
Changes, when they come, will more likely be for southern England first, but this high seems to be holding on, maybe even into next week.