The annual Storm naming list has been issued in September 2023. This will take us through until summer 2024 and maybe we will get through a few more names than last season, only two, Antoni and Betty.
Agnes, Babet, Ciarán, Debi, Elin, Fergus, Gerrit, Henk, Isha, Jocelyn, Kathleen, Lilian, Minnie, Nicholas, Olga, Piet, Regina, Stuart, Tamiko, Vincent, Walid
Storm Agnes has been named by the UK Met Office for late September 2023 with concerns for wind and rain impacts.
"Naming storms helps to ease communication of severe weather and provides clarity when people could be impacted by the weather." Met Office
Storm naming exists alongside severe weather warnings, the yellow, amber and red warnings for wind, rain, snow etc. It is seen as a communications tool to enhance spreading the word when severe weather is forecast and highlighting potential impacts to people and businesses.
Naming Groups
There are several groups around Europe which issue storm name lists. The UK Met Office, Irish Met Eireann and Dutch KNMI are in one group, the Western Group.
Storms are named when the forecast shows that a low has the potential to cause Medium or High impacts in one or more of these three countries. Usually, it will be the country expecting the main focus of the impacts who name it. A windstorm has to be at the centre of the event although heavy rain causing flooding or significant snowfall can be part of the story.
The National Meteorological and Hydrological Services (NMHS) across Europe aim to only name storms that have a major impact on property or people. This can add confusion around the naming process for the public, if they experience wild, locally impactful weather but don't get a name.
When storms are named, in good time before an event, it does help communicate the message of upcoming severe weather and people seem more likely to prepare or even adjust their plans. This leads to more self-resilience from communities rather than needing emergency assistance during or after the event.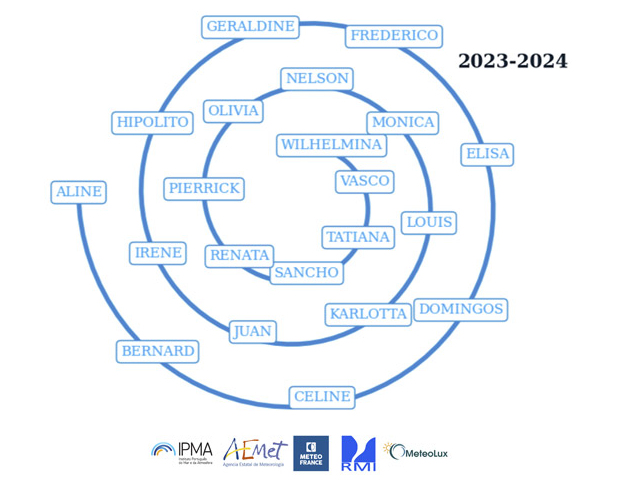 The Southwestern Naming group includes the Meteorological services of Spain (AEMET), Portugal (IPMA), France (Météo-France), Belgium (RMI) and Luxembourg (MeteoLux).
Other groups include Northern Group (Norway, Sweden and Denmark), Central Group (Germany, Austria, Switzerland, Poland, Czech Republic, Slovakia and Hungary), Central Mediterranean Group (Italy, Slovenia, Croatia, North Macedonia, Montenegro and Malta) and Eastern Mediterranean Group (Greece, Cyprus and Israel).
There is now more collaboration and cooperation between these groups before naming storms.
Recently Greece (Hellenic National Meteorological Service) named Storm Daniel, a devasting flood event. As the low pressure moved from Greece, across the Mediterranean towards Libya, Daniel developed the characteristics of a Medicane - MEDIterranean hurriCANE. Although most named storms in Europe are extratropical cyclones, this unusual type of cyclone can be included.
"This hybrid phenomenon shows some characteristics of a tropical cyclone and others of a mid-latitude storm." WMO
Ex- hurricanes keep their own names. If Hurricane 'Ophelia' has formed over the Atlantic but then heads northwest to reach say Ireland or the UK as a post-tropical cyclone, it would be known as ex-Ophelia, or just Ophelia. This can mean that the list of names is out of sequence alphabetically when tropical systems intrude. Also, storms named by other Naming Groups can impact the UK or Ireland. This happened last year with Storm Otto (named by DMI, the Danish Met Institute) and Storm Noa (Meteo France). You may remember Otto from February half term and its travel disruption for NE Britain. Storm Noa brought huge waves, power outages and high winds to south Wales, southwest England and closed the Severn Bridge in April 2023.
Q, U, X, Y and Z are not used following the naming convention for Atlantic hurricanes.
Where do the names come from?
Some NMHS invite the public to add suggestions for the lists and this year the Western Group are including "weather responders" To allow more of the popular names, the tradition of alternating between female and male names, has been dropped
Debi Garft - retired Senior Policy Officer in the Scottish Government Flooding Team
Ciarán was submitted by the public but is also the name of Ciarán Fearon, Department for Infrastructure in Northern Ireland
Met Éireann included Jocelyn after Dame Jocelyn Bell, the famous astrophysicist.
Regina Simmons, who is a Team Leader for Warning and Informing, Natural Resources Wales
Stuart Sampson is the Environment Agency's Water Resources Security of Supply Manager
KNMI Dutch contributions are Babet, Elin, Gerrit, Henk, Olga, Piet and Walid and include references to Dutch weather presenters. 'Gerrit' is for Gerrit Hiemstra, who is retiring after 25 years as a weather presenter and 'Piet' is for Piet Paulusma, a weather presenter who passed away in 2022. Other names were suggested at a KNMI open day with a visitor named Babet saying "Because I was born during a storm!"
The Netherlands were not impacted by either Antoni nor Betty from the Western list but saw red weather warnings from Storm Poly. This was named by Germany but was one of the strongest wind storms for the Netherlands in fifty years, occurring in July 2023 with plenty of rain, which even affected Wimbledon.
More discussion and chat about 'Name our Storms'
Add your suggestions to the UK Met Office list for 2024/25