After a settled Saturday, the weather looks to turn increasingly unsettled from today across the north and west, though it won't be until from Tuesday that all parts will turn unsettled. Particularly disturbed weather is on the cards mid-week, as a deep low looks to track northeast across Ireland and northern Britain on Wednesday – bringing stormy conditions with gales or severe gales in the north and west.
This rather deep low being shown by most weather models over the last few days is currently a shallow system along a frontal wave over the NW Atlantic. This wave then develops a low as it drifts away east over the Atlantic, before it gets picked up by a powerful jet stream coming out of Atlantic Canada and racing over the Atlantic. The low then looks to undergo rapid cyclogenesis on Tuesday as it moves under the developmental left-exit of the jet mid-North Atlantic before swinging northeast across Ireland then northern Britain. Although the deep depression may be at its deepest phase to the southwest of Ireland before filling as it moves over the British Isles, it could still pack a punch of gales or severe gales across the north and west on Wednesday, GFS showing 70-80mph over Ireland and exposed Irish Sea coasts of Britain. Also, there will likely be heavy rain or showers in the mix. The Met Office have issued a Yellow Wind warning this morning for large parts of the UK for Wednesday.
Back to today, Saturday saw a fine day across many parts, thanks to a ridge of high pressure. This has been pushed away today by sets of weather fronts moving in off the Atlantic, which are bringing a lot of cloud to many areas this morning. The fronts will bring outbreaks of rain across the west, some heavy pulses of rain moving north across Ireland, N. Ireland Irish Sea, west Wales, NW England and western Scotland. Elsewhere, some patchy light rain or drizzle possible, though it will be drier towards eastern England – with perhaps some bright or sunny spells developing here this afternoon. It will be windy for all today, the strong southerly wind touching gale force over western coasts and hills.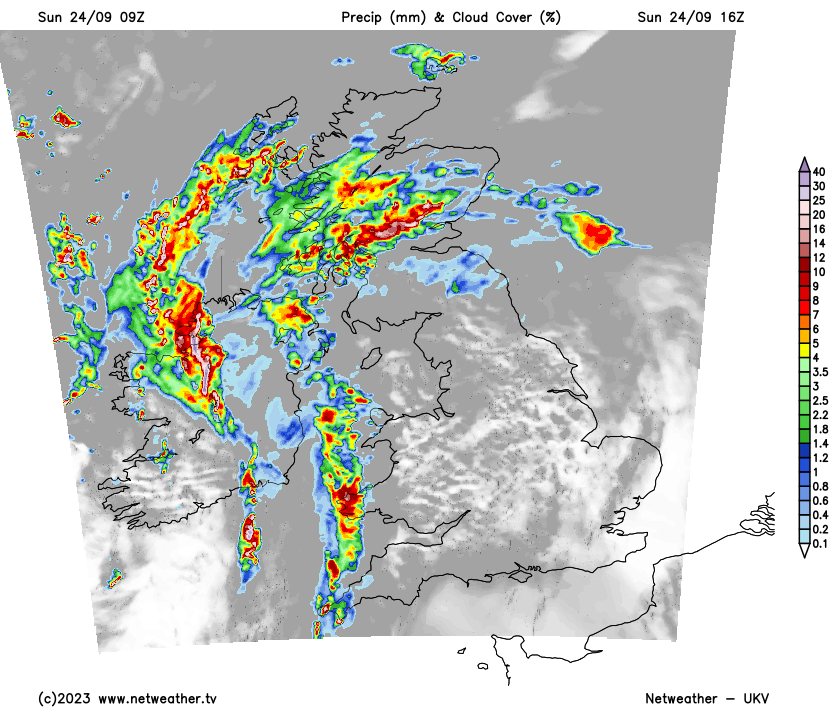 Outbreaks of rain in the west along a cold will clear eastwards across the UK tonight, not much reaching SE England before the front clears. Clearer conditions following, but with blustery showers in the northwest, still windy overnight, with gales possible across western Scotland.
Monday is looking brighter but blustery for all, with plenty of sunshine for many, though there will be some showers in the west – some of which will be heavy. Windiest in the north and west, lighter winds towards the southeast.
Tuesday sees a cold front across the far west to start the day bringing a band of heavy and perhaps thundery rain across Ireland and N. Ireland before the band moves eastwards across the UK through the day after a dry and sunny start, tending to turn more showery as it does so, but with a risk of heavy thundery downpours. Ahead of this, flow looks to back southerly for a time, dragging in some warm but unstable air which could also produce some heavy thundery showers for a time pushing northeast over SE England. But where the sun does come out here, temperatures may reach 22-23C.
But the weather looks to take a turn downhill quite markedly on Wednesday, as a low pressure system moving east across the Atlantic with the jet stream moves under the developmental left exit of the jet streak and undergoes rapid cyclogenesis to the southwest of Ireland on Tuesday. The low then looks to track northeast across Ireland then northern Britain on Wednesday, though the track is still uncertain this far out – it may still track further north or south. Ireland could see the worst of the strong winds with this system, models show gusts of 70-80mph – even inland. But Irish Sea coasts of mainland UK could see similar gusts while inland areas of north Wales, northern England and southern Scotland could see 60-70mph gusts. Outbreaks of rain looks to sweep north and east across the UK ahead of this low too, followed by blustery showers, though rain could be brief towards the southeast before turning drier and sunnier. Windy with a risk of gales almost anywhere, but worst of the winds for now, with risk of severe gales, looks to be across Ireland, N. Ireland, Wales, Midlands, northern England and southern Scotland.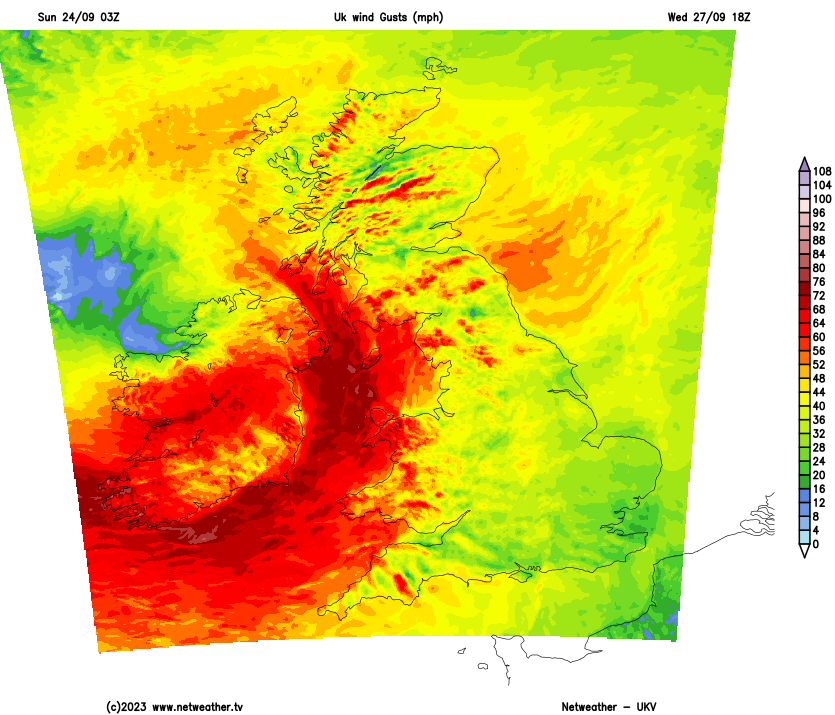 Winds easing into Thursday across eastern areas, but remaining windy in the west, as another area of low pressure moves into the northwest, which will also further rain to the north and west and perhaps the south Thursday night.
Winds easing Friday, as a ridge of high pressure builds in, just a few showers in the north, otherwise dry and sunny.